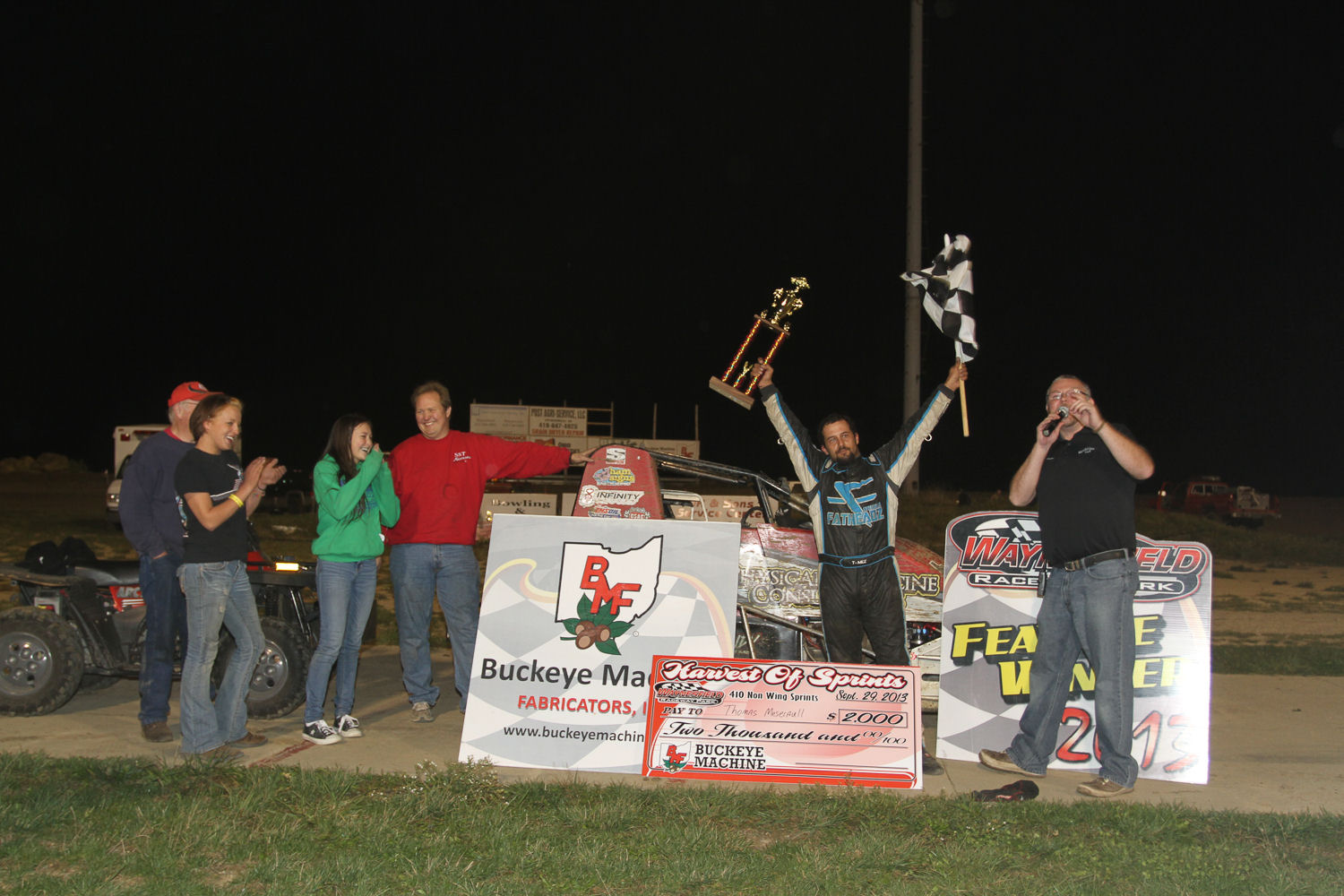 Waynesfield,Ohio –Oct 11th 2013- Thomas Meseraull won the wingless 410 sprint car feature at Waynesfield Raceway Park during the "Harvest of Sprints".
Scotty Weir started on the pole of the wingless feature and led the first six circuits with 4th starting Meseraull taking the lead on lap seven. By lap 10 Chris Windom was beginning to pressure T Mez nearly pulling even with the leader but Meseraull would have none of it.
Late in the feature 8th starting Wes McIntyre had moved into 3rd and  brought Luke Hall and Gary Taylor with him, who both came from deep in the pack.
On lap 20 AJ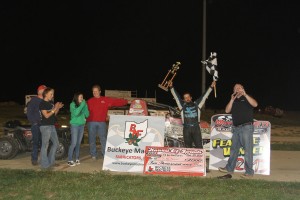 Hopkins and Nick Bilbee both flipped down the front stretch. Both drivers were uninjured.
With five to go the green flew once again and Meseraull was up to the challenge as he held off Windom, McIntyre, Luke Hall, Gary Taylor and Justin Grant.
Heats for th 45 cars went to Justin Grant, Todd Keen, Kyle Simon Wes McIntyre, Chris Windom and Thomas Meseraull.
Heat three saw a serious incident with Dustin Ingle being air lifted out. Later in the evening Waynesfield announced that Ingle was awake and alert but does have some undisclosed injuries.
Buckeye Machine Non Wing Sprints (45 Cars)
[#]-Starting Position
Heat 1 – Heat 1 (8 Laps – Top 2 finishers transfer to the A-feature)
1. 27A-Justin Grant[2] ; 2. 22S-Scotty Weir[3] ; 3. 54-Matt Westfall[7] ; 4. 16-Chris Andrews[6] ; 5. 63-Huston Hewitt[1] ; 6. 5W-Jeff Williams[4] ; 7. 1M-Mike Moore[5] ; 8. 5-Mark Silva[8]
Heat 2 – Heat 2 (8 Laps – Top 2 finishers transfer to the A-feature)
1. 18-Todd Keen[1] ; 2. 48H-AJ Hopking[2] ; 3. 40-Gary Taylor[6] ; 4. 30-Tracy Hines[3] ; 5. 31R-Tom Rhodes[4] ; 6. 14-Cooper Clouse[7] ; 7. 17-Kevin Myers[5] ; 8. 2K-Kevin Klatte[8]
Heat 3 – Heat 3 (8 Laps – Top 2 finishers transfer to the A-feature)
1. 23S-Kyle Simon[3] ; 2. 12-Chris Gurley[1] ; 3. 82-Mike Miller[6] ; 4. 31W-Chuck Wilson[2] ; 5. 48-Mike Burkin[7] ; 6. 17U-Lee Underwood[8] ; 7. 43G-Rob Guy[4] ; 8. 7P-Brandon Moore[5]
Heat 4 – Heat 4 (8 Laps – Top 2 finishers transfer to the A-feature)
1. 83-Wes McIntyre[1] ; 2. 17N-Nick Bilbee[5] ; 3. 5M-Tim Hunter[7] ; 4. 12S-Cody Swanson[6] ; 5. 1H-Kevin Hawk[3] ; 6. 2-Dustin Ingle[2] ; 7. 53-Steve Little[4]
Heat 5 – Heat 5 (8 Laps – Top 2 finishers transfer to the A-feature)
1. 11-Chris Windom[5] ; 2. 5A-Dallas Hewitt[1] ; 3. 9B-Brady Bacon[7] ; 4. 37-Mike Dunlap[3] ; 5. 21-Travis Hery[4] ; 6. 48X-Dustin Smith[6] ; 7. 9-Dave Disinger[2]
Heat 6 – Heat 6 (8 Laps – Top 2 finishers transfer to the A-feature)
1. 41-Thomas Meseraull[1] ; 2. 9N-Luke Hall[2] ; 3. O-Steve Irwin[4] ; 4. 32M-Derek Hastings[6] ; 5. 19-Jimmy Snead[5] ; 6. 4G-Bill Griffith[7]
Dash1 –  (6 Laps, finishing order determined starting positions on the inside of rows 1-6 of A-feature)
1. 22S-Scotty Weir[4] ; 2. 18-Todd Keen[2] ; 3. 27A-Justin Grant[1] ; 4. 48H-AJ Hopking[5] ; 5. 12-Chris Gurley[6] ; 6. 23S-Kyle Simon[3]
Dash2 –  (6 Laps, finishing order determined starting positions on the outside of rows 1-6 of A-feature)
1. 11-Chris Windom[2] ; 2. 41-Thomas Meseraull[3] ; 3. 5A-Dallas Hewitt[5] ; 4. 83-Wes McIntyre[1] ; 5. 17N-Nick Bilbee[4] ; 6. 9N-Luke Hall[6]
B-Main #1 –  (10 Laps – Top 4 finishers transfer to the A-feature)
1. 40-Gary Taylor[2] ; 2. 54-Matt Westfall[1] ; 3. 82-Mike Miller[3] ; 4. 16-Chris Andrews[4] ; 5. 30-Tracy Hines[5] ; 6. 63-Huston Hewitt[7] ; 7. 48-Mike Burkin[9] ; 8. 17U-Lee Underwood[12] ; 9. 5W-Jeff Williams[10] ; 10. 2K-Kevin Klatte[17] ; 11. 14-Cooper Clouse[11] ; 12. 7P-Brandon Moore[18] ; 13. 43G-Rob Guy[15] ; 14. 31W-Chuck Wilson[6] ; 15. 5-Mark Silva[16] ; 16. 17-Kevin Myers[14] ; 17. 1M-Mike Moore[13] ; 18. 31R-Tom Rhodes[8]
B-Main #2 –  (10 Laps – Top 4 finishers transfer to the A-feature)
1. 9B-Brady Bacon[2] ; 2. 12S-Cody Swanson[4] ; 3. 37-Mike Dunlap[5] ; 4. 5M-Tim Hunter[1] ; 5. 21-Travis Hery[8] ; 6. 48X-Dustin Smith[10] ; 7. 32M-Derek Hastings[6] ; 8. 1H-Kevin Hawk[7] ; 9. 4G-Bill Griffith[11] ; 10. 19-Jimmy Snead[9] ; 11. 9-Dave Disinger[13] ; 12. O-Steve Irwin[3]
A-Main –  (25 Laps)
1. 41-Thomas Meseraull[4]; 2. 11-Chris Windom[2]; 3. 83-Wes McIntyre[8]; 4. 9N-Luke Hall[12]; 5. 40-Gary Taylor[13]; 6. 27A-Justin Grant[5]; 7. 54-Matt Westfall[15]; 8. 5A-Dallas Hewitt[6]; 9. 12S-Cody Swanson[16]; 10. 12-Chris Gurley[9]; 11. 37-Mike Dunlap[18]; 12. 82-Mike Miller[17]; 13. 5M-Tim Hunter[20]; 14. 18-Todd Keen[3]; 15. 48H-AJ Hopking[7]; 16. 17N-Nick Bilbee[10]; 17. 9B-Brady Bacon[14]; 18. 16-Chris Andrews[19]; 19. 22S-Scotty Weir[1]; 20. 23S-Kyle Simon[11]
Hard Charger: 9N-Luke Hall[+8]