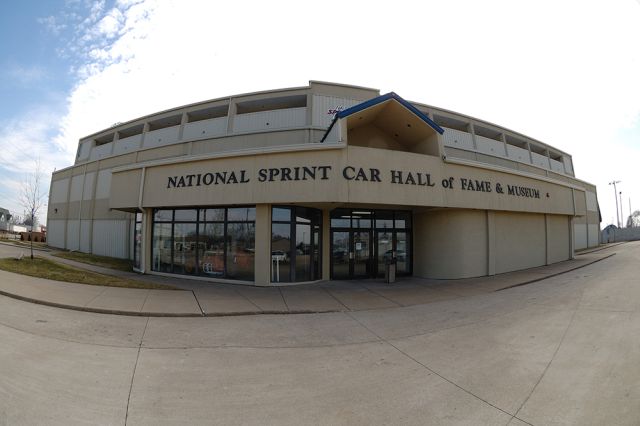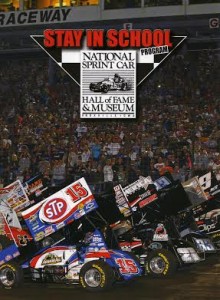 From Bob Baker
Knoxville, IA — (November 15, 2013) — The non-profit National Sprint Car Hall of Fame & Museum has been working with colleges and universities across the United States during the past year in an effort to expand the "Stay In School" program, which was originally developed and coordinated by Doug Auld at Sprint Car & Midget magazine.  Said museum executive director Bob Baker today, "Doug's wish was to see more sprint car teams and race tracks take advantage of the program to help educate high school students on the value of a good college education, and to promote the opportunities within the motorsports industry.  We are excited to have taken over the program earlier this year and we are now ready to re-launch it with new materials."
The Stay In School program is available 'free of charge' to sprint car teams and race tracks that offer sprint car racing on their schedule.  It requires that the sprint car team or track to contact a local high school and receive permission to hold an assembly with the students.  The team or track is also asked to take a sprint car and hauler to the school as part of the process to demonstrate the importance of receiving a good education and how it relates to different aspects of the sprint car, a race team, and the successful operation of that team.  The brochures and guide-lines for the presentation to the students are available through the museum once the school assembly date has been established.
"We are very excited to have had a dozen universities and colleges step forward to help us provide educational information on the motorsports industry to students.  Our goal is to help students visualize the importance of continuing their education and the possibilities that exist for a career in the motorsports industry," Baker added.
Indiana University-Purdue University at Indianapolis, Clemson University, University of Northwestern Ohio and University of North Carolina at Charlotte are a few of the universities that have initially stepped forward to help with the Stay In School program.  These universities and colleges have provided both information on their motorsports-centered programs and contact information within the Stay In School brochures.  "It's important to not only talk about the importance of acquiring a good education, but also giving the students a method to contact the universities and colleges directly, so they can get their individual questions answered," Baker said.  "This is what the Stay In School program will provide, in addition to exposure to sprint car racing for students across the country."
Sprint car teams and tracks that are interested in organizing a high school assembly in their hometown or area of the country are encouraged to contact Bob Baker at the National Sprint Car Hall of Fame & Museum by phone at 1-800-874-4488 or via email at bbaker@sprintcarhof.com.