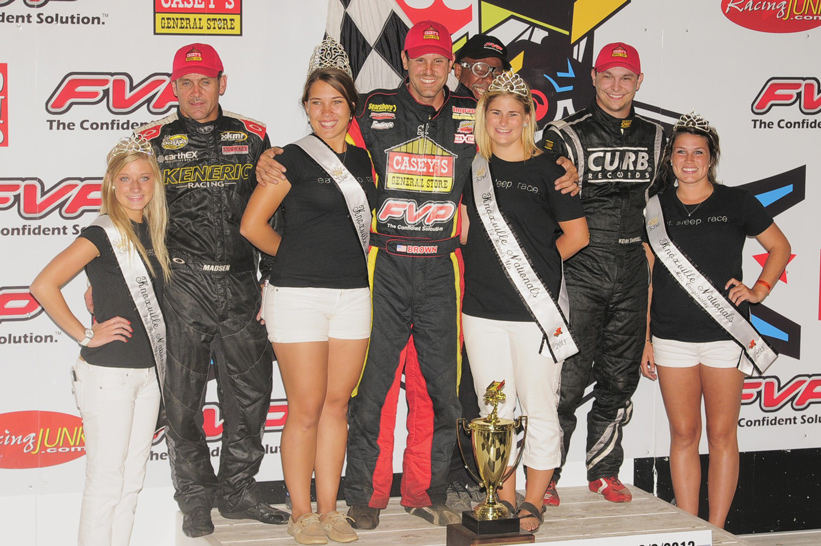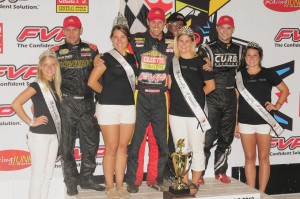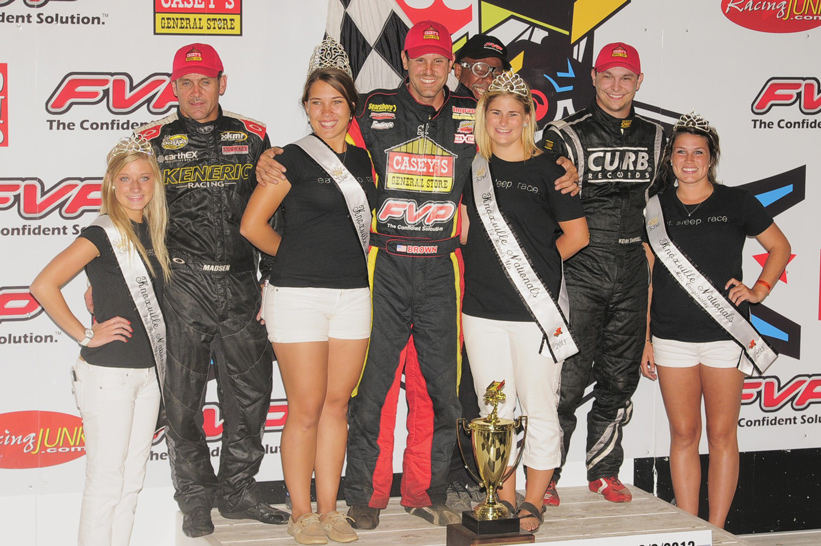 From Bill W
December 10, 2013 – This week, we look at the races leading up to and including the Knoxville Nationals.  The stretch included a handful of wins at Knoxville, and a strong run at Southern Iowa Sprintweek, including a win at the Front Row Challenge, and a preliminary win leading up to a second place finish in the Nationals.
Leading up to the Nationals, you were strong, particularly at Knoxville.
It's winter here in Missouri and I'm thinking about the Knoxville Nationals today.  The Nationals is something that you always think about, and as it gets closer…June, July and August…it's kind of like the last days of the school year as a kid…you're counting down the days at that point.
You scored a pair of 410 wins in July at Knoxville, including first and second place runs on Twin Features Night.
The Nationals is our ultimate goal.  As it gets closer, there's no better time to have some momentum on your side and have things rolling your way.  We just missed a win with the Outlaws there in June too.  We got into a lapped car and (Donny) Schatz got by us there.  Leading up to Cox Design and Metal Fabrication Southern Iowa Sprintweek, momentum never hurts.  I think once we got into that, we showed we had our momentum going.
A tough qualifying lap had you behind the 8-ball at the Knoxville 360 Nationals.  Still you made a run from the back of the pack to finish fourth.
The 360 Nationals has been something that has seemed to elude us.  We never have put a whole weekend together for whatever reason.  One of these years, we will, and hopefully, we have the opportunity to win it.  We didn't qualify the best in the world.  We were able to win the heat and charge from the back to sixth or seventh in the prelim.  We were able to go from 21st to fourth in the final.  It seemed like we ran out of laps.  We were coming hard.  As our team keeps building, we want to win races like that.
With 81 cars in the pits at the Capitani Classic, you were able to finish on the podium.
As far as the quality of cars and amount of cars, the Capitani Classic is right there at the top.  To finish third behind Kevin (Swindell) and Justin (Henderson) was good momentum for us going into the Nationals.  It was a good test for us too, because we were able to try some things that helped us for the 410 Nationals that we normally wouldn't try.  Ralph Capitani is someone we've looked up to, and to run third in a race in his honor is something to be proud of.
You won the Front Row Challenge, but it came after an accident took out the top three, including one of your heroes, Tony Stewart.
I'd trade anything in the world, including the money and trophy for that race if Tony's leg could have stayed healed.  The Front Row Challenge is a race we've always wanted to win, but not that way.  Tony is a good friend of ours, and someone I look up to as not only a racer, but a person.  I feel he's someone who gets a bad rap sometimes, but he's a guy who would take the shirt off his back for you.  He's probably as influential in not only sprint car racing, but in motorsports as anyone there's ever been.  We're lucky we have him in this sport.  I think he's getting better, and hopefully, he'll be ready for Daytona.  Hopefully, he can come back to the Front Row Challenge and we can beat him fair and square.
What was your mindset heading into the Nationals?
Our goal all year long was to just put ourselves in position to win again.  I think that's the toughest part.  I've been there many years with a fast car and just had the bad luck.  My big thing after 2012 was to get another opportunity.
Things went your way on your qualifying night.
We drew a bad number and qualified ninth.  We were able to from ninth to second in the heat.  We were able to start fifth in the feature and take the lead.  We had a pretty good battle with Kerry Madsen and we were able to win.  That's probably the single biggest win of my career to this point.  Having FVP being the presenting sponsor of the Knoxville Nationals, and having Casey's General Stores being the Thursday night sponsor couldn't have been better for our team.  To have the people from FVP, Casey's, Searsboro Telephone Company, Impact4800.com, Champion , Smiley's, Weld and Maxim there…pretty much all of our partners…I think that was the most special win we've ever had.  When your friends and family are there at Knoxville Raceway like that…it's about as special as it gets.
What was the game plan, starting on the front row of the Knoxville Nationals?
It was a whole different mindset going into this year than it was last.  Last year, we just wanted to have a good run.  This year, anything less than a win was going to be a disappointment.  Chad Morgan and Travis Marsch had the car flawless.  Our Garrett engine, Maxim chassis and Pro shocks were perfect.  Everything from our Hoosier tires to Vortex wings to Weld wheels worked out perfect.
You pulled away the first 25 laps.
The first half of the race, I don't think we good have done anything better.  As the rubber was coming down late in that first segment, I was getting a little tighter than I would like.  We made a few minor adjustments for the second half.  We just didn't do enough.  When the rubber came more and more, we were just too tight.  We let Schatz get to us, and the rest was history.
It had to be disappointing to come so close to winning it all again.
It's hard to say you're disappointed in running second at the Knoxville Nationals.  Truthfully, we are very, very grateful to have done it.  To get that close of your lifelong dream is a tough pill to swallow though.  I think it will make our team stronger, and if we can ever win that race it will be all the more special.  I'm just proud of everyone on our whole team with their performance that week.
Next week we conclude the season with the Brian Brown Racing Casey's General Stores/FVP #21 team.
Follow Brian on the Web, Twitter and Facebook!
Follow Brian at his website located at www.BrianBrownRacing.com!
Also keep up with FVP, Casey's and Brian on Facebook and Twitter at the following links…
Twitter Links – @BrianBrown21, @FVPRacing, @CaseysGenStores
Facebook Links
Brian Brown Racing – www.facebook.com/pages/Brian-Brown-Racing/200630163294222
Casey's General Stores – www.facebook.com/pages/Caseys-General-Stores/112073528804354
FVP Racing –  http://www.facebook.com/FVPRacing?ref=ts&fref=ts
Other Web site info
Casey's: www.caseys.com
FVP: www.fvpparts.com
Brown's Bits
Brian registered a career-high sixteen wins in 2013.  His wins came in Tucson, Arizona, Hanford, California, Grain Valley, Missouri, Knoxville, Iowa (5), Jackson, Minnesota (2), Sioux Center, Iowa, Fairmont, Minnesota, Oskaloosa, Iowa, Moberly, Missouri, Jacksonville, Illinois and Mesquite, Texas.