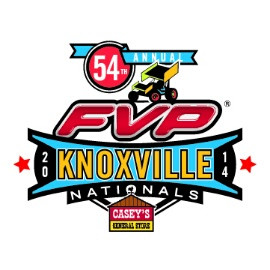 From Knoxville Raceway
Knoxville, IA — (December 12, 2013) — Knoxville Raceway today is proud to announce the most prestigious sprint car race in the world has a new presenting sponsor for the 54th Annual FVP Knoxville Nationals, Casey's General Stores.
Knoxville Raceway's General Manager, Brian Stickel says the addition of Casey's to the FVP Knoxville Nationals will take the great event and make it even better.  "We couldn't ask for two better ambassadors of sprint car racing right now than FVP and Casey's," Stickel said. "We feel like we are assembling the best season ever at Knoxville Raceway and can't wait for the snow to melt to get sprint cars on the famous half mile dirt track this spring."
Casey's General Store CEO, Bob Myers has been a longtime sprint car and racing fan. "We at Casey's are proud to get behind Knoxville Raceway and its tradition of family entertainment unlike anywhere else in the world," Myers said. "It's like Christmas every August when you see people from around the world come to small town, Knoxville, Iowa for what I consider the best racing in the world."
Casey's General Store is no stranger to success. The Iowa based business started in 1968 with one store and now sits 45 years later with 1,772 stores strong. Casey's attributes its success to great food, clean stores and friendly employees who pride themselves in great customer service.
Tickets are on sale now for the 54th Annual FVP Knoxville Nationals. Fans are urged to visit www.knoxvilleraceway.com or call the Ticket Office at (641) 842-5431.