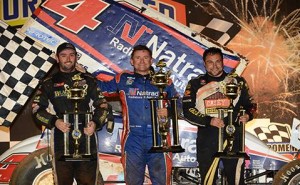 From Sydney Speedway
Sydney, AU — (January 11, 2013) — South Australian Trevor Green played the perfect game to snatch the lead away from American Kraig Kinser and win the 56th NSW sprintcar championship tonight at Valvoline Raceway.
Green started from the middle of the pack and had to hunt down both Steve and Kraig Kinser.
The 58 year-old king of the Outlaws was very much the early star of the race as he charged into the lead and was running away from the pack when a header broke and his race was done.
Kraig then took over but Green and his Natrad car from Adelaide was getting stronger the loner the race went.
He ranged up alongside Kraig and found little resistance from the American who appeared to have tyre issues.
Once he moved to the front Ian Loudoun, driving Ben Atkinson's second car, made big moves to the front but just couldn't beat Kinser.
Green had timed the race beautifully in his Natrad machine which he claims was powered by an engine which has done 14 seasons of racing.
"It's not that we lack horsepower, this motor just doesn't know how to quit," said an excited Green who pocketed $10.000 for his win.
The supporting legend car main event was a ripper with Todd Davey holding out James Duckworth and Brett Mitchell in a thrilling 15 lap encounter that was nearly the race of the night.