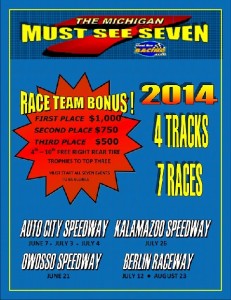 From Must See Racing
Anderson, IN — (January 28, 2014) — Must See Racing officials announced today the 2014 MICHIGAN MUST SEE SEVEN mini-series with trophies and cash awards for the MSRXSS teams that compete in all seven 2014 State of Michigan events.  Standard points awarded will determine the mini-series finishing order. Three events at Auto City Speedway, two at Berlin Raceway and one each at Kalamazoo Speedway and Owosso Speedway will play host to the new MICHIGAN MUST SEE SEVEN.
The top three in mini-series points will receive trophies with first place receiving $1,000, second $750, third $500 with fourth (4th) thru tenth (10th) awarded a free American Racer right rear tire.
"The State of Michigan has a great racing tradition, the race tracks are very popular and their race fans love open wheel winged sprint cars. The MICHIGAN MUST SEE SEVEN mini-series increases the excitement, anticipation and competitive drama for the race fans entertainment and rewards the teams competing from Michigan, across the country and Canada." said MSRXSS President Jim Hanks.
The MICHIGAN MUST SEE SEVEN awards are separate and additional to the MSRXSS event purses, season points system and year end awards.
   THE MICHIGAN MUST SEE SEVEN EVENTS
    AUTO CITY SPEEDWAY                                   KALAMAZOO SPEEDWAY
    CLIO, MICHIGAN                                                 KALAMAZOO, MICHIGAN
    JUNE 7 / JULY 3 / JULY 4, 2014                       JULY 26, 2014
    OWOSSO SPEEDWAY                                       BERLIN RACEWAY
    OVID, MICHIGAN                                               MARNE, MICHIGAN
    JUNE 21, 2014                                                    JULY 12 / AUGUST 23, 2014