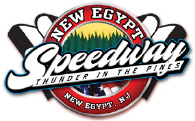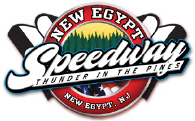 By Bob Miller
One of the most anticipated auto racing events in the state of New Jersey will take place on Tuesday night, August 19 with the return of the JERSEY RUSH IV.   A spectacular event that will bring together the 410 Sprint Cars and the Modifieds onto one racing program. Now in its' fourth year, JJ Grasso was the winner of two of the previous Jersey Rush events with Daryn Pittman taking the win in 2012.  Grasso is an expected entry to chase the $5,000 first place prize.
Presented by NAPA Auto Parts and Pioneer Pole Buildings, the JERSEY RUSH IV will get underway at 7:30 PM with gates opening  at 5 PM.    Always a highlight of this event is the pit side Meet & Greet where race fans may enter the pit area from 5 to 6 PM.  That's right, race fans may enter the 410 sprint pit area absolutely free!    This is a great opportunity for the fans to meet the 410 sprint drivers prior to the start of the racing action.   Race fans entering the New Egypt Speedway through the grandstands should go to the picnic area just off turn four.  They may enter the pits behind the fourth turn grandstands.
The 410 sprints will chase an eye catching payoff offering $5,000 to win plus $1,000 for 10th and $400 just to take the green.   In the modifieds, the feature winner will collect a $3,000 payday for 30 laps.  In 2013, Billy Pauch won a barn-burner with Ryan Godown in the modified portion of the Jersey Rush.     The top 410 sprint drivers in the country are expected challenge Grasso for the win and the list includes Greg Hodnett, Mark Smith, Lance Dewease,  Danny Dietrich,  Billy Dietrich,  Davey Sammons, Ryan Bohlke, Neal Williams, Jacob Allan , Logan Schuchart, Brian Carber and Robbie Stillwaggon just to name a few.
This huge event is presented by NAPA Auto Parts and Pioneer Pole Buildings and an absolutely exciting racing program is expected.  In the event of rain,  Wednesday night, August 20 will be the rain date with a 7:30 PM starting time.
The Jersey Rush IV  is a co-promotion between Lenny, Danny and Davey Sammons and special events organizer Bob Miller.
THE JERSEY RUSH 4 EVENT FACTS:
What:           The Jersey Rush IV   410 Sprints & Modifieds Doubleheader
When:           Tuesday, August 19  Gates Open 5 PM   7:30 PM Starting Time
                Rain Date: Wednesday, August 20   7:30 PM
Where:          New Egypt Speedway
                720 Pinehurst Road  New Egypt, NJ  08422  (on Route 539)
Meet & Greet:   Pit Gates Open at 3:30 PM, Meet & Greet for Sprint Drivers 5-6 PM  Drivers Meeting 6:15 PM
ADVANCE TICKETS:  CALL 
443 513 4456
  Leave your name, phone number and number of tickets you need.  Tickets may be paid for and picked up o race night at the New Egypt Speedway Office after 4:30 PM.
Adults:  $30, Children 6-11  $10, Children 5  & under Free.  Pit Fee $35 no license required.
Jersey Rush Past Winners:
2013    JJ Grasso
2012    Daryn Pittman
2011    JJ Grasso
Facility Amenities:  The entire New Egypt Speedway facility features a daylight-quality lighting system and excellent sightlines from any seat in the house.   The track is fully wheelchair-accessible with wide, clear and well groomed walkways.   There are clean, heated rest rooms, a monitored playground area for the little fans.   Whistle-clean concession facilities serve up everything from sausage sandwiches to ice cream treats at family style prices.   Our dynamic-duo of track announcers keep fans informed and involved with a state of the art sound system.
The Track:  The racy, 7/16-mile D-shaped clay oval plays host to some of the tightest all out wheel-to-wheel competition you'll ever witness.