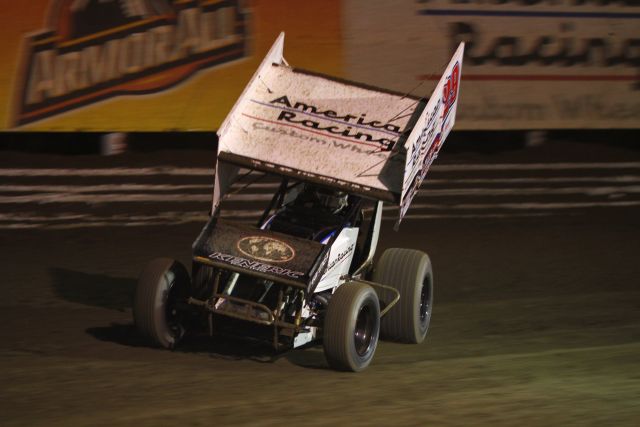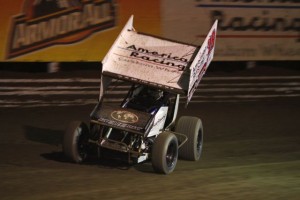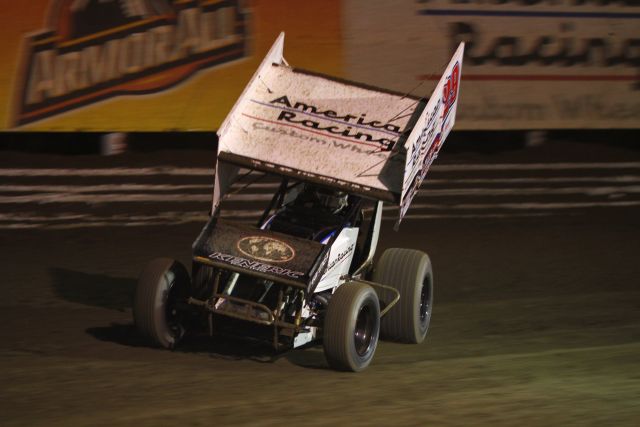 From Peterson Media
In what was his final start in Australia for the 2014 season, Kerry Madsen was dominant aboard his Keneric Racing/American Racing No. 29 machine, as he led all 35 laps on Sunday night to claim the Krikke Boys Shootout.
"It was a great track on Sunday night, a track that was demanding for a full 35 laps, and that was a blast," a jubilant Madsen said.
By way of his quick time effort, and 11th place finish in the feature on Saturday night, Madsen entered the finale sitting second in event points, putting him in prime position.
Finishing second in his heat race, Madsen earned a berth in the Shootout, which would set the field for the 35-lap feature event.
Laying down a great lap, Madsen would earn the right to start on the pole for the feature event, and as of late, that meant bad news for the rest of the field.
When the race went green, the Knoxville, IA resident mashed the throttle, and jumped out to an early lead, with Brooke Tatnell, Luke Dillon, and Tim Kaeding chasing after him.
On an extremely racy track, 'The Mad Man' kept a comfortable for the first half of the race until a caution for a spun car halted the race.
When progress continued, Madsen got off to another great start, but as the laps clicked down, lap traffic became an issue, and Brooke Tatnell closed in on the lead, but Madsen was able to fend him off, until the caution flew on the 28th circuit.
The last eight laps were eventful as numerous cautions and red flags waived, but those were the only challenges Madsen had on this night, as his machine was the class-of-the-field, and he went on to earn the win, and take home the $20K that the race offered.
In victory lane, it was announced that his Keneric Racing team would donate their entire check to Royal Children's Hospital Cancer Research on behalf of the Jeff Gordon Children's Foundation Kick-It initiative.
"Financially we are in a fortunate position to be able to do what we did tonight for such a great cause," Keneric Racing Co-Owner, and General Manager Peter Gavranich said. "It is not the first time we have donated prize money to charity, and it won't be the last time. It is something we truly enjoy doing."
"We have such a strong team right now in both the US, and in Australia," Madsen said. "It is really fun to drive this car, and I can't thank everyone with Keneric Racing and American Racing who make this possible. It is also pretty cool to be able to donate all of our money to Kick-It. There is a ton of work that goes into those events, and I'm glad we can help."
If fans would like to receive weekly releases directly to their inbox, please send an email to sales@petersenmediainc.com with Kerry Madsen in the subject field.
2014 BY THE NUMBERS: Starts-10, Wins-3, Top-5's- 6, Top 10's-8
ON TAP: Madsen will now return to the states and resume his 2014 World of Outlaw season on Wednesday and Thursday night at the Las Vegas Dirt Track, in Las Vegas, NV.
STAY CONNECTED: Keep updated with Kerry Madsen, Keneric Racing, and American Racing in a variety of interactive ways-
American Racing
Facebook- www.facebook.com/amercanracingwheels
Instagram- @AmericanRacing
Twitter- @AmericanRacing
Keneric Racing
Facebook- www.facebook.com/KenericRacing
Twitter- @KenericRacing
Kerry Madsen
Facebook- http://www.facebook.com/pages/Official-Fan-Page-for-Kerry-Madsen/101145169933686
Twitter- @KMR29