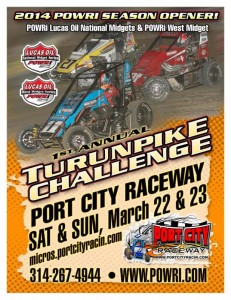 From POWRi
Oklahoma City, OK — (March 12, 2013) — The I44 Riverside Speedway leg of the 1st Annual Turnpike Challenge has been cancelled due to lasting effects of a devastating tornado that came through in 2013.  The bleachers at I44 Riverside Speedway were destroyed by the 2013 tornado.  Though new bleachers were scheduled to be delivered March 1st, the recent severe winter weather has not made that possible.
Not wanting to disappoint the fans or the racers, Aaron Lemons of Port City Raceway has stepped up and agreed to take on the race that was scheduled for Saturday, March 22nd.  While the Friday night race has been completely cancelled, fans will now have the opportunity to see the POWRi Lucas Oil National Midgets and POWRi West Midgets run two nights at Port City Raceway on Saturday, March 22nd and Sunday, March 23rd.
"Both POWRi and all of the race teams are very grateful to Aaron Lemons and the Port City Raceway team for taking on the Saturday night race of the Turnpike Challenge," POWRi's Kenny Brown said.  "While the unavoidable situation at I44 Riverside Speedway is very unfortunate, we are excited to have two nights of racing at Port City.  A POWRi race at Port City Raceway is something that is six years in the making.  The outdoor Chili Bowl-style racing that Port City will host is going to make for an unprecedented season opener."
REVISED 1ST ANNUAL TURNPIKE CHALLENGE SCHEDULE:
Friday, March 21st – CANCELLED
Saturday, March 22nd – Port City Raceway
Sunday, March 23rd – Port City Raceway
For further information, go to www.POWRi.com.