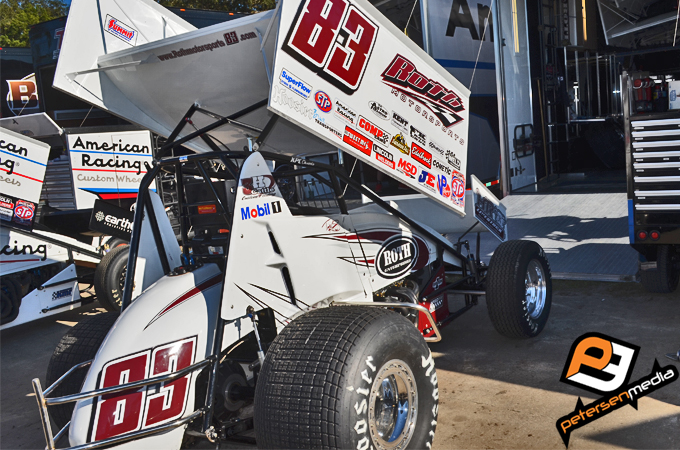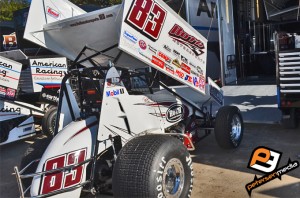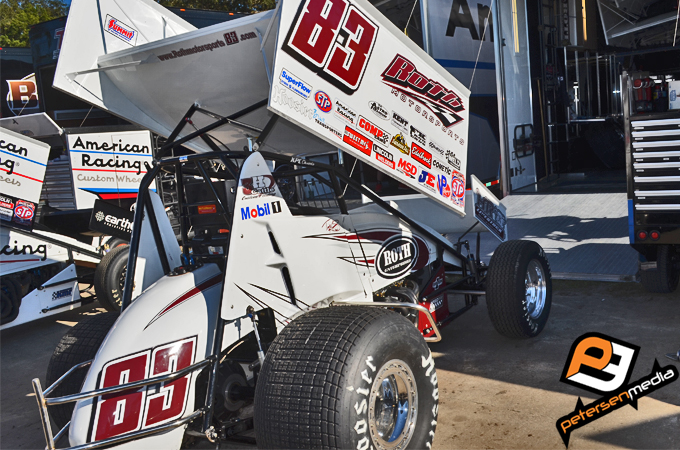 From Peterson Media
After starting the 2014 World of Outlaws season off very strong in Florida, Tim Kaeding learned how the other side of the spectrum lived over the weekend in Las Vegas, NV, and Tucson, AZ as he charged from 23rd on Wednesday night to a 10th place finish before being involved in a hard wreck on Thursday night, and struggling at times on Saturday night.
"We have plenty of speed, and at the end of the day, and it was just a weekend that could have gone better, but to pick up a 10th, and an 11th we really can't complain too much," TK said.
Struggling a bit in time-trials on Wednesday night in Las Vegas, TK lined his Roth Enterprises/HR Livestock Transportation/3H Cattle entry up in the 12th row for feature event.
On the wide, and racy surface, the San Jose, CA driver maneuvered around the stout field of cars nearly at will during the feature event, as he carved his way forward to a 10th place finish. Working both the low and high side of the speedway, TK had one of the strongest cars in the field late in the race.
Thursday night saw Kaeding again line up in the last row of the feature event, and TK's night would be short lived, as he was involved in a hard crash, that saw Logan Schuchart's machine hit very close to the cockpit, and though he would take some attention, TK would check out fine, and prepare for Saturday night's event.
Heading to Tucson, AZ for the Wildcat Shootout in Tucson, AZ, TK and the rest of the field were greeted with severe winds that made the cars do interesting things, and ultimately threatened the event.
The race did go on, and TK lined up in the sixth row of the feature on the very slick, and abrasive track.
Playing it safe, Kaeding held strong in the 11th position, where he went on to finish, and can now look forward to a return trip to California.
"It would have been great to pick up a win, but we had great speed, just got behind the eight-ball in time-trials, and started pretty far back," Kaeding said. "My guys worked their tails off all week long, and hopefully we can get back home in California and make some noise."
Tim and his Roth Motorsports team would like to thank Roth Enterprises, HR Livestock Transportation, 3H Cattle, Mobil1, FK Rod Ends, Weld Wheels, Brown and Miller Racing Solutions, Kent Performance, Kaeding Performance, and Astro Titanium for their support in 2013.
2014 ROTH MOTORSPORTS BY THE NUMBERS: Starts-7, Wins-0, Top 5's-1, Top 10's-4.
ON TAP: The Roth Motorsports team will now return to their home-base in Fresno, CA, and prepare for next weekend's two-day race at the Thunderbowl in Tulare, CA.
STAY CONNECTED: Stay connected with Roth Motorsports by checking out their new website, www.rothmotorsports83.com. You can also follow Tim on Twitter by following @tkaedingracing.