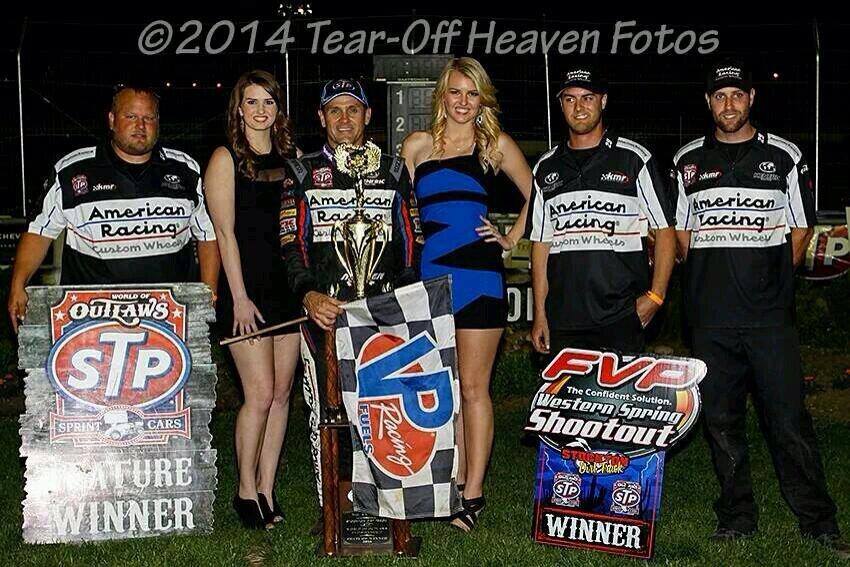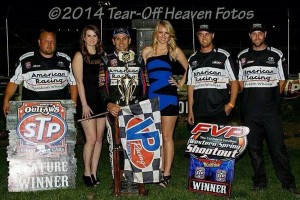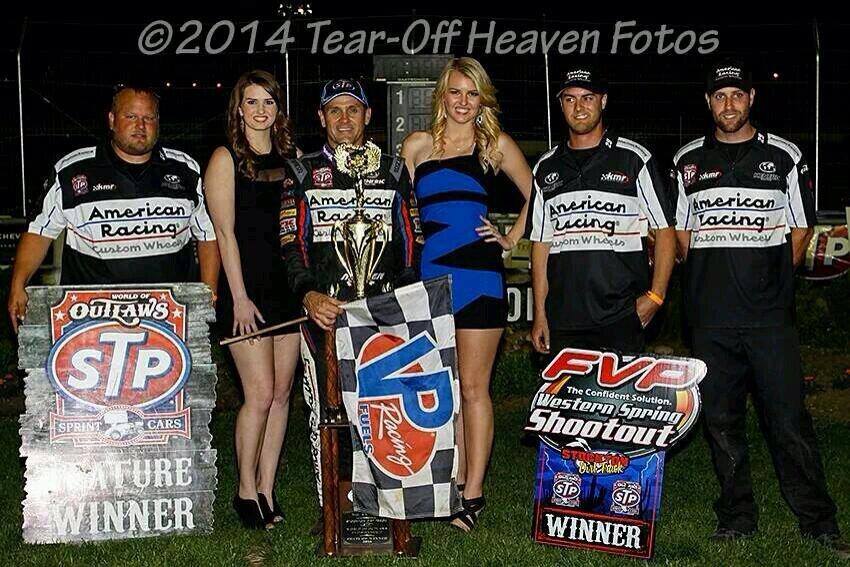 From Peterson Media
Saturday night at The Stockton Dirt Track in Stockton, CA, Kerry Madsen took the white flag running in the second but and a few car lengths behind the leader, but exiting turn four coming to the checkered, Madsen snuck underneath Donny Schatz and picked up his first World of Outlaw win of the 2014 season.
"That was insane," an excited Madsen said. "I didn't even know the race was over, or I would have done some donuts or something. I was watching Donny (Schatz) and Joey (Saldana) battle and I thought I had a shot at it, and we were able to find the line and pick that one off."
Timing in second fastest on the lightening fast 3/8 mile speedway, Madsen went on to score a third place finish in his heat aboard his Keneric Racing/American Racing entry, earning a berth in the Dash.
Scoring a fourth place finish in the Dash, Madsen lined up for the feature in the second row, and was in the hunt all night.
Moving into the third spot, Madsen sat in prime position as the laps clicked off as he watched the lead duo ahead of him, and found the preferred line on the bottom of the speedway.
With the white flag waving, Madsen chased Schatz, and exiting turn four, he stayed true to the bottom of the speedway and passed Schatz, nipping him at the line for the popular win.
"I can't thank everyone on this team, enough," Madsen continued. "Tyler, Brandon, and Chris work their tails off, and we have some great companies that partner with us. I hope Dan Ricehouse (American Racing), and Bob and Pete Gavranich were listening to this one at home."
If fans would like to receive weekly releases directly to their inbox, please send an email to sales@petersenmediainc.com with Kerry Madsen in the subject field.
2014 BY THE NUMBERS: Starts-16, Wins-4, Top-5's- 8, Top 10's-11
ON TAP: Madsen and his Keneric Racing/American Racing team will be in action on Saturday night for the FVP Shootout at the Stockton Dirt Track in Stockton, CA.
STAY CONNECTED: Keep updated with Kerry Madsen, Keneric Racing, and American Racing in a variety of interactive ways-
American Racing
Facebook- www.facebook.com/amercanracingwheels
Instagram- @AmericanRacing
Twitter- @AmericanRacing
Keneric Racing
Facebook- www.facebook.com/KenericRacing
Twitter- @KenericRacing
Kerry Madsen
Facebook- http://www.facebook.com/pages/Official-Fan-Page-for-Kerry-Madsen/101145169933686
Twitter- @KMR29