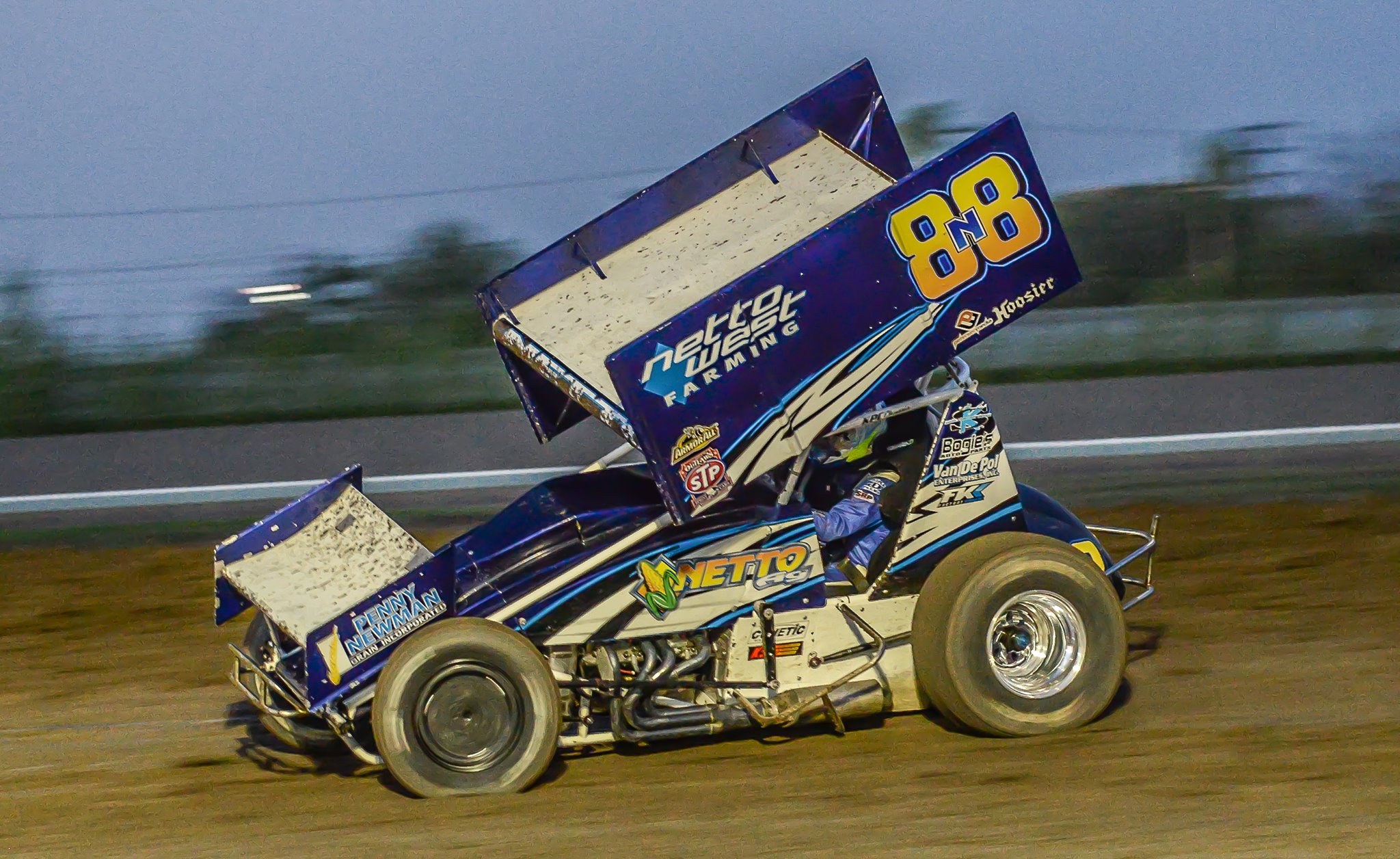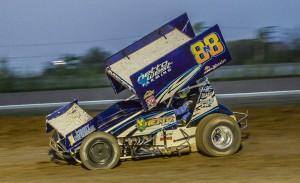 From Peterson Media
Spending his weekend in Stockton, CA competing aboard both his 360ci and 410ci machine, DJ Netto made some major improvements after some early struggles in his 2014 season.
"All in all it was a pretty good weekend for us," Netto said. "We finished 14th and 11th, which isn't great, but it was a much better weekend that we have had the last couple of weeks."
Friday night saw Netto in action for the 360ci race, and the Hanford, CA driver opened the night up with an 11th fastest effort in time-trials with 33-cars on hand, putting him on the front row of his heat.
Getting put back a row after jumping the initial start, Netto took evasive action in the first corner as his machine bicycled, and he found himself outside a transfer spot, and looking in.
Finishing fifth, Netto did in fact miss the transfer, but he was able to pick up the win in the LCS, and transfer to the feature event, where he started in the 15th spot.
In the feature event, Netto had a good car, but made some admitted mistakes as he battled around the 10th spot for a majority of the race.
As the laps wound down, Netto found himself in the 11th spot, where he would go on to finish.
Competing with the World of Outlaws on Saturday night, Netto again opened his night off on a good note, as he was 14th fastest in time-trials, again on the front row of his heat.
This time taking advantage of the front-row spot, Netto grabbed the lead, and never looked back as he picked up the win, and moved into the Dash.
Finishing 10th in the Dash, Netto would line up in the fifth row of the 30-lap A-Main, and got off to a good start, as he battled with Steve Kinser and Terry McCarl.
Working into the eighth spot, Netto and Kinser had a near disaster that saw Netto check up and lose several spots.
Once he gathered his machine up, Netto was near the tail end of the field, and ended up with a 14th place finish.
"It was a pretty good confidence boost to have a nice weekend," Netto said. "We finally had a chance to work as a team rather than try to fix some pesky mechanical woes, so I am really looking forward to our next race."
DJ and his Netto Racing team would like to thank Netto Agriculture, Penny Newman Grain, Bogies Auto Parts, and Vande Pol Enterprises for their support in 2014.
ON TAP: Netto will continue on with the World of Outlaws STP Sprint Cars as he will be in action on Friday night at the Merced Speedway before heading north to the Silver Dollar Speedway in Chico, CA on Saturday.
2014 BY THE NUMBERS: Starts-8, Wins-0, Top 5's-0, Top 10's-0
STAY CONNECTED: Stay updated with DJ and his team by following him on twitter @DJNetto88.