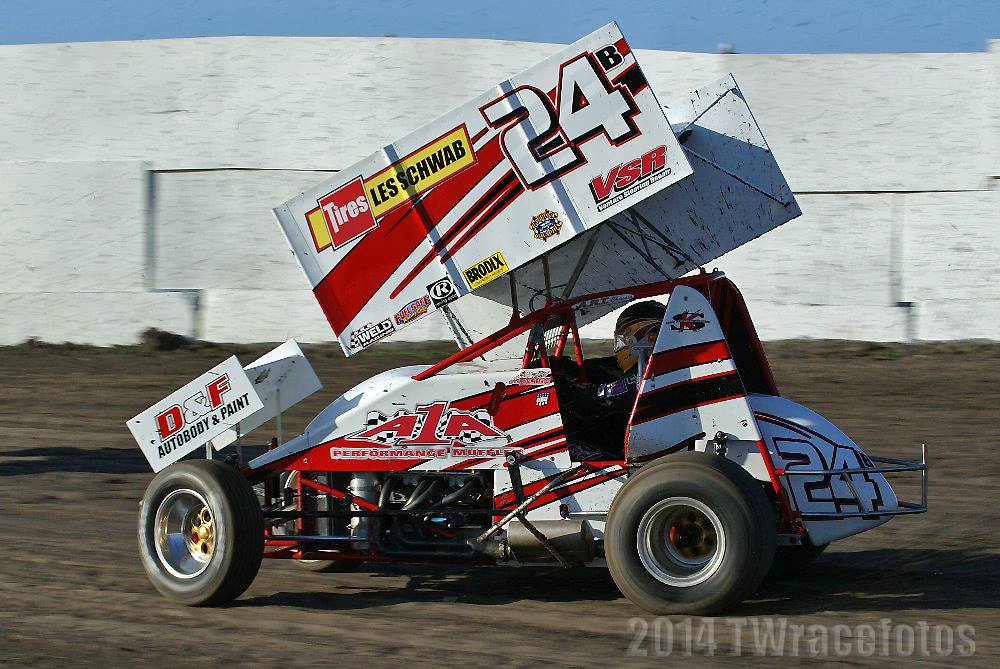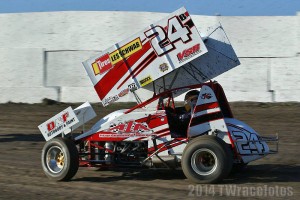 From Peterson Media
Fresh off of a one-week hiatus, the stars and cars of the Civil War Series Presented By Flowmaster come back to life on Saturday night at the tight confines of the Antioch Speedway in Antioch, CA.
A star-studded opening event went off in the Marysville Raceway Park with Andy Gregg taking the win, and the early points lead, but with Gregg skipping the event, Sebastopol, CA hot-shoe, Geoff Ensign leads the series into Antioch on the heels of a charge from 12th to 2nd aboard Brett Lay's A1A Performance Muffler/Les Schwab Tires No. 24B entry. Ensign should again be one to watch as he enters this event as the early point leader.
Chasing Ensign by a single digit is defending series champion, Sean Becker, who still looks to get his new Main Motorsports entry sorted out. Following his third place run at the opening event, Becker will look to put another solid night together as he looks to reclaim the series crown.
Back aboard Josh Bates' No. 42X machine backed by Sport Clips, and Imler Diesel, is Sacramento, CA driver, Herman Klein, who charged from the back of the B in the opening event to earn a transfer to the feature before going on another charge in the feature, to score a fourth place finish, and putting him in a great spot early in the season.
Auburn, CA driver Andy Forsberg will return to the seat of the F&F Racing No. x1 machine looking to avoid another feature event where mechanical gremlins forced him to come from the back, and  will enter the event tied with Klein for fourth in the early season standings.
Another hard charger that will be in attendance is Bradley Terrell aboard Dan Monhoff's M&M Structures No. 35. Charging form 16th to seventh, at Marysville, Terrell will again look to make noise as he defends the title for his car owner.
Though he got off to a brutal start with the series two weeks ago, Jonathan Allard will be in attendance with the series on Saturday night. Over the last few years he has been tough at the speedway, picking up two KWS wins, and a runner up finish with the World of Outlaws, and  he will look to rebound Saturday as his teams goes after the Triple Crown.
Around this time last year, Shane Golobic broke through for his first career World of Outlaw win at the Antioch Speedway, and with him throwing his hat in for the 2014 series title, he will be back aboard Keith Day's entry looking to duplicate that performance from one year ago and rebound from a tough opener.
Other drivers expected to be in attendance are Alissa Geving, , Justyn Cox, Kurt Nelson, Matt Peterson,  Tommy Tarlton, Steven Tiner, Koen Shaw, Shawn Wright,  and many more.
For information on ticket prices please visit the Antioch Speedway Website at www.antiochspeedway.com.
The Civil War Sprint Car Series would like to thank Flowmaster, BR Motorsports, A.R.T. Speed Equipment, Brodix, ButlerBuilt, CRV Carbon Solutions, Design 500, Dirt Solutuion, Taco Bravo, Hansen Machine, Frankland Racing Supply, Fuel Safe, Hoosier, Joe Hunt Magnetos, Kaeding Performance, King Racing Products, KSE Power Steering Products, MotoWear, MPD, All Pro, RCM Design, Rod End Supply, Racing Optics, SRP, Swepco, VSR, and Weld Racing for their support.
ON TAP: The Civil War Sprint Car Series Presented By Flowmaster will return to action on Saturday, March 29th, at Antioch Speedway.
STAY CONNECTED: Keep up with the Civil War Series Presented By Flowmaster, and find complete results and point standings by clicking over to www.civilwarsprints.com, or 'Liking' www.facebook.com/civilwarsprints.