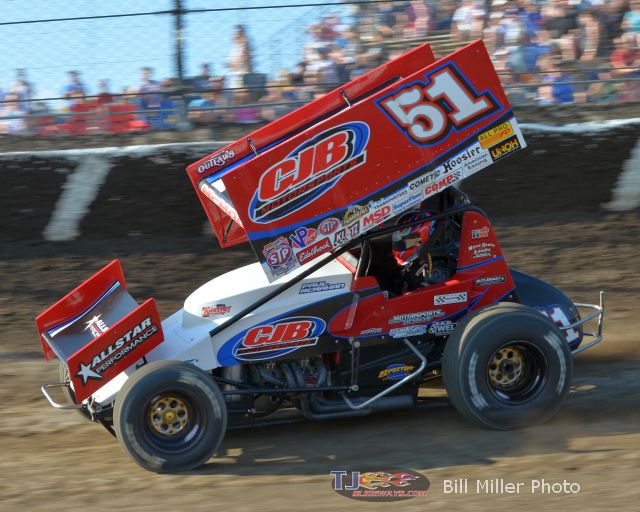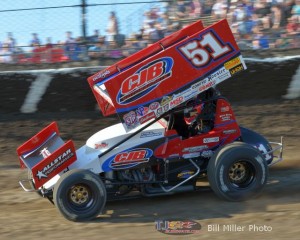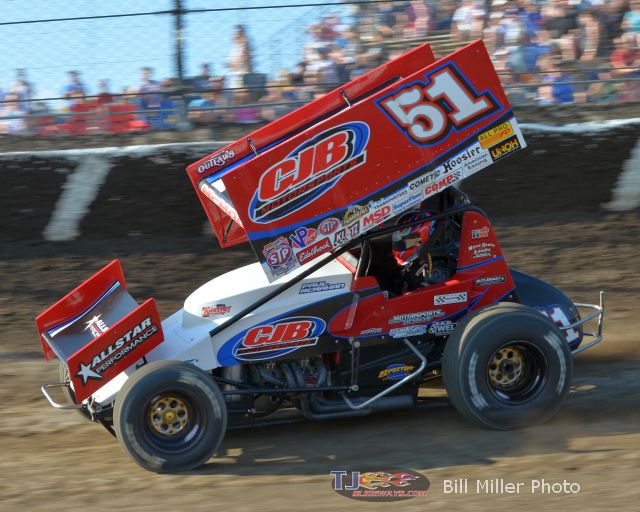 From R&R Media

Telford, PA — (March 2, 2014) — With a race schedule comprised of more than 90 events, every race team is bound to have an event (or a few) that truly test them. For Paul McMahan and the #51 CJB Motorsports team, the FVP Western Spring Shootout at the Stockton (Calif.) Dirt Track was one such night.
"It was a night that seemed to throw us curve ball after curve ball," said McMahan. "We timed in third which wasn't bad but when you do that, you have finish in the top two of your heat to get into the dash. The track wasn't very passable early in the night so we missed the dash and started 11th in the feature."
From there, the #51 Bairs Tree Service/Nyce, Crete & Landis Block & Concrete/All Star Performance sprinter was in a battle each and every lap at the 3/8th's mile oval.
"Early on, Brad Sweet spun and we got collected in that," explained McMahan. "That put us back in the field on the restart. From there, we had someone run over our left rear (tire) and break the shock. After that happened, I lost four spots and we finally had a red (flag) where they opened up the work area. Barry (Jackson,) and the guys came out and replaced the shock, added a new nose wing and we battled back up to 11th. It stinks that we missed the Top-10 for the first time this year but it happens. I am just so glad we were able to battle back. The crew worked their guts out and salvaged what was going to be a bad night."
With Stockton in the rearview mirror, the World of Outlaws STP Sprint Car Series heads for Merced (Calif.) Speedway and Silver Dollar Speedway in Chico, Calif. for their next two events.
"Merced is a tricky little place," said the California native. "It's very tight and tough to pass on. I always look forward to going to Chico because I grew up racing there and I have a ton of family from around there. It's the place where I met my wife and where I  got my first Outlaw win with CJB Motorsports last year. To say it's special place for me is an understatement."
CJB MOTORSPORTS 2014 STATS:
Starts: 10
Quick Times: 3
Wins: 1
Top-5's: 5
Top-10's: 9
UP NEXT:  The CJB Motorsports team continues the Spring Break tour with stops at Merced (Calif.) Speedway and Silver Dollar Speedway in Chico, Calif.
STAY CONNECTED WITH CJB MOTORSPORTS:
For up to the minute race updates and behind the scenes content from CJB Motorsports, please follow the team on Facebook and Twitter.