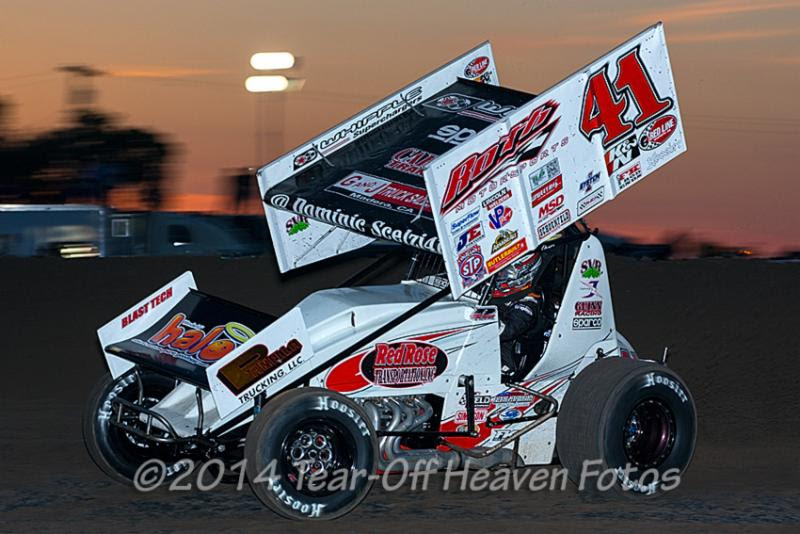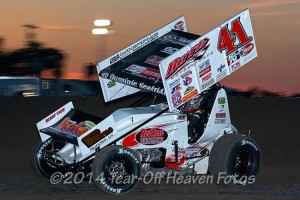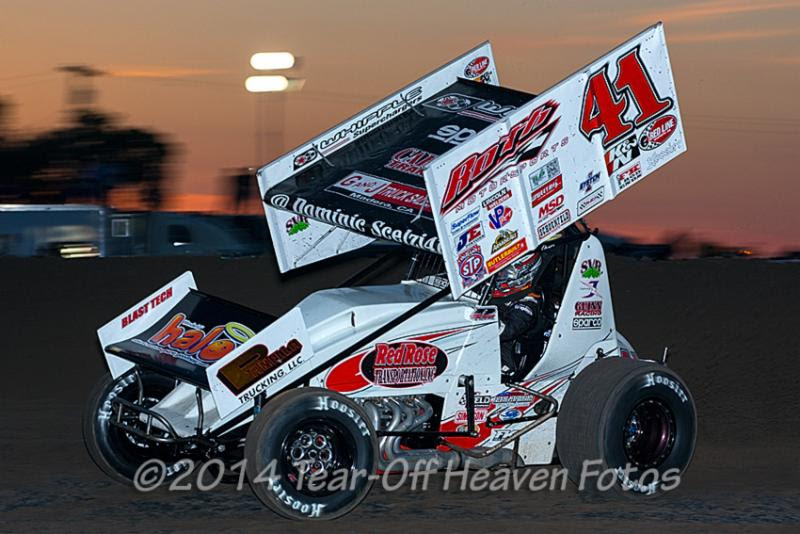 From Inside Line Promotions
Stockton, CA — (March 26, 2014) — Dominic Scelzi and his Roth Motorsports allianced team are raring to get back on the track after discovering a new trick during last Saturday's race.
Scelzi and his team found a setup tweak late in the World of Outlaws STP Sprint Car Series event at Stockton Dirt Track that added comfort and balance to his sprint car.
"In the B Main we felt better than we had all night long," he said. "Yet again, it was too late."
After qualifying 26th quickest and finishing seventh – only two positions out of locking into the main event – in his heat race, the team tried something different to the setup for the Last Chance Showdown.
"We just kinda fought the car all night long," Scelzi said. "I was feeling one thing and we were seeing another in the car. After reviewing some video before the B Main, we got on the same page. We agreed on what was going on and what we were missing."
Scelzi, who started on the outside of the third row for the Last Chance Showdown, advanced to fifth place and was all over the fourth-place driver for the final transfer position midway through the race.
"I was up to fifth and made a mistake running for fourth," he said. "I drove in behind a guy and lost the air on my nose and it pushed me over the cushion."
Scelzi ended with a sixth-place result, which was only two spots away from earning a transfer to the main event. However, the change to the car worked and the team will build on that knowledge.
"We figured out a big, big chunk of what we've been missing in the race car," he said. "It's something that I've been looking for feel-wise. We're going to go into Merced and Chico trying what we found with the car. If that doesn't work, we've got a couple of ideas with the driving of the car as well as the attitude of the car."
Scelzi is scheduled to make his debut at Merced Speedway in Merced, Calif., on Friday and he will tackle Silver Dollar Speedway in Chico, Calif., on Saturday for the Mini Gold Cup with the World of Outlaws STP Sprint Car Series.
QUICK RESULTS –
March 22 – Stockton Dirt Track in Stockton, Calif. – Qualifying: 26; Heat race: 7 (7); B Main: 6 (6).
SEASON STATS –
7 races, 0 wins, 0 top fives, 0 top 10s, 1 top 15, 1 top 20
UP NEXT –
Friday at Merced Speedway in Merced, Calif., and Saturday at Silver Dollar Speedway in Chico, Calif., for the Mini Gold Cup with the World of Outlaws STP Sprint Car Series
MEDIA LINKS –
Website: http://www.GaryScelziMotorsports.com
Twitter: https://twitter.com/DominicScelzi41
Facebook: https://www.facebook.com/pages/Gary-Scelzi-Motorsports/225890834113599