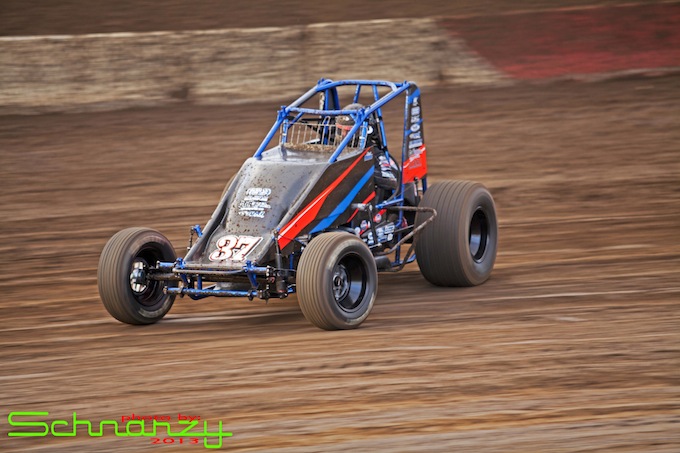 PETERSEN MEDIA-
 Saturday night, Matt Mitchell returned to action with the USAC/CRA Series at the PAS, and after leading a few laps in the early goings, the Yorba Linda, CA driver settled for a hard fought third place finish.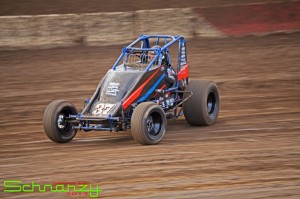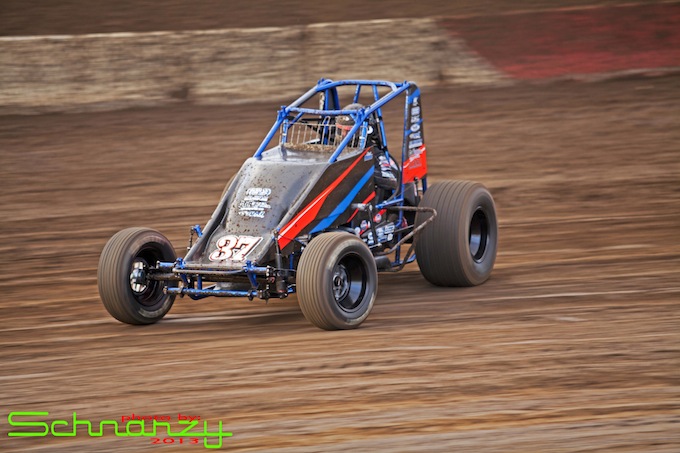 "It was great to run up front all night," Mitchell said. "We have had some atrocious luck to start the year, so we are pretty happy with the way the night went."
With 28 410ci USAC/CRA sprint cars on hand for the event, Mitchell timed his Pit Boss jacks/Campbell Brothers Storage/MPD backed entry in sixth fastest.
A fourth place finish in heat race action qualified him for the feature event, and he gridded the field for the 30-lap affair in the second row.
When the green lights flashed, Mitchell got off to a very strong start as he powered his way into the lead heading into turn one, but quickly felt pressure from a red hot, Damion Gardner.
Falling to second on the third lap, Mitchell hooked up in a very exciting battle with Mike Spencer, as the duo exchanges slide-jobs lap, after lap, duking it out for the second position.
As the race wound down, Mitchell found himself in the third spot, and made a late race effort to get by Spencer for second, but Spencer was able to counter Mitchell's last attempts, and the Yorba Linda, CA driver settled for third.
"I really have to thank my dad a ton for everything he does for my and my racing career," Mitchell said. "I also have to thank my guys. They have been working so hard the last few weeks, and once we start racing a little more consistently, I think we can start clicking some wins off."
Matt would like to thank Pit Boss Jacks, Campbell Brothers Storage, MPD, and ART Speed Equipment for their support in 2014.
2014 BY THE NUMBERS: Races-10, Wins-0, Top 5's-2, Top 10's-7
ON TAP: Matt Mitchell is unsure of his plans for this weekend, but is considering making the tow to the Calistoga Speedway on Saturday and Sunday for two night's of USAC Western Classic action.
PETERSEN MEDIA: Petersen Media is a promotional agency that can handle your public relations, marketing, and any other media needs. Petersen Media utilizes multiple tactics to help you reach your intended audience, to boost awareness.
For more information contact sales@petersenmediainc.com, by phone at 916-342-3424, visit www.petersenmediainc.com,  www.facebook.com/PetersenMedia, or follow www.twitter.com/petersen_Media.
________________________