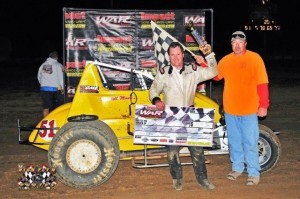 From Chad Buford
Fulton, MO — (April 18, 2014) — As the WAR Sprint Series presented by Impact Signs, Awnings, and Wraps made their first ever appearance at the Callaway Raceway, it was Mitchell Moore making it two for two on the season Friday night.
The A-main got off to a rough start as Mark Finnell made contact with Peter Palazzolo on the backstretch.  John Helm, left with no place to go, would run into him and Finnell would get upside down.  Finnell was okay, but his night would come to an end.  Palazzolo and Helm were able to restart at the tail.
On the second attempt at green, Chad Goff moved into the lead from his second starting spot as he was followed by fast timer Bob Thoman.  Two laps were in the books when the red would come out again for Jonathan Cornell, who barrel rolled violently off the track between turns three and four.  He was not injured.
On the restart, Goff again took command as Mitchell Moore, Taylor Walton, and Chris Parkinson moved past Thoman.
Over the next few laps, the running order would stay this way.
The guy to watch near the midpoint of the race was Palazzolo as he had come all the way from the tail into the top ten.
Nobody had an answer for Moore over the last half of the race as he went on to his second straight win of 2014 in his Kelly Potter-owned Triple X with Denny Moore power.  Goff was a strong second in his B&D Racing DRC with Kercher-Mopar power.  Palazzolo edged Parkinson for third at the flagstand in his Rolla Auto Salvage Eagle.  Walton rounded out the top five.  Potter was sixth as he was followed by Stephens.  Helms came back to a solid eighth after his bad luck on the initial start.  Steven Cross was ninth with Tyler Blank rounding out the top ten.
Next weekend, two new tracks will be on the agenda. The WAR Sprint Series presented by Impact Signs, Awnings, and Wraps will make its way to Humboldt Speedway in Humboldt, KS on Friday April 25th.  They will follow that up with a trip to Central Missouri Speedway in Warrensburg, MO on Saturday April 26th.
Please go to www.warsprints.com or join the WAR page on Facebook to learn more about Wingless Auto Racing.
Time Trials-
1. 27 Bob Thoman, Higginsville, MO, 15.08, 2. 51 Mitchell Moore, Edgerton, KS, 15.16, 3. 77 Taylor Walton, Warrensburg, MO, 15.18, 4. 9 Chad Goff, Spring Hill, KS, 15.36, 5. 09 Josh Stephens, Buckner, MO, 15.41, 6. 4U Devon Huff, Nixa, MO, 15.41, 7. 65 Chris Parkinson, Gladstone, MO, 15.44, 8. 70 Pete Palazzolo, Pacific, MO, 15.44, 9. 55 Kenny Potter, Harrisonville, MO, 15.54, 10. 94L Layne Himebaugh, Collinsville, OK, 15.66, 11. 19S Steven Cross, Clinton, MO, 15.74, 12. 27X Mark Finnell, Osage Beach, MO, 15.76, 13. 12 John Helm, Kearney, MO, 15.83, 14. 28 Jonathan Cornell, Sedalia, MO, 15.88, 15. 8 Jeff Wingate, Centertown, MO, 15.91, 16. 75 Tyler Blank, California, MO, 15.92, 17. 24 Kevin Risley, Collinsville, OK, 15.98, 18. 1A Adam Jones, Wright City, MO, 15.99 19. 3B J.D. Black, Grain Valley, MO, 16.03, 20. 00 P.J. Grimes, Otterville, MO, 16.20, 21. 65ss Warren Tarr, Osage Beach, MO, 16.96, 22. 10 Will Register, Sedalia, MO, 17.86
1st Heat-10 laps
1. 65 Chris Parkinson (6) 2. 75 Tyler Blank (3)  3. 27 Thoman (8) 4. 9 Chad Goff (7) 5. 94L Layne Himebaugh (5) 6. 12 John Helm (4) 7. 10 Will Register (1) 8. 3B J.D. Black (2)-DNF
2nd Heat-10 laps
1. 28 Jonathan Cornell (3) 2. 00 P.J. Grimes (1) 3. 09 Josh Stephens (6) 4. 51 Mitchell Moore (7) 5. 24 Kevin Risley (2) 6. 70 Pete Palazzolo (5) 7. 19s Steven Cross (4)
3rd Heat-10 laps
1. 55 Kenny Potter (3) 2. 8 Jeff Wingate (1) 3. 77 Taylor Walton (6) 4. 4U Devon Huff (5) 5. 1A Adam Jones (2) 6. 27X Mark Finnell (4) 7. 65ss Warren Tarr (7)
A Feature- 25 laps
1. 51 Moore (3) 2. 9 Goff (2)  3. 70 Palazzolo (9) 4. 65 Parkinson (6) 5. 77 Walton (4) 6. 55 Potter (8) 7. 09 Stephens (5) 8. 12 Helm (16) 9. 19s Cross (13) 10. 75 Blank (15) 11. 27 Thoman (1) 12. 8 Wingate (12) 13. 4U Huff (7) 14. 24 Risley (17) 15. 65ss (21) 16. 10 Register (20) 17. 1A Jones (14)-DNF 18. 00 Grimes (18)-DNF 19. 94L Himebaugh (10)-DNF 20. 28 Cornell (11)-DNF 21. 27X Finnell (14)-DNF 22. 3B Black (22)-DNF