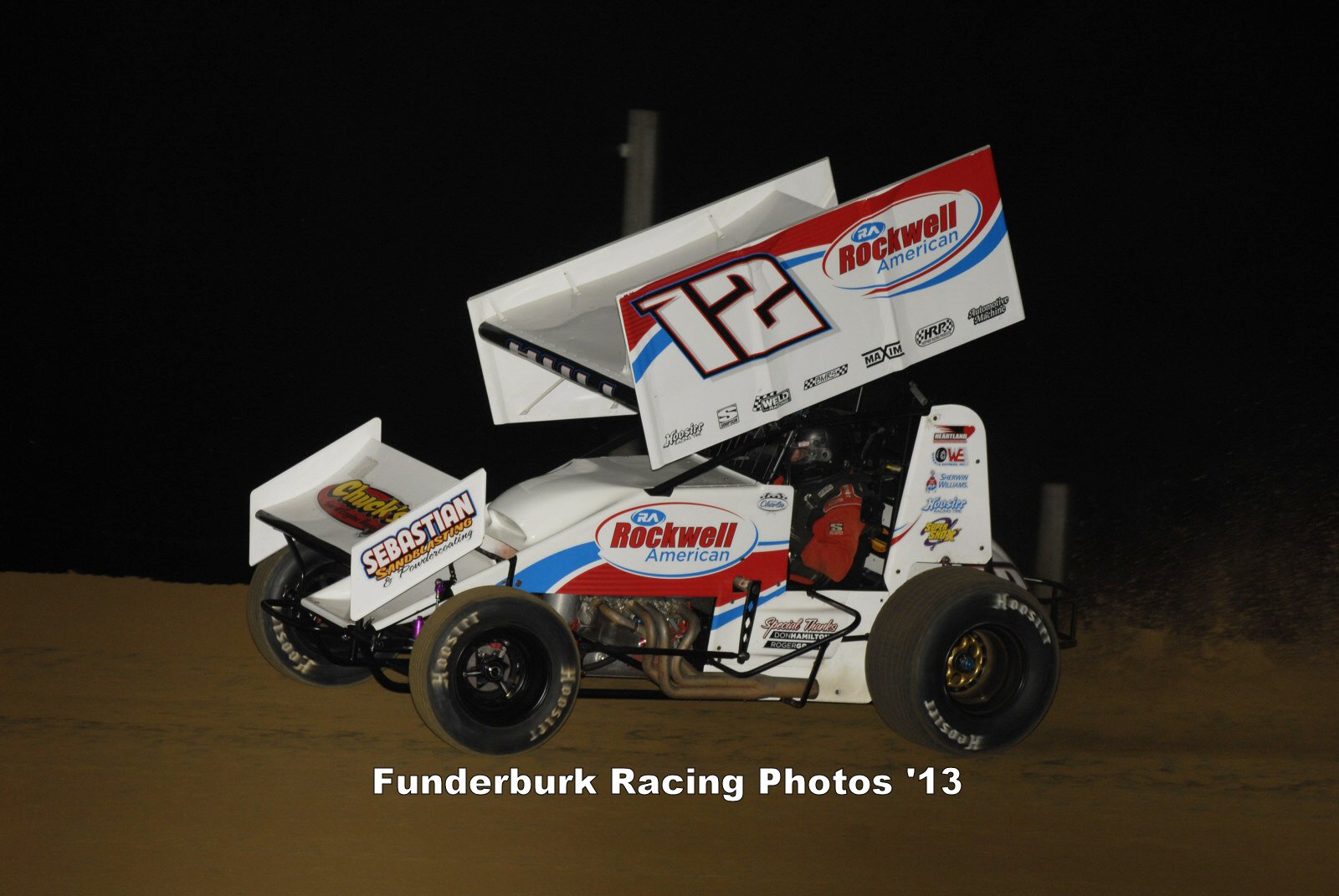 By Bill W
 April 22, 2014 – Last Friday night marked the third outing for the Rockwell American #12 team and driver Jerrod Hull.  For the team, it was a bit of a disappointment when they checkered seventh in the feature at Tri-City Speedway in Granite City, Illinois, but they are set for when the Midwest Open Wheel Association takes flight again the weekend of May 2 and 3 in Lincoln and Flora, Illinois.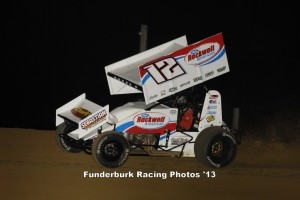 Jerrod drew a starting spot outside of row two in his heat race.  "We were able to get the jump there into third," he says.  "We just ran third.  We really didn't have anything for the first or second place car.  It was fast and around the cushion."
For the first time this season, the Sikeston, Missouri driver failed to win his heat and compete in the Dash.  However, the heat finish was strong enough to set him up inside row five for the feature.  "We just really weren't that good there either," admits Jerrod.  "We took off and passed a couple of cars.  We were running right with them there, not able to do much passing or anything.  We weren't losing any ground either."
The veteran went to work trying to find a line around the 3/8-mile oval to his liking.  "I was searching around for the rubber a little, because I knew it was coming," says Jerrod.  "I found it on the bottom, and I started catching the cars in front of me.  About that time, the top took rubber too, and I ended up getting passed by a couple of cars.  I ended up finding my way back up there, and falling in line."
Jerrod would checker seventh.  So far, the three-time and defending MOWA champ has scored a win in the series' opener at Jacksonville, Illinois and a sixth place finish at the 34 Raceway in West Burlington, Iowa.  The team still has a -12 motor first built in 1996 between the frame rails.  "It's an older motor, but I'm thankful we're able to run it," says Jerrod.  "Otherwise, we'd be walking around the track!  We're waiting on some rods on another engine.  It may have helped us a little bit to have the newer motor, but that wasn't our whole problem.  Christopher Bell was gone, but he had engine problems.  Brady Bacon was fast too, but I don't see a reason if we had the car right, we couldn't have had a respectable finish behind those guys."
The team is still searching for a good feel on the track.  Their next opportunity will be at Lincoln, Illinois on May 2.  "I don't know why we haven't been on it," says Jerrod.  "We didn't have a really good finish at Burlington.  We just weren't good at Granite City either.  We weren't that good in the heat, and we weren't much better in the feature.  That's one of my favorite places to race.  I know we'll work on it, and the next time we go there, we'll be a lot better.  It was just an off night."
Jerrod and the #12 team would like to thank: Rockwell American, Midland Performance, Super Shox, Sebastian Sand Blasting & Powder Coating, Inc., Chuck's Small Engines, Don Hamilton, HRP, Lighthouse Christian Center, Logo Daddy, Hoosier Tire, Simpson, Weld, Automotive Machine, Maxim and Heartland Trailer Manufacturing.