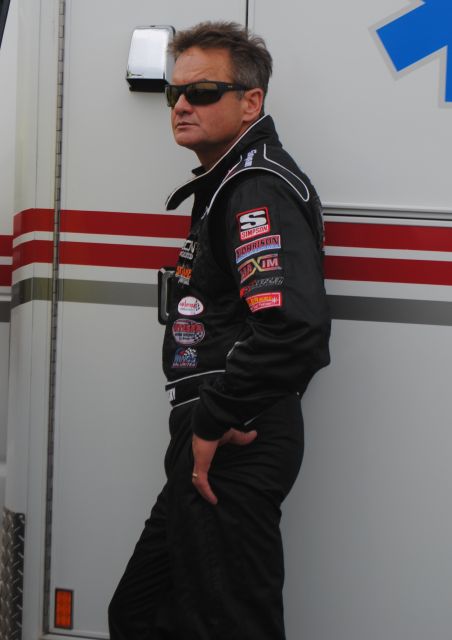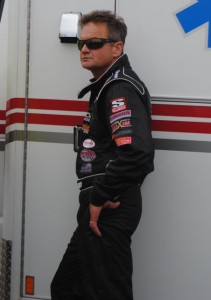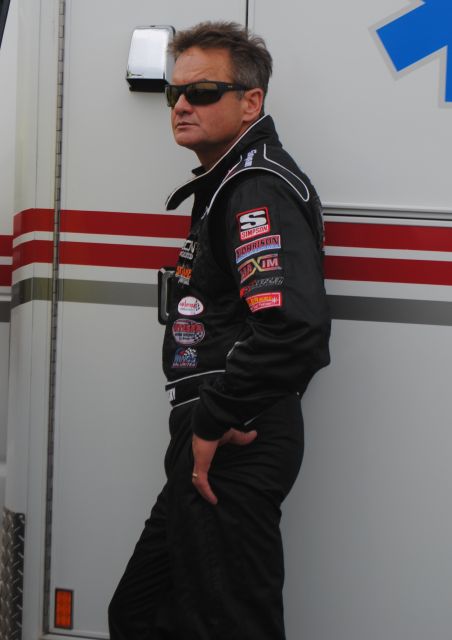 Inside Line Promotions
– KNOXVILLE, Iowa (April 23, 2014) – A slow start met an unfortunate end for Big Game Motorsports driver Craig Dollansky last Saturday during the season opener at Knoxville Raceway.
"Really we didn't have any speed in hot laps or qualifying, but we got that sorted out and headed in the right direction before the heat race," he said.
Dollansky qualified 10th quickest, which started the Big Game Treestands car on the inside of the second row for his heat race.
"I think we got to the lead within a lap and a half," he said. "I was encouraged with some of the changes we made after qualifying. We had better speed in the heat race."
Dollansky won his heat race to lock himself into the 20-lap main event, which he started on the outside of the fifth row.
"I felt like we were going to come out of the feature with a pretty good finish," he said. "In the feature we took off and had a right rear tire going flat from the start."
The Big Game Treestands car battled within the top 10 for the first half of the race before Dollansky's right rear tire blew going into turn one with nine laps remaining.
"That was unfortunate, but luckily we were able to keep it out of the wall," he said. "I was losing air pressure as the race was going and it was causing us problems. They went green about the exact time I got to the work area."
Dollansky wasn't given any time in the work area and the race restarted with him trapped in the pits.
As important as the tire issue was a vibration that hampered the Big Game Treestands team all night.
"We had a significant vibration that was a major concern of mine," he said. "We never got that figured out. We're going through some things and hopefully we'll get it figured out. That's been one of the goals this week."
Dollansky will return to action this Saturday at Knoxville Raceway.
"This is a work in progress trying to get this team up and going," he said. "We're a little light as far as crew members go. We're just continuing to work to try to get everything in place to where we need to be to do a good job for our sponsors and everyone who supports our race team."
QUICK RESULTS –
April 19 – Knoxville Raceway in Knoxville, Iowa – Qualifying: 10; Heat race: 1 (3); Feature: DNF (10).
SEASON STATS –
2 races, 0 wins, 1 top five, 1 top 10, 1 top 15, 1 top 20
UP NEXT –
Saturday at Knoxville Raceway in Knoxville, Iowa
MEDIA LINKS –
Website: http://www.BigGameTreestands.com
Twitter: https://twitter.com/Big_Game_TS
Facebook: https://www.facebook.com/pages/Big-Game-Treestands/251832101535076?fref=ts
Aggressive Hydraulics: http://www.AggressiveHydraulics.com
MobileStar: http://www.MobileStar.us/mobilestarwebsite
BIG GAME TREESTANDS –
Established in 1977 in Windom, Minn., Big Game Treestands® has grown to be a leading company in the outdoor industry. Big Game Treestands® offers a Rock Solid™ line of field tested, safety certified above TMA requirements, welded steel stands & free standing elevated platforms that gives you not only a safe and extremely sturdy vantage point, but also reliable all-day comfort at a great value. Large, non-slip standing platforms, top-notch fastening systems, and our innovative pinned, sleeved ladder sections provide the Rock Solid™ stance, twist free climbing, and all around silence that Big Game Treestands® is known for. Non-glare, powder coat finish keeps our products hidden from nature's wary eye.
For over 30 years, it has been our goal and our philosophy to provide the most innovative and practical treestands and hunting accessories in the field. As tradition continues, we are Exceeding Limitations and once again providing new models that challenge Mother Nature. In 2012 Big Game extended the line into Trail Cameras known for the easy to set, great picture quality, and over all great camera. Eyecon Trail Cameras® exceeds the expectations of consumers. Big Game Treestands® and Eyecon Trail Cameras® offers undeniable quality on time-tested favorites as well as new innovations for 2013.
For more information on Big Game Treestands®, visit http://www.BigGameTreestands.com.
TRAIL CAMERAS –
Big Game Treestands® offers a variety of trail camera options that are user-friendly with exceptional imaging as well as a 120 degree pivoting head. New and improved cameras include the Jag, Mantis II, Frenzy, Storm II, Black Widow and Quick Shot. To learn more about or to purchase a trail camera, visit http://www.BigGameTreestands.com.
INSIDE LINE PROMOTIONS –
Inside Line Promotions specializes in affordable public relations and media management for motor sports drivers, teams, sponsors, tracks, series, events, organizations and manufacturers. ILP Founder Shawn Miller leverages professional journalism with new media technologies and social networking to improve your exposure and the return on investment for your sponsors.
To meet the media relations needs of your program and to join Team ILP, contact Shawn at 541-510-3663 or InsideLinePromotions@gmail.com. For more information on Inside Line Promotions, visit http://www.InsideLinePromotions.com.