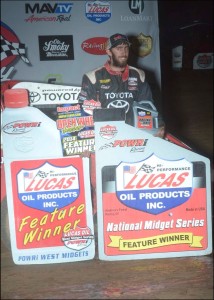 From POWRi
Wheatland, MO — (May 3, 2014) — Zach Daum of Pocahontas, Illinois took home his first POWRi Lucas Oil National Midget Series win of 2014 with a last lap, last corner pass on runner-up finisher Daniel Robinson. Daum started in the second position in his Daum Motorsports-prepared, Toyota-powered Eagle staying within striking distance of the lead for the entire race on the 3/8 mile semi-banked oval. Pole-sitter and Friday night's feature event winner at Valley Speedway, Darren Hagen of Riverside, California held the lead for a majority of the race, enduring steady pressure from Kokomo, Indiana's Parker Price-Miller in the beginning half of the race.
Following a caution for the spun machine of Spencer Bayston, Price-Miller attempted to overtake Hagen, but the 2013 POWRi Lucas Oil National Midget Series Rookie of the Year was unable to do so. While Hagen, Price-Miller and Zach Daum were all clinging to the bottom side of the race track, it would be Daniel Robinson of Eulling, Illinois who would begin the daring task of cleaning off the high-side. At first, the risk didn't appear to pay off as Robinson would lose a spot. But then a caution for the spun car of Michelle Decker would bunch the field back up, giving Robinson another chance. "It might have been a bad move, I might have ended up tenth," explained Robinson. "But I'm prepared to take those risks." It would pay off as Robinson began to pass cars one by one and eventually Hagen was forced to relinquish the lead to Robinson's McCreery Motorsports-sponsored, A.J. Felker-prepared, Esslinger-powered FSC.
Once Robinson took control of the lead, it was clear the top side had come in and drivers Zach Daum and Parker Price-Miller changed their lines and moved to the outside. "I never dreamed it would have moved off the bottom," explained Zach Daum. "But they showed us the top and we reeled them back in up there. We had fun."
Zach Daum, the defending POWRi Lucas Oil National Midget Series Champion, would chase down Robinson laying the ground work for a battle to the very end. With only a few laps remaining, Zach Daum would show his hand and attempt to pass Robinson. But Robinson would deflect the pass, killing Daum's momentum. O n the last lap, heading into turn three, Daum would again be on Robinson's back bumper with Price-Miller in tow.
In classic, dirt track style, Daum would dive to the middle of the track, sliding in front of Robinson and the duo would come out of four with Daum in the lead at the checkers. "I thought we had it won," explained a clearly deflated and disappointed Daniel Robinson. "We hired A.J. (Felker) to crew chief for us this weekend and hopefully we can continue that."
After struggling at Valley Speedway, Parker Price-Miller was able to rebound to podium. "Overall it was a good night," explained third place finisher Price-Miller. "We blew up last night unfortunately, but we got it changed today and made it work for tonight."
POWRi Lucas Oil National Midget Series feature results (30 Laps): 1. 5D – Zach Daum, 2. 57D – Daniel Robinson, 3. 9P – Parker Price-Miller, 4. 56 – Darren Hagen, 5. 11A – Andrew Felker, 6. 35 – Matt Sherrell, 7. 37 – Korey Weyant, 8. 25 – Jake Blackhurst, 9. 2 – Seth Motsinger, 10. 11C – Chett Gehrke, 11. 22 – Andy Malpocker, 12. 79J – Jacob Patton, 13. 39 – Spencer Bayston, 14. 4M – Michelle Decker, 15. 14E – Eric Fenton, 16. 7S – Kory Schudy, 17. 56X – Mark Chisholm, 18. 21H – Ty Hulsey, 19. 0Z – Johnny Murdock, 20. 7 – Austin Brown, 21. 7W – Kris Schudy, 22. 5C – Colten Cottle
For more information, visit www.powri.com.