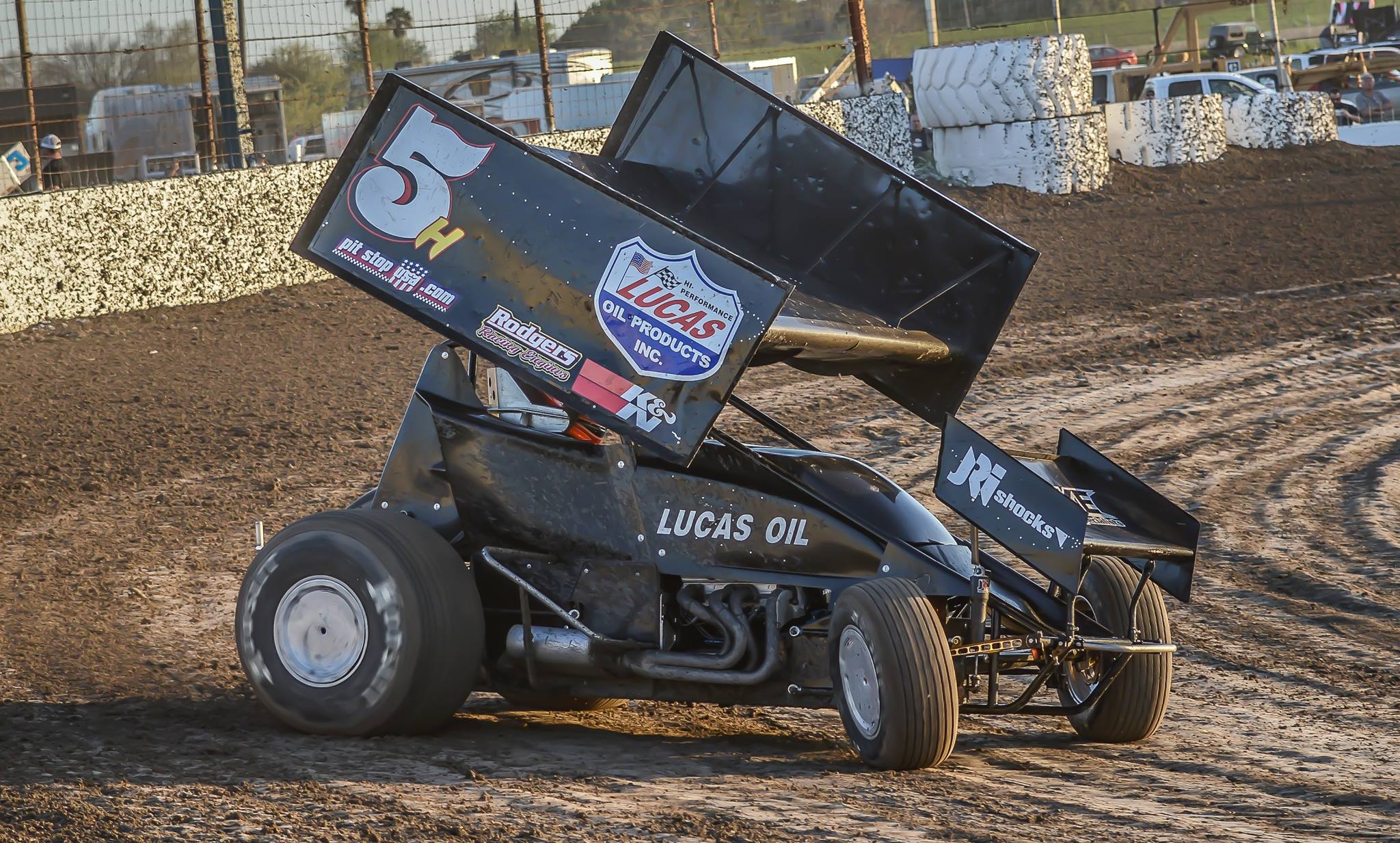 PETERSEN MEDIA
Justyn Cox and his Van Dyke Motorsports team were in action at the Silver Dollar Speedway for a pair of events, and though they struggled on Friday night, Cox pocketed a sixth place finish on Friday night.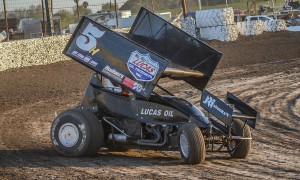 Starting his weekend off on Friday night for a weekly Silver Dollar Speedway event, Cox timed his Lucas Oil/K&N Products/JRI Shocks backed No. 5H in 11th fastest.
Running second in his heat, Cox lined up in the sixth row for the main event, and on a track that forced drivers to be patient, Cox did just that.
Working the technical bottom of the speedway, Cox was able to fight his way forward, and pick up spots every few laps, and found himself up to the fifth spot, when a small mistake, opened the door for John Michael Bunch.
Back in the sixth spot, Cox tried to get back up into the fifth spot, but was unable too, and settled for a sixth place finish.
Taking of the King of the West series Saturday night at the same venue, Cox  timed his Van Dyke Motorsports entry in 10th fastest.
Starting on the front row of his heat race, Cox had bad luck at the start, as his machine came out of gear, getting into turn one.
Thinking of his engine, Cox opted to head back to his trailer so they could make sure there was no engine woes from it popping out of gear.
Going through the engine, and focusing on that, the team wasn't able to focus on their set up for the B, and it showed as Cox struggled to a ninth place finish.
"It just was not our night on Saturday," Cox said. "We were in a really good spot after time trials, and if we could have gotten the job done in our heat race, our night would have been way different, but these kind of things happen. I have to thank Harley Van Dyke and Fez for all of their hard work this weekend."
The Van Dyke Motorsports team would like to thank Lucas Oil,  K&N Products, JRI Shocks, NAAKE Suspension Rodgers Racing Engines, FSR Radiators, for their support during the year.
Justyn Cox would like to thank Capitol Casino, JRD Endeavors, Sacramento Theatrical Lighting, Worton Designs, Jimmy Vasser Chevrolet, Manzer Motorsports, Tim's Hot Rods, Justice Brothers, and College Cyclery for their support during the 2014 season.
2014 BY THE NUMBERS: Races-5, Wins-0, Top 5's-1, Top 10's-3
ON TAP: Cox will return to action Saturday night aboard his Cox Racing No. 31C machine at the Placerville Speedway.
PETERSEN MEDIA: Petersen Media is a promotional agency that can handle your public relations, marketing, and any other promotional needs. Petersen Media utilizes multiple tactics to help you reach your intended audience, to boost awareness.
For more information contact sales@petersenmediainc.com, by phone at 916-342-3424, visit www.petersenmediainc.com,  www.facebook.com/PetersenMedia, or follow www.twitter.com/petersen_Media.
________________________