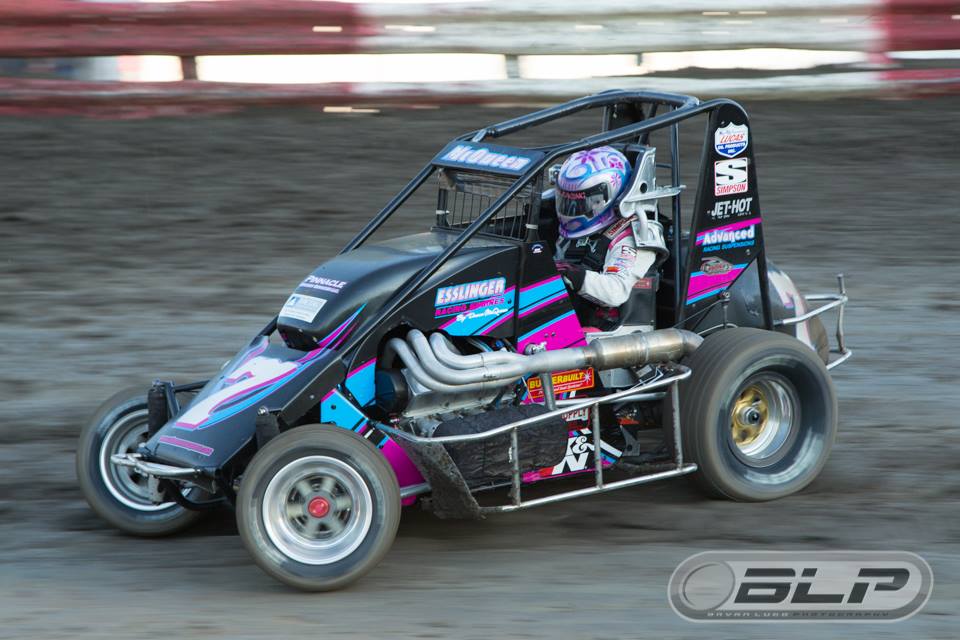 By Robert Haugh
Bakersfield's Shannon "Lightning" McQueen continued her 2014 racing season with a disappointing finish on Saturday, May 3 at the USAC-Western States event at the 1/3-Bakersfield Speedway.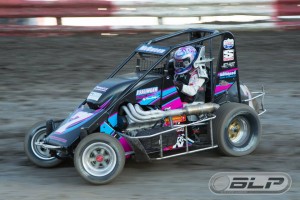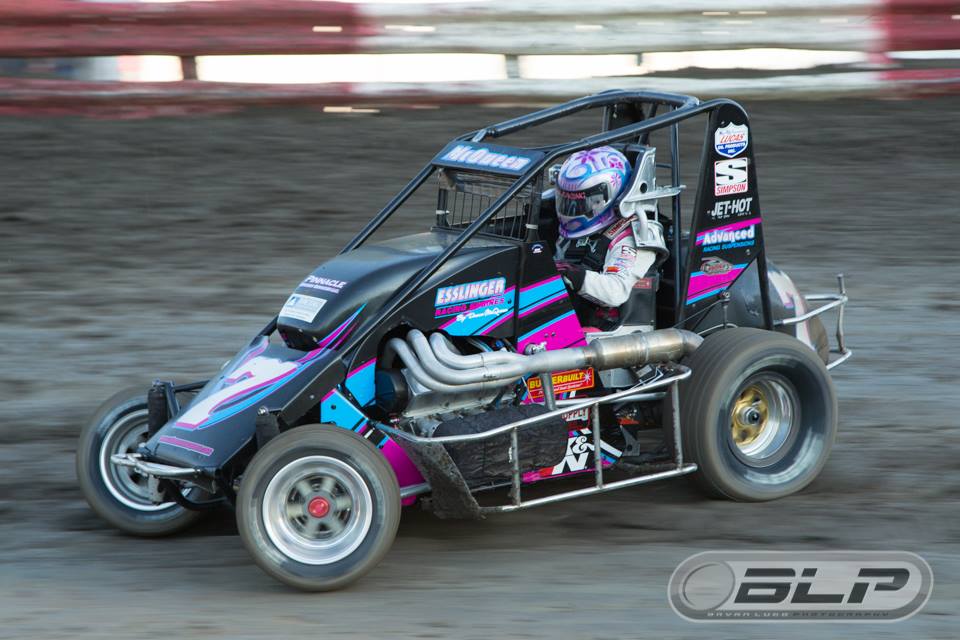 Chauffeuring the McQueen Racing #7 Lucas Oil/Simpson Race Products Spike/Esslinger by Duane McQueen, the poised pilot was hoping for a strong run, but luck was not on her side this evening at her hometown track.
Starting the evening with the second fastest qualification lap (13.274), McQueen claimed third in her Heat race from sixth starting position, stating her car was excellent in the Heat, but she got squeezed into the front stretch wall in the opening laps, settling for a third place run, though she believes she could have contended for the win.
Originally lining up fifth in the 30-lap feature, McQueen was involved in an altercation on the opening lap. Upon the front row starters, in particular, the pole sitter brake checking the field, havoc ensued behind, with the most damage to McQueen's entry and Jarid Blondel's mount, which landed on top of McQueen's tail tank, hooking the two cars together at the bumper. Re-firing the car, McQueen tagged the rear of the field, restarting in 13th. McQueen methodically worked her way forward, hustling into the Top 5 once again by lap 18.
On another restart in an incident-marred event, McQueen generated a great run off of Turn 2 and was passing for third, though ending up spinning sideways due to the hard, close racing.  Another competitor, with nowhere to go drove into the right side of McQueen's car, causing severe damage to the right side nerf bar, right front shock and right front radius rods, this ending her evening prematurely, officially scored in 11th place.
"All in all the car was fast, we definitely had a shot to finish on the front stretch, not sure if we could have pulled off the win, but a top 3 was definitely in the cards," stated McQueen. "The car was fast all night long even though our official results do not show it. A special thanks to all of our fans, family and sponsors."
Next up for McQueen will be a May 17 BCRA event at the 3/8-mile Stockton 99 Dirt Track at the San Joaquin County Fairgrounds in Stockton. In April, McQueen claimed second place at the 99 Dirt Track.
McQueen became the first woman to win a BCRA Midget championship in 2011 when she claimed the BCRA Dirt Midget crown, then claimed the 2012 USAC-Western States Midget championship, amassing four Heat race wins, nine Top 5 runs, three fast time awards and 13 Top 10s in 2012. McQueen also holds track records at Calistoga Speedway, Silver Dollar Speedway and Orange Show Speedway.
McQueen is also the first female owner to boast a win with a female driver when Oklahoma's Michelle Decker won a USAC Western States Midget Feature in April 2012 at McQueen's home track of Bakersfield Speedway at the helm of one of McQueen's potent Spike/Esslinger entries.
McQueen Racing would like to thank all of our wonderful sponsors: Lucas Oil Products, Simpson Race Products, Eibach Springs, DMI, Rod End Supply, K&N Filters, Advanced Racing Suspensions, MPD, Ruth Engineering, Jet-Hot Performance Coatings, Butler Built Seating Systems, Schoenfeld Headers, American Fabrication, West Evans Motorsports, Western Open Wheel Racing News and Esslinger Racing Engines by Duane McQueen.
Visit www.shannonmcqueen.com for more information on McQueen Racing.