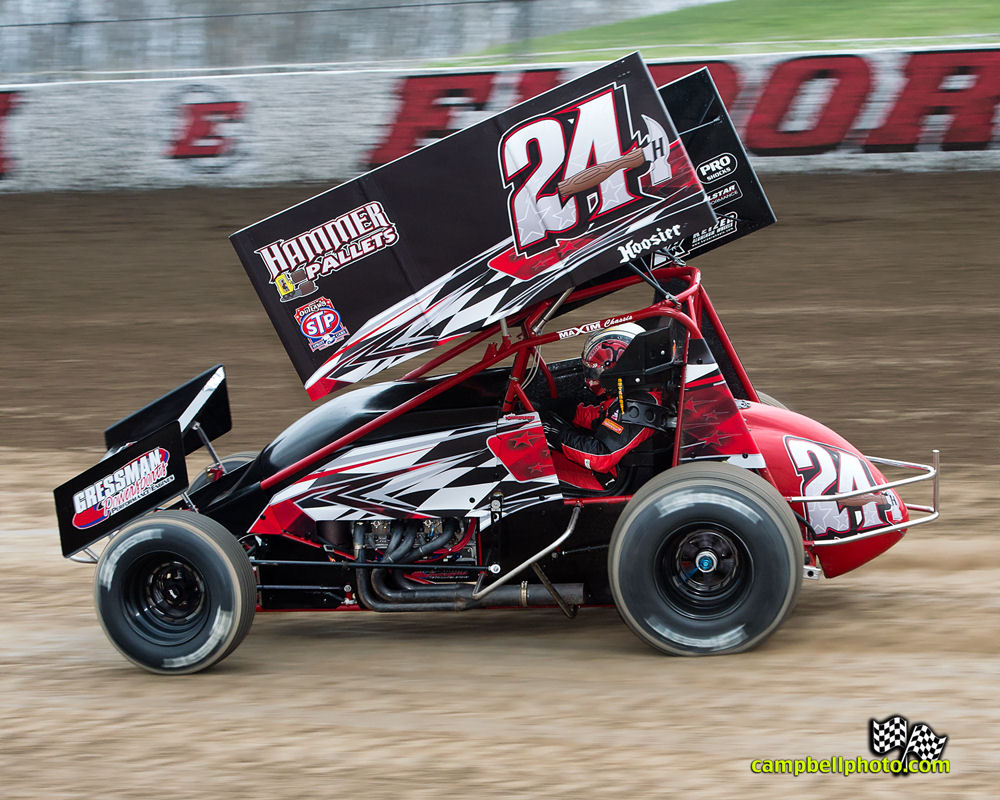 By Bill W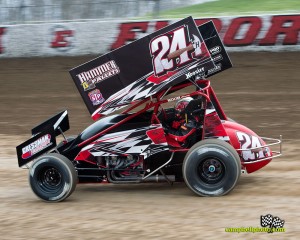 May 8, 2014 – The weekend started great at Eldora Speedway for the Hammer Motorsports #24H team and driver Brandon Wimmer.  A new look, and a qualifying time that put them in a position to contend started things out well in Friday's preliminary action with the World of Outlaws.  Unfortunately, a broken motor greeted them before Saturday's finale could get underway.
With a stout field on hand, Brandon put the car in good position to contend on Friday.  "We had a pretty good night going Friday," he says.  "The car was really good in qualifying.  We were able to qualify eleventh quick.  That put us starting second in the heat, and we ended up finishing second."
The Fairmount, Indiana driver would start thirteenth in Friday's main event.  "We were just a little off in the feature, and when you're a little off with the World of Outlaws, it shows," says Brandon.  "We weren't too bad for a few laps, but as the race went on, we fell back."
Saturday's finale ended before it began.  "Saturday was tough," says Brandon.  "We just went out to hot lap and the motor let go.  It was too bad, because we had drawn a good number and it was slicker on Saturday.  I think we would have been in good shape."
Brandon is thankful for his car owners, Randy and Lisa Hammer and the whole Hammer Motorsports team.  "It's just tough for Randy and Lisa," he says of the motor situation.  "I want to thank them for always making this race team the best it can be.  Aaron (Hammer) works so hard in the shop all week too, and Tim Pearson as well."
The team will be back out as soon as possible.  "They all work so hard, so that we can go out and play on the weekends," says Brandon of the team.  "I hate to see something like (the motor) happen for our team, but we'll get it back together in a week or two and be back out there."
Brandon and his wife, Chantel, have other things on their mind as well.  They're expecting their first child this weekend!
The Hammer Motorsports is looking for additional partners to expand their schedule in 2014.  Those interested can e-mail Brandon Wimmer at Brandon7TW@yahoo.com or Hammer Motorsports at hammertime24@ymail.com.
Hammer Motorsports would like to thank the following for their support: Hammer Pallets, Crown Batteries, OC Shocks, Kear's Speed Shop, All Star Performance, Gressman Powersports, Butlerbuilt, Simpson and Meggit Sandblasting and Powdercoating.