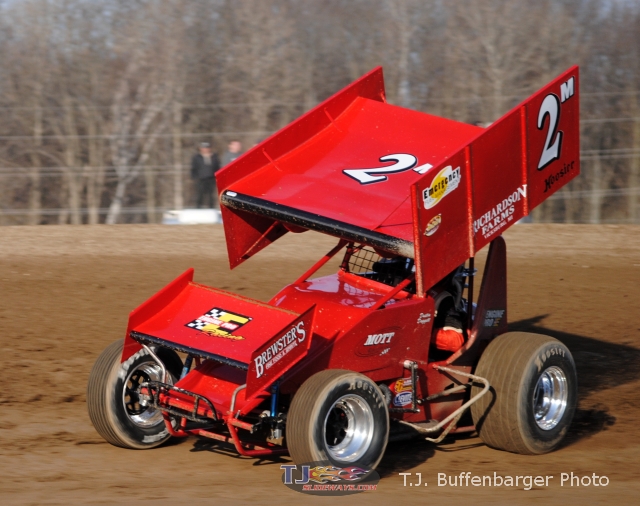 By Bob Buffenbarger
Lake Odessa,Mi. (5-9-2014)- Dustin Daggett started on the pole of the 25 lap feature at I-96 Friday night and led every lap. But sometimes results and stats don't really tell the whole story. Even with less than a full field of sprint cars, the action and events during the feature provided the wind blown crowd with some "wild and crazy" action on the newly configured 3/8ths mile track.
Daggett led the initial 5 laps when the #89 of Chris Pobanz came to a stop on the track bringing out the first caution. On the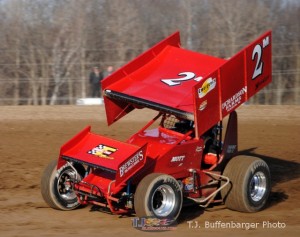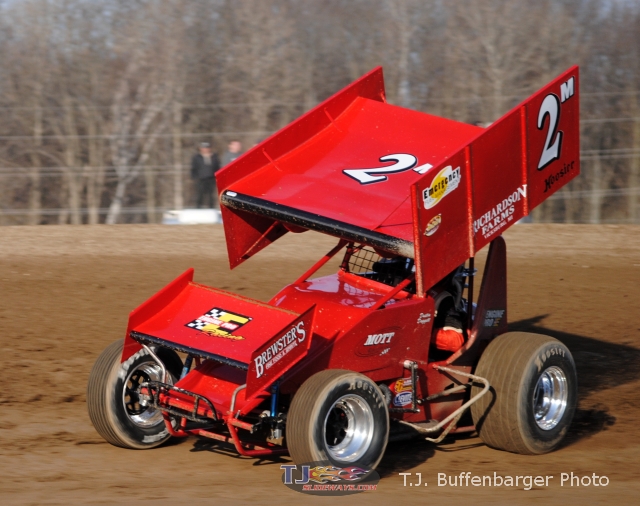 restart, the #81 of John Gall spun off turn 3 negating that start. During the next attempt, the #10 of Jason Blonde drifted high off the backstretch and flipped bringing out the red. Blonde was not injured.
During the red, a bank of lights went out on the front stretch but it was determined the track was safe so racing resumed with Daggett leading Ryan Ruhl and a fast Chase Ridenour. By lap 10 Ridenour had moved past Ruhl into 2nd and lap 12 saw Ridenour slide under Daggett briefly with the two cars side by side for a lap with Daggett maintaining the lead. Now Ruhl was closing and a three car battle was taking shape.
As the #16 of Ruhl was about to close on the top two cars, he spun in turn four on lap 16. As the green appeared once more, Daggett was now on a mission pulling out to wider lead. On lap 21 Ridenour made an ever so small bobble going into turn three and Brett Mann made a wild Bonsai charge under Ridenour to take 2nd.
Daggett went on to take the checkers followed by Mann, Ridenour, Ruhl and Craig Karazim.
Heats were won by Ruhl and Mann.