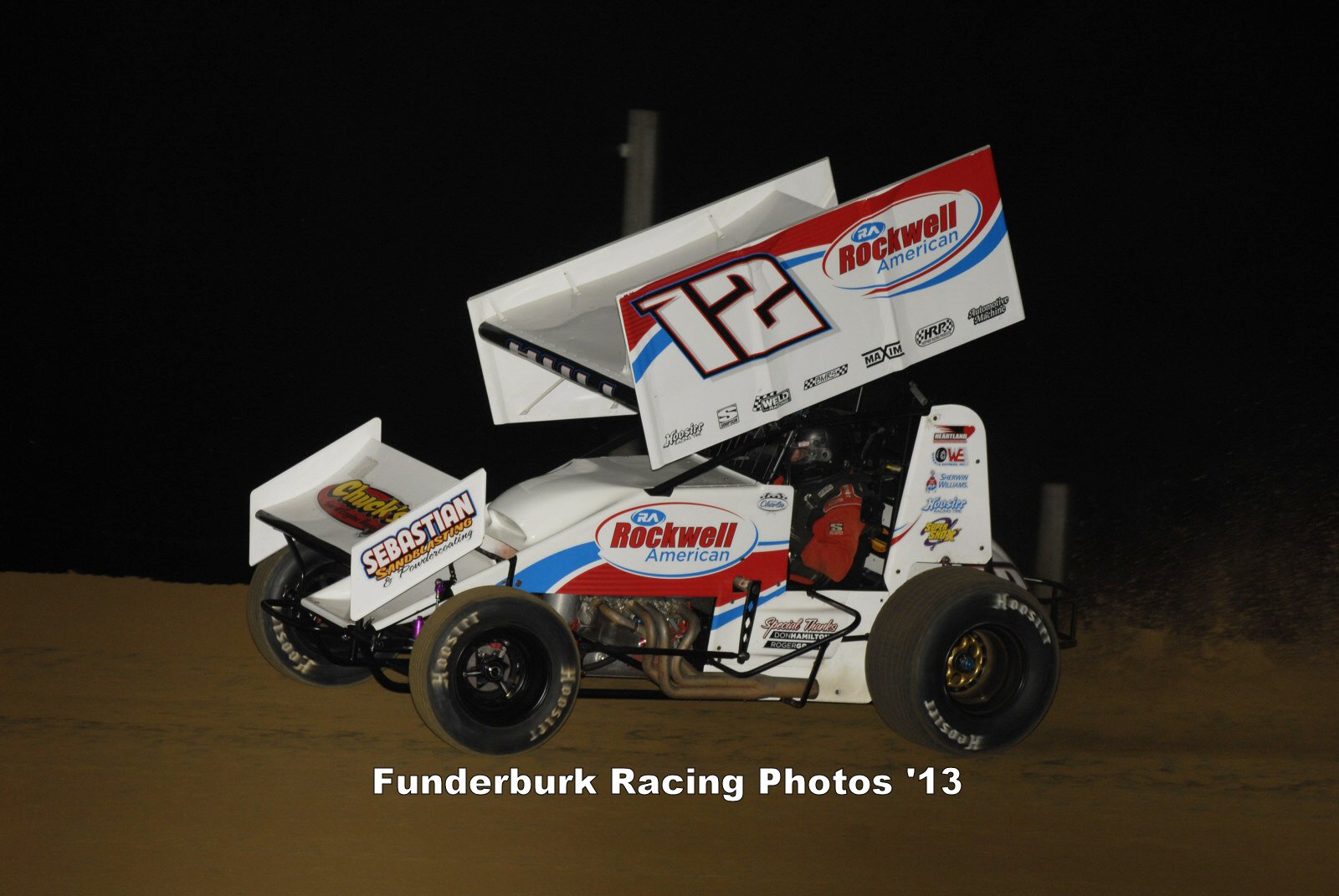 By Bill W
May 12, 2014 – Jerrod Hull doesn't race with the World of Outlaws much, but it isn't because he isn't one of the best drivers in the land.  It has more to do with the power under the hood than anything else.  However, the Sikeston, Missouri driver found himself on common ground with the premiere series in sprint car racing last Wednesday night at Jacksonville Speedway in Illinois.  Jerrod is the leading feature winner all-time at Jacksonville, where the bullring leveled the playing field last week and gave the feel of a WoO event from another time.
Sporting a motor under the hood first constructed in 1996, Jerrod was right there with them in qualifying.  "Things started out great!" he says.  "We were second quick in hot laps, and we were really excited about that.  We got out there in qualifying, and there was a rut that I got into in (turn) three.  It caused some problems for some other people too, but we qualified seventh.  Our goal was to be in the top ten, so we accomplished that."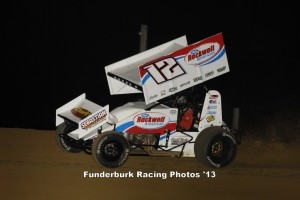 It looked like Jerrod and the Rockwell American #12 would be where they usually are Jacksonville, in contention to win.  However, a pileup in the front of his heat race, changed the complexion of the night.  "I felt really comfortable with the car heading into the heat race," says Jerrod.  "We were looking at getting in the Dash.  But some cars got together in front of us there on the first lap and we weren't able to miss it.  It knocked the nose wing off and bent the front torque tubes."
Jerrod took an ailing car and tried to grab a top four spot to qualify for the Dash, but it wasn't to be.  "I was able to push through there and stay running to save our starting spot," he says.  "That put us on the front row outside, but the (nose) wing folded up and I couldn't see anything.  I was looking out the side of the car just to see.  We were second for a couple of laps, then third, then fourth.  Ian Madsen got around us and that put us fifth and in the B main."
With the car not handling well, Jerrod still finished third in the B and would start 12th in the feature.  "We got through, but the car just wasn't very nice," he says.  "Our left front was bent.  We did our best to straighten it out for the feature, but we didn't end the way we wanted to."
He saved the car for a better day.  "We only fell back to 14th or so, and the track was actually starting to take some rubber," says Jerrod.  "I knew we didn't have a shot with the car we had of going forward…and with the engine we have, we decided to save our stuff and pulled into the infield."
The event at Jacksonville was sold out well in advance.  Several locals and drivers more familiar with Jacksonville did well throughout the night, including winner Christopher Bell.  "It was definitely a neat thing," says Jerrod.  "Normally, we don't have the motor to qualify with the Outlaws.  I have all the confidence in Scott's (Bonar) setups on the car, and all the confidence in my driving ability.  We usually only have a motor to qualify 23rd or 24th on a track like Pevely or a bigger track with the Outlaws.  I was calm at Jacksonville.  There was no pressure on me.  I thought we could do well, and the way things were starting out, we were headed to the Dash.  Then who knows?  The heat just sent our night a different way."
WoO drivers were seen visiting the three-time and defending MOWA champion for advice before the feature.  "That was cool," says Jerrod.  "They came down and asked me what tire they should run, and what I thought the track would do.  I've got some laps there.  I told them pretty much spot on that around lap 20, it would start taking rubber in the middle and then the bottom.  That's pretty much what it did."
The team is assembling a brand new Maxim for a three-race MOWA Memorial Day Weekend swing at Jacksonville, Pevely, Missouri and Quincy, Illinois.
Jerrod and the #12 team would like to thank: Rockwell American, Midland Performance, Super Shox, Sebastian Sand Blasting & Powder Coating, Inc., Chuck's Small Engines, Don Hamilton, HRP, Lighthouse Christian Center, Logo Daddy, Hoosier Tire, Simpson, Weld, Automotive Machine, Maxim and Heartland Trailer Manufacturing.