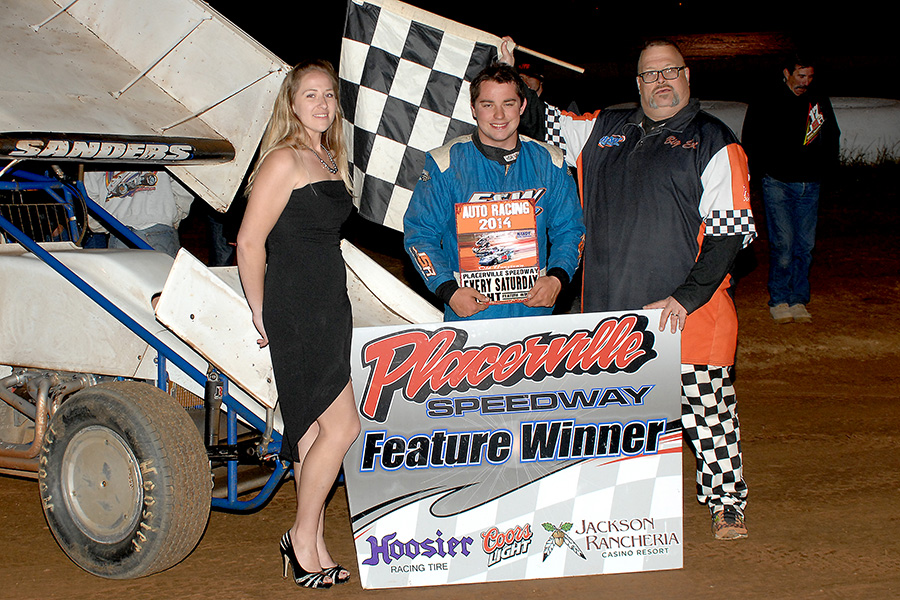 PETERSEN MEDIA
Justin Sanders has gone from hardly having any luck at the Placerville Speedway to being the man to beat at the high banked track as the Prunedale, CA driver picked up his third consecutive victory at the track on Saturday night.
"I cannot say enough about this team," Sanders said. "We have been on a roll lately, and though tonight wasn't the best track, we put ourselves in a great position."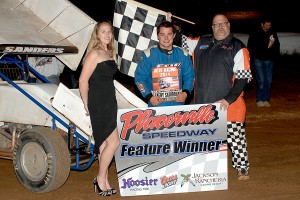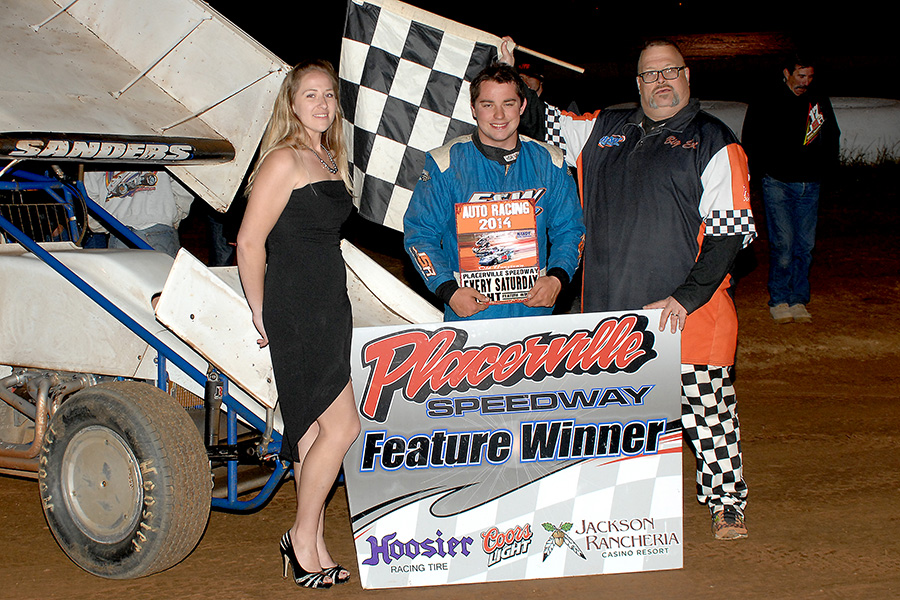 With 27 cars on hand, Sanders timed the Rudy Warrington owned No. 18 machine in seventh fastest, putting him in the first heat, which he won, putting him in the redraw.
Finding himself with the one pill, Sanders was poised to pick up his third straight win on the extremely slick track that saw everyone fight for the bottom lane.
At the waiving of the green flag, Sanders got the jump and ultimately never looked back, as he led the duration of the 25-lap event, with Charlie Cagle chasing him across the line.
With the win, Sanders extended his point lead as perennial favorite, Andy Forsberg had a tough night.
"We found some stuff a few weeks back that has helped us a ton," he said. "We have  a really good starting point, and this thing is fun to drive right now."
Friday night, Sanders was in action at the Ocean Speedway in Watsonville, CA aboard his own entry.
Timing his machine in eighth fastest, Sanders ran second in his heat, and was un eligible for the redraw, so he lined up in the fifth row for the feature event.
At the start of the race, Sanders was able to get to the top of speedway, and get up to the fifth spot in the first 10-laps, but soon after the track took rubber, and passing was essentially non existant.
Hitting his marks, Sanders crossed the stripe in the fifth spot.
"Overall I have to say it was a great weekend," he remarked. "To win and run fifth is tough to do, so hopefully we can keep this rolling."
Justin Sanders would like to thank North County Plastering, G&N Construction, STS Trucking, Lancaster Locksmith, Village Glass. Lufos Kustom Designs, Taco Bravo, LRB Race Products, Petersen Media, Fire Protection Management, Dirt Solution, Bob Tweedy, Ron Gravelle. Keener Auto Body, and  Dave Haver Racing Engines for their continued support.
ON TAP: Sanders will be in action on Friday night with the Ocean Sprints presented by Taco Bravo at the Ocean Speedway aboard his owned Sanders Racing entry, and will be back at the Placerville Speedway on Saturday.
2014 BY THE NUMBERS: Starts-11, Wins-3, Top-5's-6, Top-10's-7
STAY CONNECTED: Stay connected with Justin Sanders by visiting his website, www.teamsandersmotorsports.com.
PETERSEN MEDIA: Petersen Media specializes in motorsports media constructing news releases, both pre and post race, as well as constructing email lists to keep sponsors, and fans up to date. Petersen Media also utilizes today's Social Media networks to provide trackside updates to fans and sponsors, and can customize packages to fit your team's needs.
For more information contact sales@PetersenMediaInc.com, by phone at 916-342-3424,  visit www.petersenmediainc.com, www.facebook.com/petersenmedia or follow @Petersen_Media on twitter.