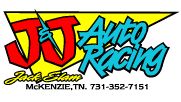 From J&J
McKENZIE, TN – The results continued last weekend for J&J Auto Racing teams headlined by Lee Jacobs earning his first All-Star Circuit of Champions feature win. Shane Morgan captured his fourth 2014 victory and Matt Moro made it two in a row at the Iowa State Fairgrounds.
LEE JACOBS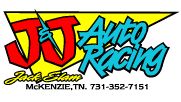 It was a historic night for Lee Jacobs as he raced to his first All-Star Circuit of Champions feature win at Lernerville Speedway in Sarver, Pa. The son of All-Star legend Kenny Jacobs drove a flawless race behind the wheel of the No. 81 Amanda Lewis/Simcox Grinding & Steel/Crown Investments/New Leaf Tree Service/OC Shocks/Butler Built/Fire & Ice Pub sponsored J&J leading all 30 laps.
"This is a hell of a feeling to get my first All Star win at Lernerville…that's where Dad had his last All Star win," said Jacobs. "And, to do it at a place where my car owners and my family have had so much success is pretty cool."
Danny Holtgraver finished third in Rob Hunter's No. 10H J&J to give J&J two of the top three positions in the final run-down.
"My guys worked their tails off tonight and to be standing on the front stretch after all that…I'll take it," said Holtgraver. "Our new sponsors Tom and Fran Chiappelli (Golden Flavor Sesame sticks) were here tonight and we gave them a good finish."
Tim Shaffer (No. 45 J&J) finished sixth ahead of Caleb Griffth (No. 40DD J&J) and Ed Lynch, Jr. (No. 2L J&J) finished ninth.
SHANE MORGAN
It's been a great start to 2014 for Shane Morgan.
Saturday
he raced his No. 01 J&J to victory in the CAJUN Sprinters Association feature event at Whynot Motorsports Park in Meridian, Miss. Morgan has already won features with both the CAJUN Sprinters and Southern Outlaw Sprinters organization. He has four wins in five 2014 starts.
MATT MORO
It was victory number two for Matt Moro behind the wheel of Mike VanderEcken's No. 10 J&J. Moro raced to victory in
Friday's
305 Sprint car feature at the Iowa State Fairgrounds in Des Moines, Iowa.
Other recent winners… Carl Bowser raced the No. 10 J&J to victory at Lernerville Speedway two weeks ago.