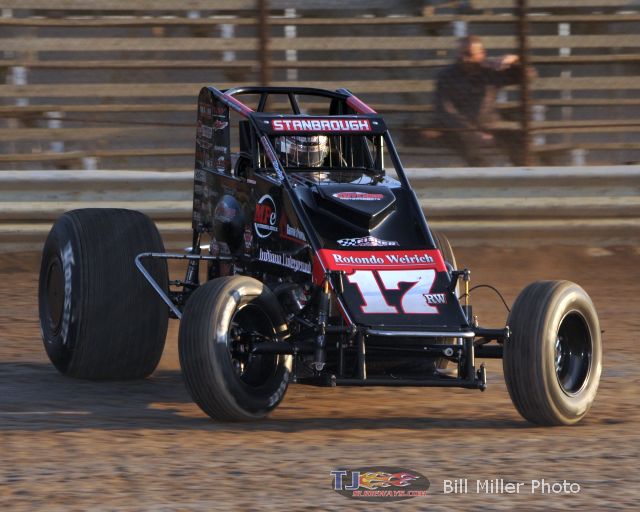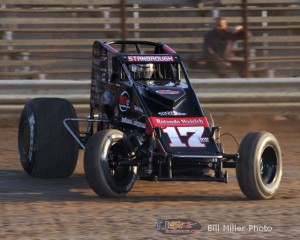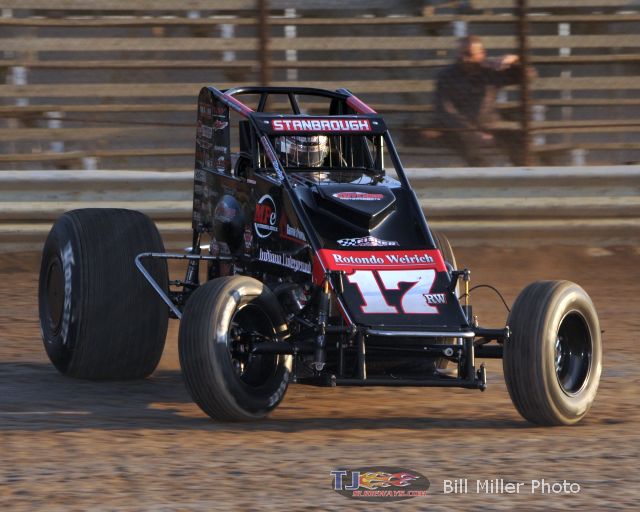 From Mike O'Leary
Lawrenceburg, IN — (May 17, 2014) —  Jon Stanbrough captured the third round of the 2014 King of Indiana Sprint Series with a thrilling victory over Daron Clayton at Lawrenceburg Speedway, Saturday.  It was the first victory of the year for Stanbrough, crew chief Mike Dutcher and the Dutcher/Rotondo-Weirich/Tri-Star Motorsports team.
"I know everybody was trying to stay upbeat but it's still really easy to get down, not so much on my team but on myself," Stanbrough said after the victory celebration.  "Even though we ran second or third, we were always just right there wondering if we were going to get it done or not.  We finally did and it feels good."
The race appeared to belong to Clayton, who led the first 25 laps, until Stanbrough got past as they fought through slower traffic.  Starting on the pole, Clayton hustled the #3r Rock Steady Racing Mach 1 sprinter into the lead at the green, while Stanbrough quickly took second.  While the track was workable from top to bottom, Clayton led by sticking to the very quick top lane and daring anyone to try to pass.
Stanbrough took up the challenge, and tried different lines at both ends of the track, as well as changing angles into and off the turns in his #37rw MP Environmental/Indiana Underground Maxim.  Traffic became critical as the leaders sliced through packs of slower cars.  But it took until the 25th lap, when Clayton got stuck behind a slower car in the top lane and Stanbrough charged past him as they came off the fourth turn to capture the lead.
"A lot of guys are confused about the move over flag," Clayton said after the race.  "You know when you're in the fast groove on the race track and if you're a lapped car and I show you a nose twice, get out of the way.  The next time they're just going to see a right rear.  I don't even know who it was.  When I'm being lapped, I get out of the fast groove, we've all been there and it's a sucky night, but there's other people here racing for a living.  They just need to get a grasp on that.  Overall, I'm extremely happy with the finish, we ran second, but we had a first place car which is always an important thing for me."
Stanbrough held on to score his 20th KISS feature win by a half-straightaway.  CJ Leary ran a strong race to earn third, while point-leader Shane Cottle finished fourth.  Defending KISS series champion Brady Short claimed fifth.
For most of the race, Stanbrough experimented with different lines on the track, and used that to his advantage when taking the lead.  Relaxing in his hauler while his crew began to load equipment, he discussed the battle with Clayton, "He was running the fastest part of the race track.  Down on the bottom coming off of four there was a lot of moisture, but you had to get in there just right to get off.  I kept getting it in a little bit too hard and getting the car bent sideways too much and then not being able to get off the corner.  That lapped traffic just helped play into my hand because he had to split them and I did too.  Then he decided to go to the top and he lost a lot of time sliding up to the top where I stayed on the bottom and got a good run off the bottom.  Once I got by him, I moved back to the top and I fully expected him to come back in there and do a big slide on me."
Cottle will lead the KISS racers to the next KISS event on Sunday, May 25, at Tri-State Speedway in Haubstadt.  Short trails by 20 points, with Jerry Coons Jr. nine points further behind.  Kevin Thomas Jr. is fourth, still in striking distance at 52 points behind, while Stanbrough moved into fifth in the standings with the victory.
King of Indiana Sprint Series, Round 3
Lawrenceburg Speedway, Lawrenceburg, IN
May 17, 2014
(21 cars)
Heat 1: 1. Daron Clayton 3r (5), 2. Shane Cottle 2e (4), 3. Shawn Westerfield 89 (1), 4. Joss Moffatt 5j (3), 5. Logan Jarrett 29j (6), 6. Matt Brannin 27 (7), 7. Dustin Webber 9 (2)
Heat 2: 1. Jon Stanbrough (3), 2. C.J. Leary 30 (5), 3. Mike Terry Jr. 85 (2), 4. Justin Owen 26 (6), 5. Eric Semple 25 (1), 6. Jeff Harris 44 (7), 7. Mike Weber 22w (4)
Heat 3: 1. Brady Short 11p (4), 2. Jerry Coons Jr. 20g (3), 3. Kevin Thomas Jr. 11 (6), 4. Ted Hines 12 (1), 5. JT Stapp 74 (2), 6. Jamie Ross 88 (7), 7. Landon Simon 24 (3)
Feature (30 laps): 1. Jon Stanbrough (3), 2. Daron Clayton (1), 3. C.J. Leary (4), 4. Shane Cottle (5), 5. Brady Short (2), 6. Jerry Coons Jr. (6), 7. Kevin Thomas Jr. (9), 8. Joss Moffatt (10), 9. Landon Simon (21), 10. Shawn Westerfeld (7), 11. Logan Jarrett (13), 12. Mike Terry Jr. (8), 13. Ted Hines (12), 14. JT Stapp (15), 15. Justin Owen (11), 16. Dustin Webber (19), 17. Eric Semple (14), 18. Matt Brannin (16), 19. Jeff Harris (17), 20. Jamie Ross (18), 21. Mike Weber (20)
KISS Points: 1. Shane Cottle 525, 2. Brady Short 505, 3. Jerry Coons Jr. 496, 4. Kevin Thomas Jr. 473, 5. Jon Stanbrough 311, 6. Robert Ballou, CJ Leary 304 (tie), 8. Dalten Gabbard 292, 9. Daron Clayton 285, 10. Chad Boespflug 270
2014 KISS SCHEDULE
April 27    Terre Haute Action Track    – Rain
May 2     Bloomington Speedway  – Shane Cottle
May 4        Kokomo Speedway – Shane Cottle
May 9        Gas City I-69 Speedway – Rain
May 17     Lawrenceburg Speedway – Jon Stanbrough
May 25    Tri-State Speedway
May 31    Paragon Speedway