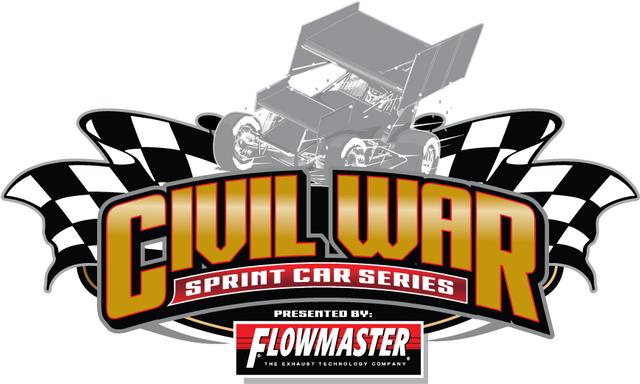 Peterson Media
– It appears as though Mother Nature will finally step aside and allow the Civil War Sprint Car Series Presented By Flowmaster to resume their 2014 campaign by way of the North State Double Header on tap this weekend at the Marysville Raceway Park in Marysville, CA and Silver Dollar Speedway in Chico, CA this Saturday and Sunday night.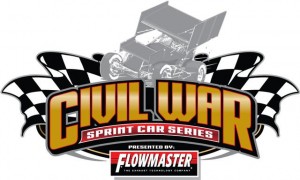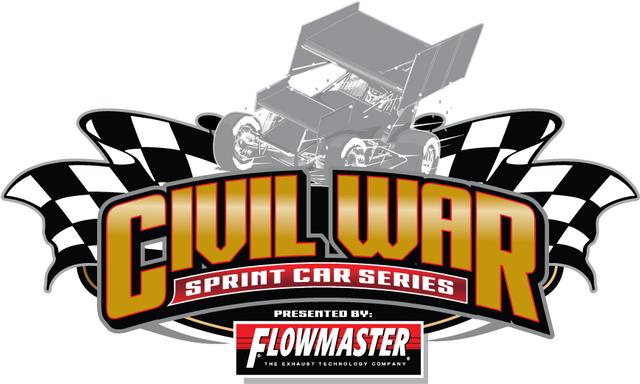 In a twist of events with rain moving in sporadically over the last month, the sight of the second point race of the season will be the same venue as the season opener, and that is at the Marysville Raceway Park for the annual Mel Hall Memorial on Saturday night.
The race pays homage to Hall, who was the long time promoter at the Twin Cities Speedway, now known as the Marysville Raceway Park, who was also one of the key figures in getting the Civil War Series started.
Returning to the series schedule in 2013, the race was one in exciting fashion, by Justyn Cox, who will be on hand on Saturday night looking to defend his win of a year ago.
After winning the series' season opener back on March 15th, Andy Gregg will head into this event as the point leader, and with momentum behind him as he is fresh off of a win at the Stockton Dirt Track this past Saturday night.
Geoff Ensign also comes into round two with a bit of momentum behind him and his Bret Lay Motorsports team, as they have been on a terror winning four straight races at the Petaluma Speedway.
In weekly action at the Marysville Raceway Park, John Michael Bunch is fresh off a Saturday night win, and is the track point leader, and will look to defend the MRP on Saturday night from the invaders of the Civil War Series.
At the time of press, The Skipper and TW Race Photos have stepped forward and donated funds to the fast time qualifier, and it currently sits at $300. If anyone would like to donate to this award, or any other aspect of this race please email pj@petersenmediainc.com or message our facebook page.
Following Saturday night's event, the Series will head north to the Silver Dollar Speedway for their first of two appearances at the ¼ mile speedway on Sunday night in front of one of the most scenic back drops of the season, the Silver Dollar Fair.
Known simply as 'The Fair Race', in 2013 local stand out Mason Moore picked up the win, and in 2014 Moore currently leads the weekly point standings, and will look to score the Civil War Series win again in front of what is always a standing room only crowd.
Sean Becker who currently sits third in series points, will also be tough at the Silver Dollar Speedway on Sunday night in the Main Motorsports No. 35M machine. Becker is the defending series, and track champion, and is always tough at the speedway. Coming off of his third place effort at the opener, Becker would love to get his new team into victory lane.
Jonathan Allard has been on a terror at the Silver Dollar Speedway the last two weeks, and has picked up the last two weeks. After an opening night crash, Allard will look to stay hot at his home track, and get his team back in title contention.
With both tracks having a very loyal weekly contingent a very healthy field of cars is expected on both nights, and including the aforementioned drivers, fans can expect Herman Klein, Andy Forsberg, Alissa Geving, Shane Golobic, Colby Wiesz, Jeremy Burt, Matt Peterson, Justin Sanders, Billy Wallace, and many more.
The Civil War Sprint Car Series would like to thank Flowmaster, BR Motorsports, A.R.T. Speed Equipment, Brodix, ButlerBuilt, CRV Carbon Solutions, Design 500, Dirt Solutuion, Taco Bravo, Hansen Machine, Frankland Racing Supply, Fuel Safe, Hoosier, Joe Hunt Magnetos, Kaeding Performance, King Racing Products, KSE Power Steering Products, MotoWear, MPD, All Pro, RCM Design, Rod End Supply, Racing Optics, SRP, Swepco, VSR, and Weld Racing for their support.
ON TAP: The Civil War Sprint Car Series Presented By Flowmaster will return to action on Saturday, April 26th, at Petaluma Speedway.
STAY CONNECTED: Keep up with the Civil War Series Presented By Flowmaster, and find complete results and point standings by clicking over to www.civilwarsprints.com, or 'Liking' www.facebook.com/civilwarsprints.
CIVIL WAR SERIES PRESENTED BY FLOWMASTER- Founded in 1991 as the North-South Series, the Civil War Sprint Car Series was born in 1993 giving 360 Sprint Cars in California a sanctioning body. What started as just a handful of races at three different tracks has evolved into quite the series. In 2014, the Civil War Sprint Car Series will host 14 events at 8 different tracks around California.