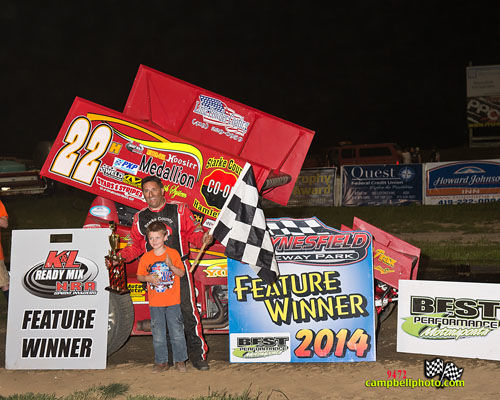 By Bob Buffenbarger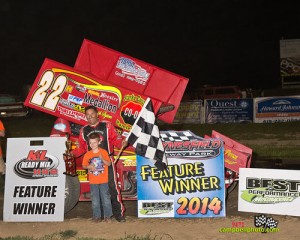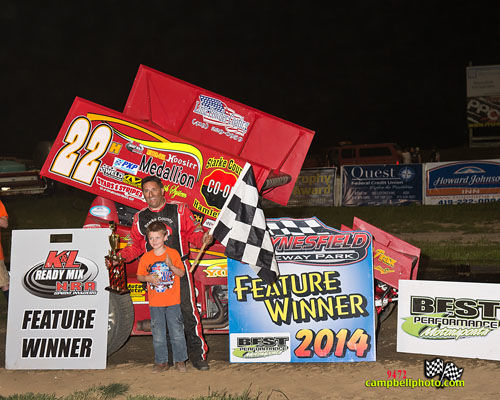 Waynesfield,Oh.- (May 24, 2014 )- The second race of the Engine Pro Sprints on Dirt presented by ARP and K&L Ready Mix National Racing Alliance Memorial Day triple header went to Randy Hannagan after he passed Tim Allison who had led most of the 25 lap feature at Waynesfield Raceway Park.
Tim Hunter led the field to the green flag from his pole position and led early but Allison who started outside front row, was very strong tonight and wrestled the lead away from Hunter and set sail with 4th starting Hannagan tagging along for the ride.
Once again the 6s of J.R. Stewart showed some muscle as he was running with the leaders mixing it up with Hunter and Allison. After several laps of dogging Allison in traffic, Hannagan made the pass for the lead on lap 15 just as the cars passed the flagstand.
Hunter was still lurking and running strong which kept Allison on the gas as the laps ticked off. Once again it was "The Hurricane" as he held on for the victory after negotiating heavy traffic in the non stop 25 lap affair. Chasing Hannagan was Allison, Stewart, Hunter and Dustin Daggett.
Again tonight, Hannagan thanked his owner Dennis Yoakam, his crew and sponsors for putting together a great car. Hannagan also thanked all the fans that came out to support this race and the Military Veterans that make it possible to have races like these.
Tonight's heat races went to Devon Dobie, Greg Dalman, Ron Blair and Dustin Daggett. B mains were won by Jack Miller and Jimmy Snead.
Tomorrow evening the three day SOD/NRA wraps up the weekend at the famed high banks of Eldora Speedway.
Engine Pro Sprints on Dirt presented by ARP
Waynesfield Raceway Park – Lima,Oh.
Saturday May 24, 2014
Hoosier Racing Tire Heat Race #1 (8 Laps) 1.Devon Dobie, 2. Hud Horton, 3. Ryan Ruhl, 4. Rod Henning, 5. Dennis Yoakam, 6. Nick Roberts, 7. Jim Lingar, 8. Brad Lamberson (DNS)
Lane Automotive / Comp Cam Heat Race #2 (8 Laps) 1.Greg Dalman, 2. Shawn Dancer, 3. Tim Allison, 4. Andy Chehowski, 5. Jack Miller, 6. Logan Hupp, 7. Eric Smith, 8. Jarrod DeLong
Speed Pro Heat Race #3 (8 Laps) 1. Ron Blair, 2. J.R. Stewart, 3. Tim Hunter, 4. Ed Neumister, 5. Jimmy Snead, 6. Jeff Stiger, 7. Don Ryder, 8. Butch Schroeder dns
ARP Fasteners Heat Race #4 (8 Laps) 1. Dustin Daggett, 2. Randy Hannagan, 3. Dustin Stroup, 4. Jared Horstman, 5. Max Stambaugh, 6. Kevin Roberts, 7. Kyle Pitts
Engine Pro B Main #1- (10 Laps ) 1.Jack Miller, 2.Dennis Yoakam, 3. Nic Roberts, 4.Brad Lamerson, 5. Eric Smith 6. Jim Lingar, 7. Jared DeLong, 8. Logan Hupp (dq'd)
Engine Pro B Main #2- (10 Laps) 1.Jimmy Snead, 2. Max Stambaugh, 3. Kyle Pitts, 4. Jeff Stiger, 5. Kevin Roberts, 6. Don Ryder

Engine Pro / ARP A-Main  (25 Laps) 1. Randy Hannagan, 2. Tim Allison, 3. J.R. Stewart, 4. Tim Hunter, 5. Dustin Daggett, 6. Ryan Ruhl, 7. Shawn Dancer, 8. Dustin Stroup, 9. Jared Horstman, 10. Hud Horton, 11.Devon Dobie, 12. Ron Blair, 13. Rod Henning, 14. Max Stambaugh, 15. Ed Neumeister, 16. Gregg Dalman, 17. Jack Miller, 18. Andy Chehowski, 19. Dennis Yoakam, 20. Jimmy Snead