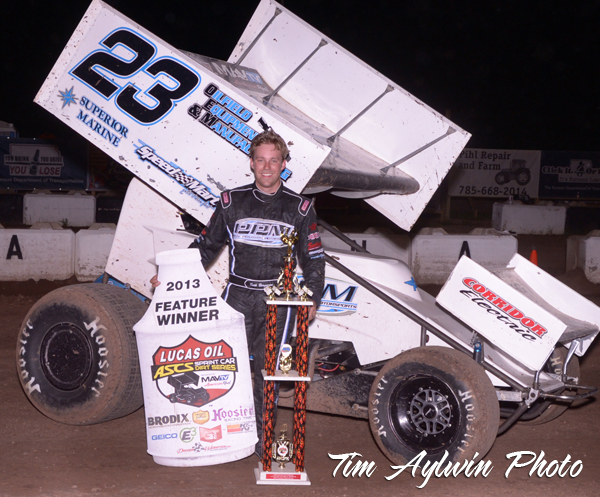 From Ben Deatherage
Cottage Grove, OR — (May 25, 2014) — Cottage Grove Speedway lived up to its reputation as one of the raciest tracks in the nation as it hosted the American Sprint Car Series-Northwest Region for the third round of the Triple Track Challenge on Saturday May 24th. A total of twenty-eight cars signed in to compete at the historical ¼-mile clay oval.
At the drop of the green flag of the thirty-lap feature pole sitter Central Point driver Garen Linder put his Cook Crane Corporation/Linder Powdercoating/Speedmart Inc./Visual EFX Signs & Graphics #22 KPC out in front to set a rapid pace. Linder would develop a decent sized lead but would have his massive margin cut down due to a caution on lap six. Once the action resumed Kyle Hirst of Chico, California, in the Scott and Jason Finley owned Finley Farms/CLT Logging/Rider Racing Engines #77 Maxim, worked his way up to the front utilizing the bottom of the race track to eventually grab the top spot on lap sixteen.
Hirst would work his way through lapped traffic and was very quick but unfortunately a lapped car got out of shape in front of him and forced him to get on the binders only for just a brief moment allowing Seth Bergman, who started eighth, to make a bonsai move on the bottom to get the position from him on lap twenty-two. As the laps clicked away Bergman was able to make some key passes in lapped traffic allowing him to develop some breathing room.
Bergman would go on to win the feature capturing his second career ASCS-Northwest Region win, and first since May 25th, 2010 at Grays Harbor Raceway in Elma, Washington, and the fourth career time that the pilot of the Corridor Electric/Oilfield Equipment & Manufacturing/Young Tool Company/Speedmart Inc. #23 Eagle had graced victory lane at CGS. Bergman also became the third different winner in as many nights in ASCS-Northwest Region action. Another statistic is that Seth has an ASCS-Sooner Region and ASCS-Gulf South Region victory to his credit in 2014 too.
"It's been a trying and frustrating week that we hadn't got a win yet but I can't say enough about this car and these guys working on it," commented Bergman in victory lane, "they've given me a good piece all weekend and this is the first good race track we've been on. Kyle (Hirst) was setting a really fast pace there and I was doing my best to do everything I could to keep up with him. We got into lapped traffic and he got held up a little bit and when you're in the situation sometimes it's better to be in second. I couldn't be happier for my guys tonight."
Kyle Hirst would end the night in the runner-up finish followed by the Kovash Logging/Johansson Excavating/FK Shocks/Big Al Kids & Motorsports Foundation #33V A.R.T. of Enumclaw, Washington driver Henry Van Dam in third. The previous night's victor Jared Peterson of Stanwood, Washington, driving for car owner Roger Henderson in the Island Muffler & Brake/Cascade Metal Recycling/Bailey Brothers Performance Center #7N KPC, was fourth after starting twelfth while the top five was completed by Garen Linder.
Earlier in the evening's program four heat races were contested and won by Mill Creek, Washington's Cam Smith in the Dave Smith Motorsports/Don Ott Racing Engines/DCSigns.ca #17 Maxim, Garen Linder, Rob Held, and Kyle Hirst. Picking up the victory in the twelve-lap consolation feature was the Starks Timber Processing/T&C Concepts/Southstar Equipment Limited/MASCO Petroleum #55 Maxim of Trey Starks from Puyallup, Washington.
The ASCS-Northwest Region return to the Cottage Grove Speedway on Sunday May 25th for the final leg of the Triple Track Challenge. Prices are Adults $15.00, Seniors/Military/Juniors (13-17) $13.00, Youths (Ages 12-6) $8.00, and Children under the age of 5 are FREE. Pit Gates open at 2:00 PM, Front Gates 4:00 PM, and Racing is scheduled to get underway around 6:45 PM.
Be sure and don't miss a lap of the action of the ASCS-Northwest Region as the area's best 360 Sprint Car drivers will contest on seven different race tracks in three different states that include Oregon, Washington, and California. For the latest news and information regarding the ASCS-Northwest Region be sure and log on to www.ascsnorthwest.com.
Race Summary:
Saturday 24th, 2014
Triple Track Challenge Round #3/American Sprint Car Series-Northwest Region Race #3
Cottage Grove Speedway
Cottage Grove, Oregon
A Feature: 1. 23-Seth Bergman[8]; 2. 77-Kyle Hirst[5]; 3. 33V-Henry VanDam[4]; 4. 7N-Jared Peterson[12]; 5. 22-Garen Linder[2]; 6. 2L-Logan Forler[10]; 7. 71-Colin Baker[9]; 8. 3-J.J. Hickle[7]; 9. 9R-Reece Goetz[15]; 10. 55-Trey Starks[17]; 11. 23L-Rob Lindsey[11]; 12. 68-Rob Held[3]; 13. 21W-Vern Wheeler Jr[6]; 14. 98-Chris Masters[14]; 15. 26F-Shane Forte[16]; 16. 7K-Kyle Mehner[18]; 17. 4J-Allison Journey[20]; 18. 56-Ross Mathewson[19]; 19. 16-Nick Tomlinson[13]; 20. 17-Cameron (Cam) Smith[1]
Lap Leaders: Garen Linder (1-15), Kyle Hirst (16-21), Seth Bergman (22-30)
B Feature: 1. 55-Trey Starks[2]; 2. 7K-Kyle Mehner[1]; 3. 56-Ross Mathewson[4]; 4. 4J-Allison Journey[3]; 5. 5N-Seth Nunes[9]; 6. 28M-Mark Herz[5]; 7. 22R-Mike Romig[6]; 8. 89-Sterling Kane[8]; 9. 9A-Luke Didiuk[7]; 10. 6A-Kady Adelman[11]; DNS 10-Kyle Miller; DNS 5R-Steve Reeves
Heat 1: 1. 17-Cameron (Cam) Smith[4]; 2. 21W-Vern Wheeler Jr[3]; 3. 98-Chris Masters[2]; 4. 26F-Shane Forte[1]; 5. 7K-Kyle Mehner[5]; 6. 22R-Mike Romig[6]; 7. 10-Kyle Miller[7]
Heat 2: 1. 22-Garen Linder[1]; 2. 33V-Henry VanDam[5]; 3. 9R-Reece Goetz[2]; 4. 2L-Logan Forler[6]; 5. 28M-Mark Herz[3]; 6. 56-Ross Mathewson[7]; 7. 5N-Seth Nunes[4]
Heat 3: 1. 68-Rob Held[1]; 2. 23-Seth Bergman[6]; 3. 7N-Jared Peterson[3]; 4. 71-Colin Baker[7]; 5. 55-Trey Starks[5]; 6. 89-Sterling Kane[2]; 7. 5R-Steve Reeves[4]
Heat 4: 1. 77-Kyle Hirst[2]; 2. 3-J.J. Hickle[3]; 3. 16-Nick Tomlinson[7]; 4. 23L-Rob Lindsey[6]; 5. 4J-Allison Journey[4]; 6. 9A-Luke Didiuk[5]; 7. 6A-Kady Adelman[1]