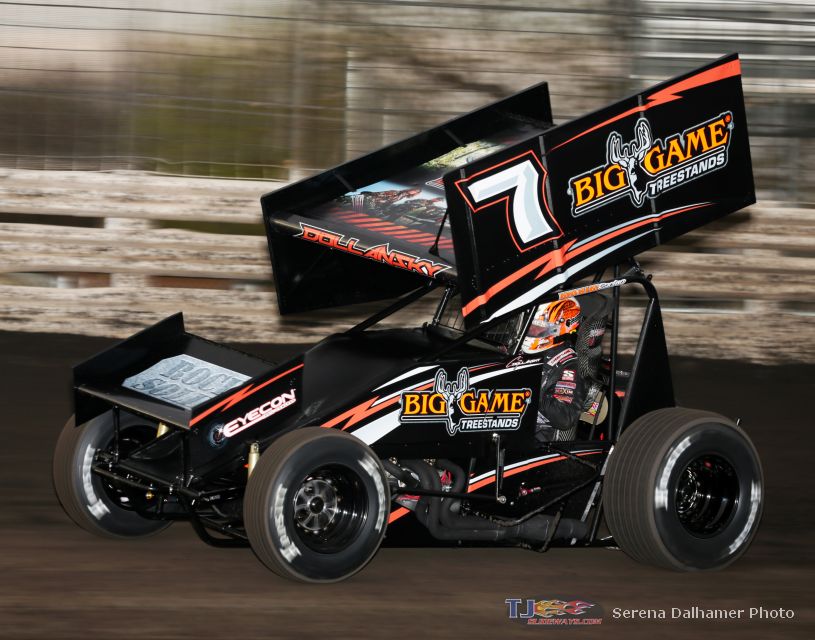 Craig Dollansky and the Big Game Treestands #7 team prepared for their tenth contest of the 2014 season
on Saturday
as they once again traveled to Knoxville Raceway.
After getting a feel for the track in hotlaps, 'The Crowd Pleaser' stopped the clock 7th fastest in qualifying among the 31 sprinters on hand at 15.775 seconds.  Heat competition lined up the Aggressive Hydraulics Maxim outside row two of heat one where Dollansky ran 5th in the 8-lap event.
Luck of the redraw then put the Elk River, Minnesota native on the pole position for the A-Main.  When the initial start to the 20-lap feature was called back, the following green flag saw fellow Minnesotan Davey Heskin assume the top spot on the opening lap with Dollansky right behind the #56.  After the only caution of the main event on lap 11 took the leaders out of lapped traffic, 'The Crowd Pleaser' powered into the point on lap 12 with Heskin fighting back as the duo exchanged slide jobs with Dollansky claiming the lead once again on lap 13.  Not giving up easily, Heskin fought back with two to go but the Eyecon Trail Cameras backed sprinter surged ahead and raced to the checkered flag for the third time this season.
"It was a fun race and Davey drove a great race.  Kris Dunkin and his crew do such a fabulous job and you can't ask for a better track with a top and bottom ," commented Dollansky.  "We made a lot of changes after the heat and Scott Vogelsong and Brian Shaefer did a great job.  We've got a great race team with Tod and Lisa Quiring of Big Game Treestands along with Paul and Jenn Johnson of Aggressive Hydraulics.  I'm encouraged with some stuff that we have going on and just have to keep working at it but it's great to get another win at Knoxville."
The Big Game Treestands #7 team will resume action tonight at Huset's Speedway in Brandon, South Dakota.