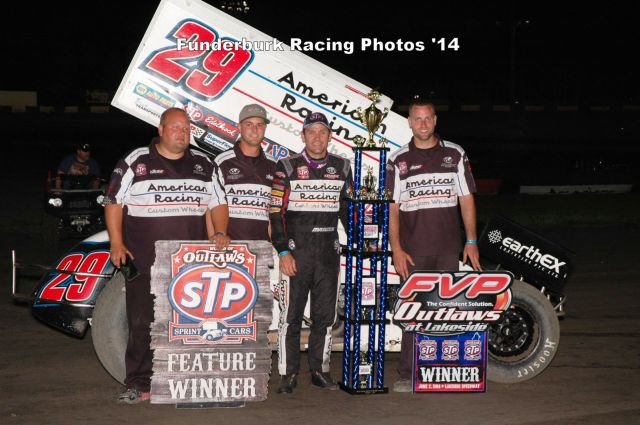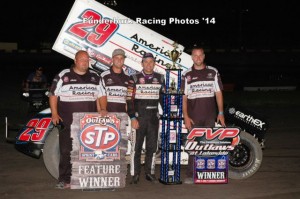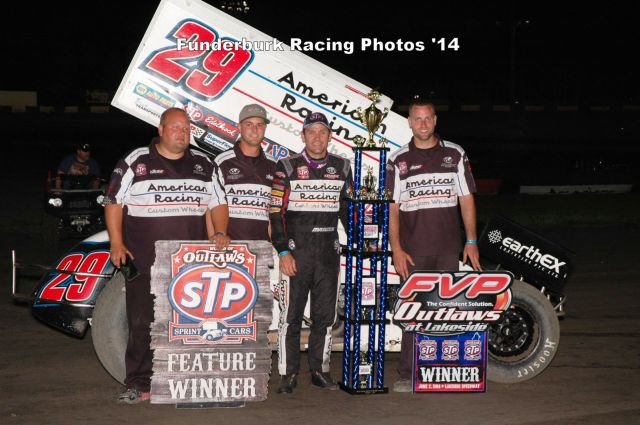 From Peterson Media
In what has been a very consistent year to date, Kerry Madsen picked up third World of Outlaw win of the year on Saturday night at the Lakeside Speedway, on the heels of a fourth place finish in Greenwood, NE on Friday night.
"We had a great weekend," Madsen said. "We feel like we let a couple wins slip past us the last month, so we are all pumped to get another win, and a top-five on Friday night to go with it."
In action at the FVP Outlaws at Lakeside Speedway event on Saturday night, Madsen started his night off by timing his Keneric Racing/American Racing No. 29 machine in second fastest.
A fourth place finish in heat race action was what he needed as he earned a berth in the Dash, where a second place finish put him on the front row of the feature event.
Staying committed to the middle of the speedway all night long, Madsen continued to use that line in the feature event, and on the 15th lap he was able to slide up in front of Sammy Swindell exiting turn four, to take the lead, and never look back, as he went on to pick up his third tour victory of the season.
"That was fun," he said. "I just stayed committed to my line, and waited for things to come to me, and they did. Tyler (Swank), Brandon (Ikenberry), and Chris (Bowe), had the car awesome, and it was great to win."
Friday night saw the series return to the I-80 Speedway in Greenwood, NE for the first time since 2003, and Madsen had speed early, as he was the seventh fastest driver in time trials.
Taking advantage of his front row starting spot in heat race action, the St. Marys, NSW native took advantage, and picked up the win, giving him the important berth in the Dash.
Charging from sixth to third in the Dash, Madsen gained a row for the feature event, as he lined up in the second row.
Slipping back to the fourth spot on the start, Madsen was in the hunt as he watched the leaders battle hard in front of him.
Though he wasn't able to pick up anymore spots, Madsen held his spot, as he crossed the stripe in the fourth spot.
"I can't thank all of our supporters enough," Madsen said. "It is great to get wins for them, and to run well, so now we will look forward to hopefully picking up a win at our home track (Knoxville) on Saturday night."
2014 BY THE NUMBERS- Starts-42, Wins-6, Top-5's-16, Top 10's-31
ON TAP: Madsen and his Keneric Racing/American Racing team will return to action on Friday night at the Jackson Speedway in Jackson, MN before hitting the Knoxville Raceway in Knoxville, IA on Saturday night.
STAY CONNECTED: Keep updated with Kerry Madsen, Keneric Racing, and American Racing in a variety of interactive ways-
American Racing
Facebook- www.facebook.com/amercanracingwheels
Instagram- @AmericanRacing
Twitter- @AmericanRacing
Keneric Racing
Facebook- www.facebook.com/KenericRacing
Twitter- @KenericRacing
Kerry Madsen
Facebook- http://www.facebook.com/pages/Official-Fan-Page-for-Kerry-Madsen/101145169933686
Twitter- @KMR29