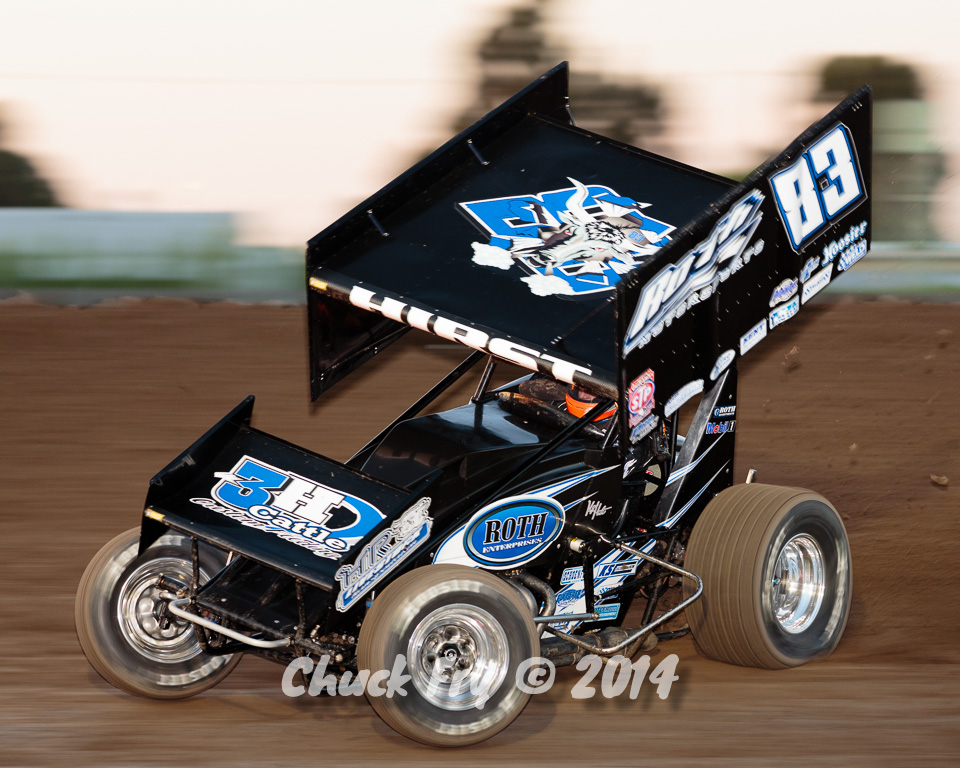 PETERSEN MEDIA
– Kyle Hirst has taken a liking to the spot with the King of the West Series, as the Chico, CA resident picked up his third series win of the year on Saturday night, and stretched out his point lead in doing so.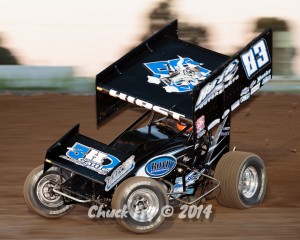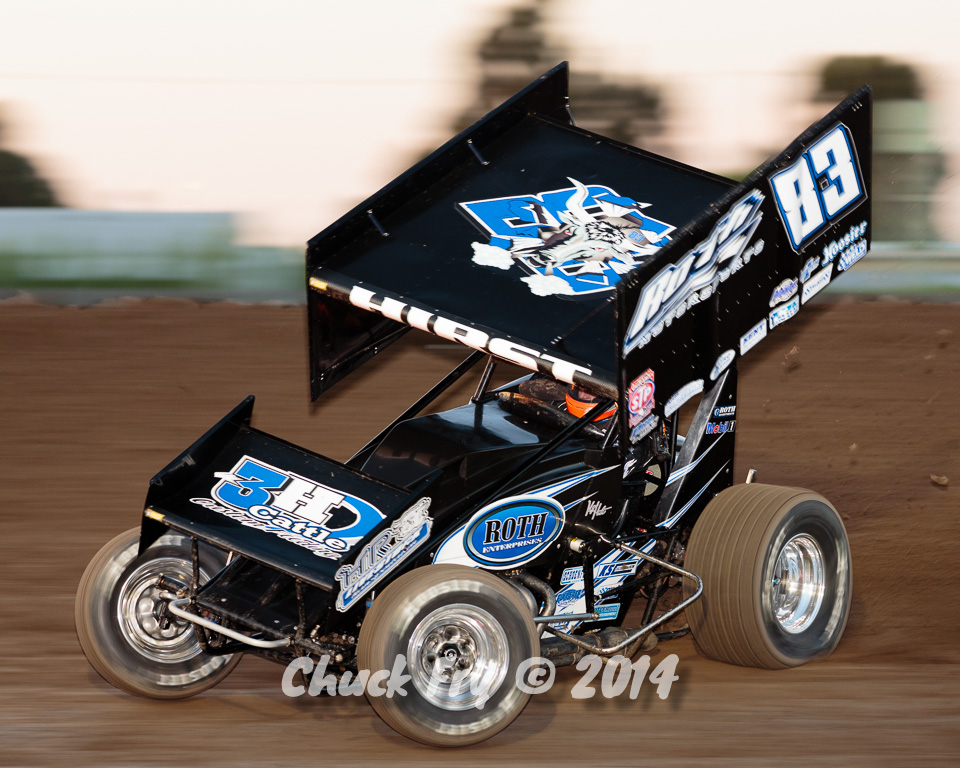 "We have a great thing going right now, and I am so happy to get another win for this Roth Motorsports team," he said. "It is great to win when Dennis is in attendance, and I am so proud of what our team has accomplished the last few weeks."
Starting his night out with a second quick effort in qualifications, Hirst went on to score a third place finish in heat race action, before he found himself with the one pill for the dash.
On a track that was slicking off, Hirst was able to pick up the win in the Dash, putting his Roth Enterprises/HR Livestock Transportation/3H Cattle No. 83JR machine on the pole for the feature event.
After the initial start of the race was waived off for a spun car, the race preceded to go 30-laps nonstop with Hirst out front on the extremely slick surface.
Looking strong for the duration of the event, Hirst was able to keep the challenges of DJ Netto and Cory Eliason at bay, as he carved his way through lapped traffic.
When the dust did settled on the event, it was Hirst taking the top spot at the Pombo Sargent Classic, marking his third series win in the last four races.
"We have been really good as of late, and this car is a blast to drive," he said. "It's really too early to think about points, but if we can keep picking off wins then obviously those will come."
Kyle and his Roth Motorsports team would like to thank Roth Enterprises, HR Livestock Transportation, 3H Cattle,  Mobil1, FK Rod Ends, Weld Wheels, Brown and Miller Racing Solutions, Kent Performance, Kaeding Performance, and Astro Titanium for their support in 2013.
2014 ROTH MOTORSPORTS BY THE NUMBERS: Starts-17, Wins-4, Top 5's-10, Top 10's-13
ON TAP:Hirst and his Roth Motorsports team will be in action with the King of the West Series this weekend for two more events kicking off Friday night at the Ocean Speedway, before heading to the Calistoga Speedway in Calistoga, CA on Saturday night.
STAY CONNECTED: Stay connected to Kyle by following him on Twitter, @kylehirstracing, or by visiting www.rothmotorsports83.com.
PETERSEN MEDIA:Petersen Media is a promotional agency that can handle your public relations, marketing, and any other medial needs. Petersen Media utilizes multiple tactics to help you reach your intended audience, to boost awareness.
For more information contact sales@petersenmediainc.com, by phone at 916-342-3424, visit www.petersenmediainc.com,  www.facebook.com/PetersenMedia, or follow www.twitter.com/petersen_Media.
________________________