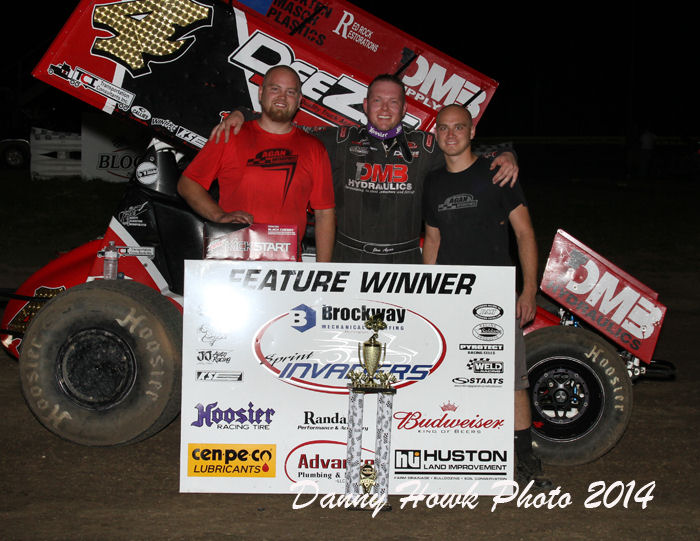 By Bill W
June 20, 2014 – Jon Agan became the first repeat winner with the Brockway Mechanical & Roofing Sprint Invaders Friday night at the Mt. Dew Bloomfield Speedway in Bloomfield, Iowa.  The Knoxville, Iowa driver extended his point lead with the series after a duel with Billy Alley in the 25-lap feature, recording his third career feature win with the series.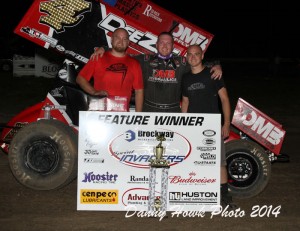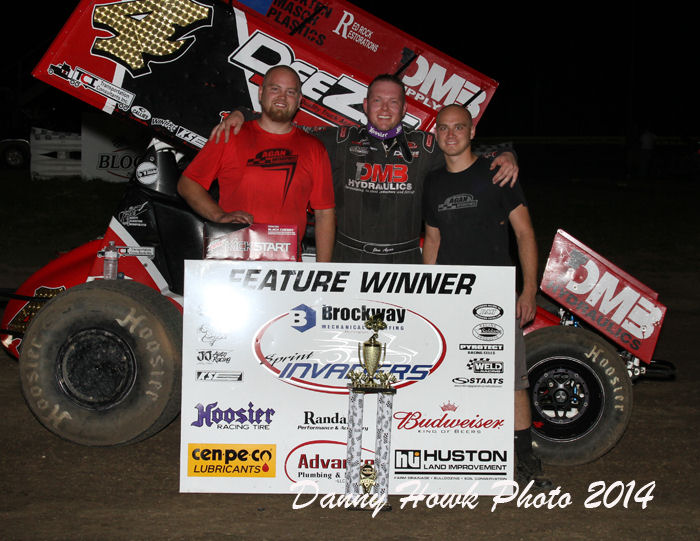 Cole Wood led the opening lap, but Agan, who was the pole-sitter took command ahead of Wood and Josh Schneiderman on lap two.  Alley had moved into fourth with three laps down when the caution came out for a spun Russ Hall, who was running ninth at the time.
The restart saw Agan leading Wood, Schneiderman, Alley and Tony Shilling back to green.  Alley dove under Schneiderman for third at that point, and by the halfway point, he had shot around Wood for second.
Alley reeled in Agan on the demanding track in traffic and used the high side to shoot around him and take the lead on lap fourteen.  Wood came to a stop at the same time, surrendering third, and negating Alley's pass.  Agan shot out to the lead in clean air.  Alley reeled him in again in traffic, but was unable to mount a serious challenge over the last eleven laps.  Schneiderman came home third, ahead of Shilling and Bret Tripplett.  Hard-charger Dustin Selvage, Terry McCarl, Bobby Mincer, Russ Hall and Mike Houseman Jr. rounded out the top ten.
Alley, Agan, Tripplett and Mincer won heat races.  Alley took the Shake-up Dash and Terry McCarl won the B main with an exciting pass of Corey Nelson in the last corner.  Chris Martin lost a motor while leading the B, and Sawyer Phillips was a flip victim.  He was uninjured.
"I'm probably not in the best cardio shape I could be in," said a sweating Agan in Victory Lane.  "You had to be on top of the wheel big time tonight.  That rut (in turn three) was so bad all night long, and we did something we wouldn't usually do, and it hurt us.  I got lucky with the caution.  Lapped traffic was rough.  We were closing so fast on them.  It got really interesting a couple of times.  We've been rolling really well.  This is our third win of the year, and we've got to keep it rocking."
"It was a really fun race," said Alley.  "I was proud of myself…I was patient.  The track got a little slicker than I thought.  I was really good on the top, and once my tires heated up, I could come off in the slick really good and straight.  I think if the caution hadn't have come out, we would have set sail, because we were really rocking.  It was a fun race.  It was good to be back up to speed, and I just need to carry this momentum."
"We had a good racecar," said Schneiderman.  "The driver didn't do the best.  I made a couple of mistakes.  The World of Wheels crew gave me a great car.  They worked their tails off.  The very first caution I didn't need.  I was under (Cole Wood for second) and I think I was better than Agan at that point.  It got up against the fence, and there wasn't much we could do from there but follow."
The Sprint Invaders return to action, Thursday, July 3, for their first ever trip to the Iowa State Fair Speedway in Des Moines, Iowa.  For more information, visit www.SprintInvaders.com!
Results
Brockway Mechanical & Roofing A main (started), 25 laps: 1. 4, Jon Agan, Knoxville, IA (1) 2. 3, Billy Alley, Bennet, NE (6) 3. 49, Josh Schneiderman, West Burlington, IA (3) 4. 22T, Tony Shilling, Knoxville, IA (4) 5. 22, Bret Tripplett, Lincoln, IL (8) 6. 73, Dustin Selvage, Indianola, IA (20) 7. 99, Terry McCarl, Altoona, IA (17) 8. 15, Bobby Mincer, Burlington, IA (7) 9. 29, Russ Hall, Pleasant Hill, IA (9) 10. 68, Mike Houseman Jr., Des Moines, IA (19) 11. 28, Jonathan Cornell, Sedalia, MO (11) 12. 81, Austin Johnson, Pleasant Hill, IA (12) 13. 50P, Harold Pohren, Lowell, IA (10) 14. 16, Dustin Clark, Agency, IA (13) 15. 36, Justin Newberry, West Burlington, IA (16) 16. 6, Mitchell Alexander, Knoxville, IA (15) 17. 85, Chase Wanner, Agency, IA (14) 18. 80x, CJ Houseman, Des Moines, IA (5) 19. 17w, Cole Wood, Auburn, CA (2) 20. 34, Corey Nelson, Eugene, MO (18). Lap Leaders: Wood 1, Agan 2-25. KSE Hard-charger: Selvage. Steve Park $100 bonus to Highest Finishing 305: Clark.
Advanced Plumbing & Machine Heat one (started), 8 laps, top four to A main, top two to Dash: 1. Billy Alley (4) 2. Cole Wood (6) 3. Russ Hall (5) 4. Dustin Clark (2) / 5. 44, Chris Martin, Ankeny, IA (3) 6. 83, Dave Getchell, Sperry, IA (1) 7. 58, Andy Krieger, Burlington, IA (7) DNS – Dustin Selvage
Huston Land Improvement Heat two (started), 8 laps, top four to A main, top two to Dash: 1. Jon Agan (2) 2. CJ Houseman (6) 3. Harold Pohren (4) 4. Chase Wanner (3) / 5. 12G, Kelly Graham, Collins, IA (1) 6. 69, Justin Buchholz, Davenport, IA (5) DNS – 51J, Matt Krieger, Burlington, IA, 47, Trevor Reynolds, Perth, WA, Aust.
CenPeCo Lubricants Heat three (started), 8 laps, top four to A main, top two to Dash: 1. Bret Tripplett (2) 2. Tony Shilling (5) 3. Jonathan Cornell (6) 4. Mitchell Alexander (4) / 5. Corey Nelson (1) 6. 10T, Tim Moore, Rock Island, IL (3) DNS – Mike Houseman Jr.
Brockway Mechanical & Roofing Heat four (started), 8 laps, top four to A main, top two to Dash: 1. Bobby Mincer (1) 2. Josh Schneiderman (3) 3. Austin Johnson (6) 4. Justin Newberry (7) / 5. Terry McCarl (4) 6. 3P, Sawyer Phillips, Pleasantville, IA (2) 7. 27, Carson McCarl, Altoona, IA (5)
Budweiser "King of Beers" Shake-up Dash (started), 6 laps: 1. Billy Alley (3) 2. Jon Agan (4) 3. Cole Wood (1) 4. Josh Schneiderman (5) 5. Tony Shilling (7) 6. CJ Houseman (2) 7. Bobby Mincer (6) 8. Bret Tripplett (8)
B main (started), 12 laps, top four to A main: 1. Terry McCarl (4) 2. Corey Nelson (3) 3. Mike Houseman Jr. (6) 4. Dustin Selvage (9) / 5. Dave Getchell (5) 6. Trevor Reynolds (8) 7. Kelly Graham (2) 8. Justin Buchholz (10) 9. Andy Krieger (11) 10. Sawyer Phillips (7) 11. Chris Martin (1) DNS – Tim Moore, Matt Krieger, Carson McCarl
Contingencies
Weld – Harold Pohren
Saldana Racing Products – Bobby Mincer
Pyrotec – Chase Wanner
DOC 360 – CJ Houseman, Mike Houseman Jr.
Mt. Dew Kick Start – Dave Getchell