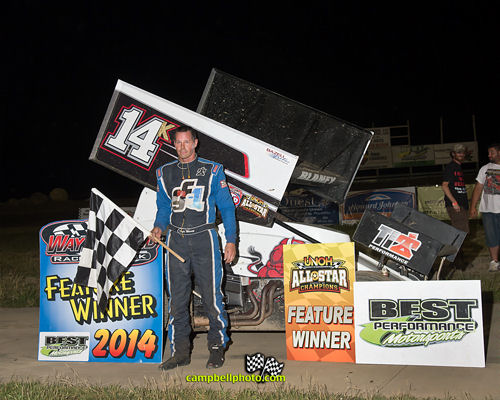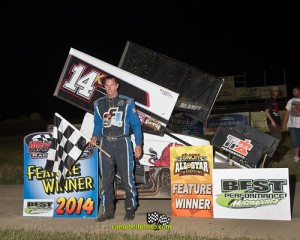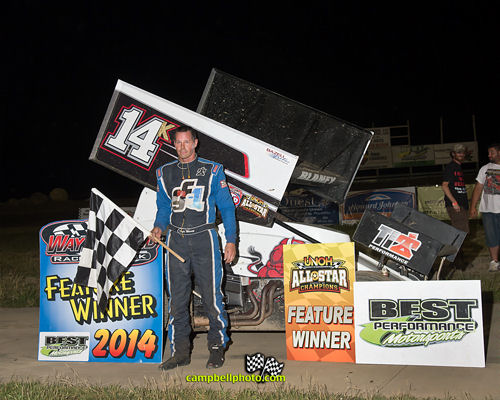 By Brian Liskai
Waynesfield, OH — (June 22, 2014) –- Dale Blaney took advantage of other drivers' miscues and bad luck Sunday to earn his 101st University of Northwestern Ohio All Star Circuit of Champions win on night #2 of the 32nd Annual Ohio Sprint Speedweek.
The 40-lap feature was filled with excitement, drama and plenty of racing mishaps.
Early on Gettysburg, Pennsylvania's Danny Dietrich seemed headed to his first ever Ohio Speedweek win. But then Byron Reed looked like he would steal the victory. When a lapped car spun in front of Reed it ended his chances and gave Dietrich another shot. But then late in the race Blaney began to pressure Dietrich who would spin with six laps to go while trying to fend off Blaney and get around lapped cars.
Blaney would pull away the final hand full of laps for his second UNOH All Star triumph of the year.
"Battle of survival I guess. Byron and Danny had a really good race going on there and I was just watching it. I knew when we got to traffic I'd probably be a little bit better. Out in the open I really wasn't that great. I feel bad for Byron. He got the lead and was rolling good and got caught up. And Danny sees me up of four and runs down there and parks it and turns himself around. I know the 35AU (15th starter Jamie Veal) was good in his heat race up on the top. That kid gasses it up. I knew his number was way up there on the board on that red. I was glad to see the checkered," said Blaney beside his Kennedy Cattle/Ti22 Performance/Penske Shocks backed machine.
For Veal, the little bullring of Waynesfield reminded him of the tracks in his native Australia. And he would use that knowledge to charge to a second place finish.
"This is pretty close to what we race on at home. The team did a great job with the car. The Maxim was good and hopefully this gives us some momentum for the rest of the week," said Veal beside his SWI Engineering backed machine.
Jac Haudenschild displayed some of that energy in his heat race that has the fans on their feet. The Wild Child didn't disappoint in the feature either, rim-riding his way to a third place finish.
"It was a really good night. The Rick Rogers car was good and Scotty (Benic) had it nice. We were right there tonight but Blaney is so good at these tracks…heck all the tracks. He's the guy to beat," said Haudenschild beside his Mondack Portables, Rick Rogers Construction, Triple X Racing backed #9w. "The traffic was incredible tonight. There were lapped cars everywhere and it was tough out there tonight but I had fun."
Dietrich and Cap Henry would bring the field to the green at "The Field" in front of a standing room only crowd. Dietrich would grab the lead over fourth starter Reed with Blaney, Henry and Danny Holtgraver in tow. Lee Jacobs would shoot high into the air off of turn two on lap three to bring out a red. The restart order was Dietrich, Reed, Blaney, Henry, Holtgraver, Stevie Smith and Travis Philo.
When the green flew again, so did Dietrich, pulling away slightly from Reed and Blaney. Dietrich would catch the rear of the field by lap 9 and Reed and Blaney closed with Henry, Holtgraver and Philo staying within striking distance. Henry would spin on lap 15 for the second caution.
The restart order saw Dietrich having a lapped machine between himself and Reed and Blaney with four lappers back to fourth place Holtgraver, Smith and Haudenschild. On the ensuing restart Gary Taylor would stop with a flat tire. When the green flew again Reed quickly disposed of the lapped car and ran to Dietrich's inside. The pair were literally side by side at the scoring stripe over the next couple of laps before Christopher Bell would spin in turn three, collecting Brandon Wimmer who would retire pit side.
The restart order was Dietrich, Reed, Blaney, Smith, Philo, Holtgraver and Jac Haudenschild. Dietrich and Reed would run nose to tail and side by side over the next hand full of laps before encountering heavy lapped traffic by lap 22. And once again the duo would battle hard and it looked like Reed would take control when disaster struck. On lap 24 Henry would spin right in front of the leaders and Reed would pile into him to end his run.
That would necessitate a fuel stop. And when the 3 minutes expired, All Star officials would penalize third running Stevie Smith for not having his crew off the track in time, sending him to the tail. He would elect to go to the pits.
The restart order would see Dietrich with a lapped car behind him followed by Blaney, another lapped machine, Jac Haudenschild, Philo, Veal and Shane Stewart. For the second straight night Stewart was charging from the last row starting spot to the front.
When the green flew this time Dietrich could not shake Blaney and Haudenschild while Veal, Philo and Stewart gave chase. Veal would take fourth on lap 29 as Blaney applied pressure to Dietrich. The leaders were racing into lapped cars with 9 laps to go and Blaney kept sticking the nose of his car under Dietrich. The pressure worked as Dietrich tried to block Blaney and split two lapped cars in turn one with six laps to go resulting in a spin.
Blaney was no in charge and pulled away slightly on the start as Haudenschild had his hands full with Veal with Stewart and Philo battling for fifth. Blaney would drive to the checkers with Veal getting by Haudenschild on the last lap for second. Stewart and Philo would round out the top five.
Jac's son Sheldon would storm from 22nd starting spot to sixth with Greg Wilson from 14th to 7th, Cole Duncan from 19th to 8th, Caleb Helms from 18th to 9th and Bell coming back to round out the top 10.
For more information on Ohio Sprint Speedweek go to www.allstarsprint.com
Waynesfield Raceway Park  – 6/22/2014
UNOH Night
All Star Circuit of Champions (45 Cars)
[#]-Starting Position
Qualifying – Kistler Engines
1. 14K-Dale Blaney, 10.593; 2. 48-Danny Dietrich, 10.746; 3. 33M-Christopher Bell, 10.759; 4. 5R-Byron Reed, 10.760; 5. 53-Cap Henry, 10.780; 6. 10H-Danny Holtgraver, 10.810; 7. 83-Stevie Smith, 10.879; 8. 45-Tim Shaffer, 10.895; 9. 5T-Travis Philo, 10.941; 10. 35R-Ronnie Blair, 10.971; 11. 9W-Jac Haudenschild, 10.980; 12. 1ST-Gary Taylor, 10.988; 13. 24H-Brandon Wimmer, 10.994; 14. W20-Greg Wilson, 11.021; 15. 98-Dave Blaney, 11.052; 16. 35AU-Jamie Veal, 11.055; 17. 71-Kevin Swindell, 11.069; 18. 35-Stuart Brubaker, 11.096; 19. 81-Lee Jacobs, 11.102; 20. 40-Caleb Helms, 11.115; 21. 49-Cole Duncan, 11.174; 22. 63-Chad Kemenah, 11.211; 23. 77AU-Darren Mollenoyux, 11.211; 24. 71MX-Paul May, 11.220; 25. 3G-James McFadden, 11.250; 26. 4-Danny Smith, 11.259; 27. 55F-Taylor Ferns, 11.285; 28. 60-Kory Crabtree, 11.322; 29. 93-Sheldon Haudenschild, 11.335; 30. 44W-Austin Wheatley, 11.349; 31. 2-Shane Stewart, 11.372; 32. 21-Dallas Hewitt, 11.382; 33. 70-Derek Hagar, 11.409; 34. 46AU-Stuart Williams, 11.419; 35. 11N-Randy Hannagan, 11.445; 36. 23JR-Jack Sodeman Jr., 11.459; 37. 71AU-Ryan Davis, 11.477; 38. 6M-Max Stambaugh, 11.497; 39. 25AU-Jack Lee, 11.535; 40. 22-Ryan Broughton, 11.589; 41. 97-Dean Jacobs, 11.646; 42. 4X-Shawn Petersen, 11.778; 43. 41K-Cole Ketcham, 12.129; 44. 96AU-Bruce White, 12.222; 45. 7C-Caleb Armstrong, 99.000
Heat 1 – Kears Speed Shop (10 Laps – Top 5 finishers transfer to the A-feature)
1. 24H-Brandon Wimmer[3] ; 2. 49-Cole Duncan[1] ; 3. 14K-Dale Blaney[6] ; 4. 53-Cap Henry[5] ; 5. 5T-Travis Philo[4] ; 6. 93-Sheldon Haudenschild[8] ; 7. 70-Derek Hagar[9] ; 8. 97-Dean Jacobs[11] ; 9. 71AU-Ryan Davis[10] ; 10. 3G-James McFadden[7] ; 11. 7C-Caleb Armstrong[12] ; 12. 71-Kevin Swindell[2]
Heat 2 – All Pro Aluminum Heads (10 Laps – Top 5 finishers transfer to the A-feature)
1. 63-Chad Kemenah[1] ; 2. 48-Danny Dietrich[6] ; 3. W20-Greg Wilson[3] ; 4. 10H-Danny Holtgraver[5] ; 5. 35-Stuart Brubaker[2] ; 6. 4-Danny Smith[7] ; 7. 44W-Austin Wheatley[8] ; 8. 6M-Max Stambaugh[10] ; 9. 46AU-Stuart Williams[9] ; 10. 35R-Ronnie Blair[4] ; 11. 4X-Shawn Petersen[11]
Heat 3 – Dragon Racing Fuels (10 Laps – Top 5 finishers transfer to the A-feature)
1. 9W-Jac Haudenschild[4] ; 2. 81-Lee Jacobs[2] ; 3. 2-Shane Stewart[8] ; 4. 77AU-Darren Mollenoyux[1] ; 5. 83-Stevie Smith[5] ; 6. 98-Dave Blaney[3] ; 7. 11N-Randy Hannagan[9] ; 8. 25AU-Jack Lee[10] ; 9. 41K-Cole Ketcham[11] ; 10. 55F-Taylor Ferns[7] ; 11. 33M-Christopher Bell[6]
Heat 4 – Kinsler Fuel Injection (10 Laps – Top 5 finishers transfer to the A-feature)
1. 40-Caleb Helms[2] ; 2. 35AU-Jamie Veal[3] ; 3. 1ST-Gary Taylor[4] ; 4. 45-Tim Shaffer[5] ; 5. 5R-Byron Reed[6] ; 6. 22-Ryan Broughton[10] ; 7. 71MX-Paul May[1] ; 8. 23JR-Jack Sodeman Jr.[9] ; 9. 21-Dallas Hewitt[8] ; 10. 96AU-Bruce White[11] ; 11. 60-Kory Crabtree[7]
Dash – Howard Johnson Hotel – Lima, OH (6 Laps, finishing order determined first 6 starting positions of A-feature
1. 48-Danny Dietrich[2] ; 2. 53-Cap Henry[4] ; 3. 14K-Dale Blaney[5] ; 4. 5R-Byron Reed[1] ; 5. 10H-Danny Holtgraver[6] ; 6. 83-Stevie Smith[3]
C-Main – Computer Man Inc. (10 Laps – Top 2 finishers transfer to the B-feature)
1. 6M-Max Stambaugh[2] ; 2. 25AU-Jack Lee[3] ; 3. 71AU-Ryan Davis[1] ; 4. 4X-Shawn Petersen[6] ; 5. 96AU-Bruce White[8] ; 6. 22-Ryan Broughton[4] ; 7. 41K-Cole Ketcham[7] ; 8. 97-Dean Jacobs[5] ; 9. 7C-Caleb Armstrong[9]
B-Main – MSD Ignition (12 Laps – Top 4 finishers transfer to the A-feature)
1. 33M-Christopher Bell[1] ; 2. 93-Sheldon Haudenschild[10] ; 3. 70-Derek Hagar[13] ; 4. 35R-Ronnie Blair[2] ; 5. 98-Dave Blaney[3] ; 6. 4-Danny Smith[7] ; 7. 44W-Austin Wheatley[11] ; 8. 55F-Taylor Ferns[8] ; 9. 6M-Max Stambaugh[17] ; 10. 71MX-Paul May[5] ; 11. 25AU-Jack Lee[18] ; 12. 11N-Randy Hannagan[15] ; 13. 46AU-Stuart Williams[14] ; 14. 23JR-Jack Sodeman Jr.[16] ; 15. 60-Kory Crabtree[9] ; 16. 71-Kevin Swindell[4] ; 17. 3G-James McFadden[6] ; 18. 21-Dallas Hewitt[12]
A-Main – University of Northwestern Ohio (40 Laps)
1. 14K-Dale Blaney[3]; 2. 35AU-Jamie Veal[15]; 3. 9W-Jac Haudenschild[9]; 4. 2-Shane Stewart[23]; 5. 5T-Travis Philo[8]; 6. 93-Sheldon Haudenschild[22]; 7. W20-Greg Wilson[14]; 8. 49-Cole Duncan[19]; 9. 40-Caleb Helms[18]; 10. 33M-Christopher Bell[11]; 11. 1ST-Gary Taylor[10]; 12. 5R-Byron Reed[4]; 13. 45-Tim Shaffer[7]; 14. 48-Danny Dietrich[1]; 15. 70-Derek Hagar[24]; 16. 63-Chad Kemenah[20]; 17. 77AU-Darren Mollenoyux[21]; 18. 81-Lee Jacobs[17]; 19. 83-Stevie Smith[6]; 20. 53-Cap Henry[2]; 21. 35-Stuart Brubaker[16]; 22. 10H-Danny Holtgraver[5]; 23. 24H-Brandon Wimmer[13]; 24. 35R-Ronnie Blair[12]
Hard Charger: 2-Shane Stewart[+19]
©2012 – Results Provided by: Computer Man Inc. Fremont, OH