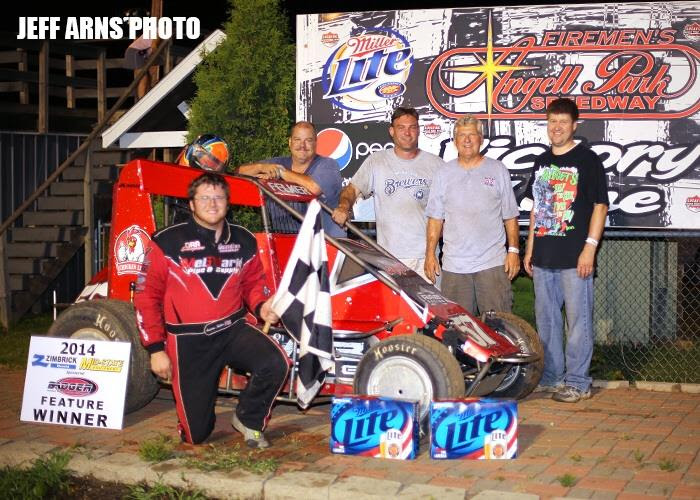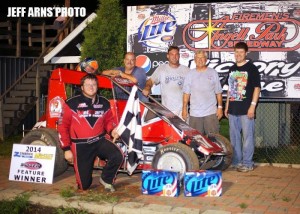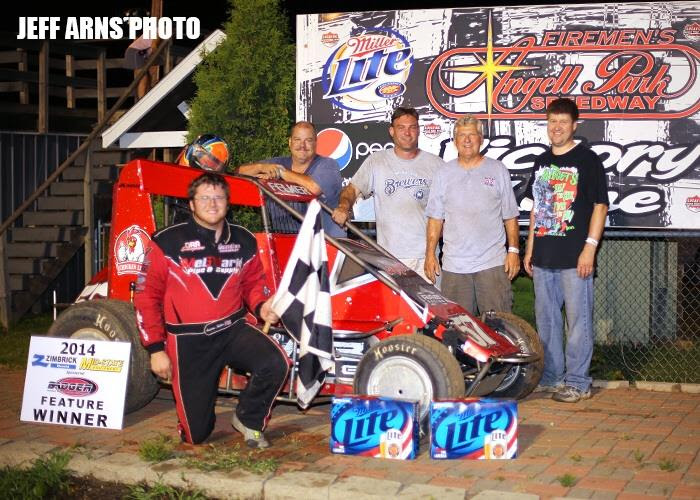 From Inside Line Promotions
Sun Prarie, WI — (June 24, 2014) — Andrew Felker kicked the monkey on his back to the curb.
Felker captured his first feature victory of the season and his first in more than a year last Sunday during the Badger Midget Auto Racing Association race at Angell Park Speedway.
Not only was it Felker's first win of the season, it was his first ever at the track and the first at the home track for the RAB Racing team he drives for. Felker also became the 138th different winner at the famed track.
"It'd been a while since we got one," he said. "The whole team and family was real excited. It felt great. We've had the monkey on our back since the middle of last year. To finally get the bad luck off our back and to get a win, especially with RAB Racing at their home track, is amazing."
The night began with a rain delay, which cancelled qualifying. Drivers lined up in heat races based on the pill draw and Felker started the second heat race from the pole position.
"We rolled the bottom the whole race," he said. "With about two laps to go (Darren) Hagen got next to me and drove around me. We got back by him coming out of turn four on the last lap."
Following Felker's heat race win he ranked fifth in overall points. The feature inversion was a six and it started him on the outside of the front row for the 30-lap main event.
"I got a really bad start and fell back to third going into turn one," he said. "I got back to second going down the back straightaway. I sat there in second until we got to lapped traffic. I tried the top a couple of laps and fell back a straightaway. As we got to traffic I dropped to the bottom and reeled him in."
Felker then took over the top spot on Lap 23 and despite no brakes the final handful of laps, he pulled away to win by more than two and a half seconds.
"I was going through lapped traffic with no brakes the last four laps," he said. "Everyone was pretty much parked on the bottom. I was rolling in there sliding trying not to hit them. It worked out."
Felker is currently looking for a ride for this weekend's POWRi Lucas Oil National Midget Series doubleheader – Friday at Fayette County Speedway in Brownstown, Ill., and Saturday at Tri-State Speedway in Haubstadt, Ind.
QUICK RESULTS –
June 22 – Angell Park Speedway in Sun Prairie, Wis. – Heat race: 1 (1); Feature: 1 (2).
SEASON STATS –
28 races, 1 win, 6 top fives, 17 top 10s, 21 top 15s, 22 top 20s
UP NEXT –
TBD
MEDIA LINKS –
Website: http://www.AndrewFelkerRacing.com
Twitter: https://twitter.com/AndrewFelker11a
Facebook: https://www.facebook.com/AndrewFelkerRacing
APPAREL –
Felker has t-shirts for sale at each of his races. To view his race schedule, visit http://www.AndrewFelkerRacing.com.