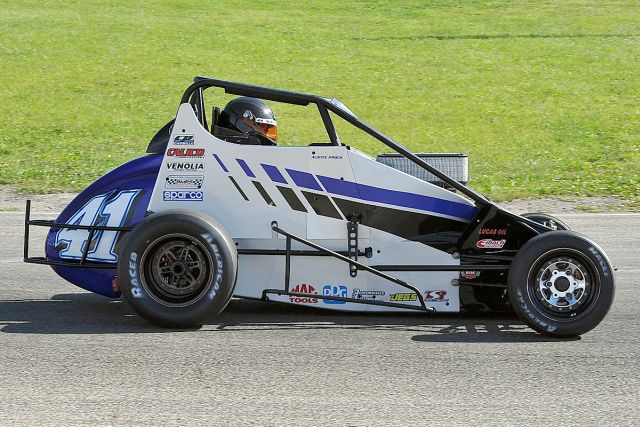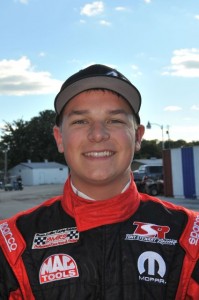 From STARS
In the early 1990s, a young, Michigan-born driver who came from a drag racing family was making a name for himself in midget racing. That kid was eventual USAC champion and NHRA Top Fuel star Doug Kalitta. Eighteen-year-old Austin Prock is the next Michigan-born driver looking to follow the same path as Kalitta did nearly two decades ago. The path to his ultimate racing goal is not just a straight line. It includes several left turns as well.
The bloodlines for the Prock family run deep in oval track and drag racing. Austin's great grandfather, Jimmy Prock, was a midget driver and a riding mechanic alongside Chet Miller in four consecutive Indianapolis 500-mile races from 1930-1933, earning a best finish of 10th in the 1931 event. In the 1930 Indianapolis 500, Miller and Prock's car was numbered 41. The use of the #41 is the inspiration for the number used on Austin's midget today. Austin's grandfather, Tom Prock, was a Funny Car driver in the early 1970s, and then became the crew chief for 1978 U.S. Nationals Funny Car champion, Tom "The Mongoose" McEwen. Austin's father, Jimmy Prock, is a two-time NHRA Funny Car champion as a crew chief and is currently the crew chief for 16-time NHRA champion, John Force.
Compared to many other of today's racers, Austin got a relatively late start in his own racing career. Just after making the move to Avon, Indiana when Austin was 11, the Prock family's interest in oval track racing was piqued by a neighbor who competed in quarter midget racing. After a test in his neighbor's quarter midget, a car was purchased for Austin to begin his racing career. Austin's successful foray into quarter midgets lasted four seasons. However, learning the ins and outs of oval track racing was difficult at first.
"Nothing in drag racing applies to circle track racing," Austin said. "So, my dad, my brother (Thomas), and I just started teaching ourselves all the basics about circle track racing set-ups with a few friends helping along the way."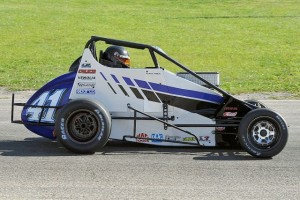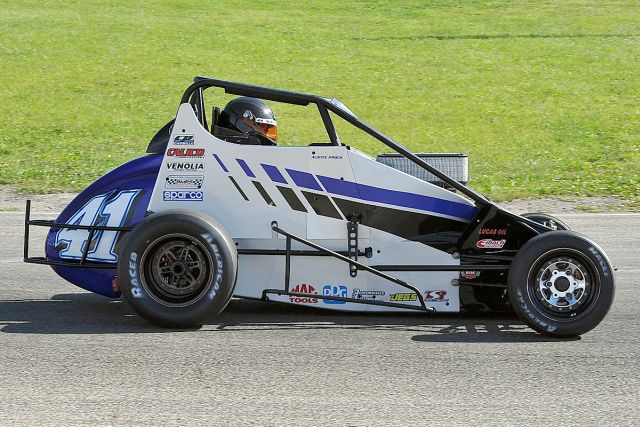 In 2010, at the age of 14, Austin took his first ride in a Ford Focus midget at the Indianapolis Speedrome. At the end of the night, Austin had racked up both a heat race win and the feature win. It was a smooth transition to the bigger cars and earned him an opportunity to race in the USAC Eastern Ford Focus Series for Wade Brown and Brad Noffsinger in 2011.
In late 2011, the Prock family made the decision to purchase a full-size midget from Bob East with plans to take on the competition at the highest level of midget racing with USAC and STARS in 2012. His first full season in the midget earned him the honor of being named STARS National Midgets Rookie of the Year with a 5th place finish in the season point standings. In his second season of midget racing in 2013, he scored his first career national midget victory in the STARS season opener at Grundy County. Austin totaled four STARS victories at Grundy County Speedway that year, including three of the last four series races to end the year. In the end, Austin earned more pavement midget victories during the season than any other driver did in the USA.  So far, in 2014, Austin has continued the run of last year's late season success by winning two of the first three STARS midget races at Grundy County and currently leads the point standings for the series.
Walking through the pit area on a night when the STARS midgets are competing, one crew that catches your attention is the crew of Team Prock. Twenty-year-old crew chief, and Austin's brother, Thomas Prock, turns the wrenches while 17-year-old twin brothers Austin and Alex Guglielmucci are in charge of the tires and the body of the car, easily making them one of the youngest teams you will see in any series. This has provided a challenge to the team that has been demanding, yet educational.
"Every night is a new lesson and we try not to make the same mistake twice," Austin said. "(My brother and I) do everything. We build it, paint it, build the engines with Dad's help, set it up, and drive the trailer. With Dad always gone, we've had to learn to race on our own."
During the week, the car is housed in the shop of Tony Stewart Racing in Brownsburg, Indiana. It was a chance meeting with Stewart that took place shortly after winning his first career quarter midget race at the Rumble in Fort Wayne that led him to this connection.
"He (Stewart) came up to me and told me that I did a good job. I have just kept in touch with him ever since," Austin said. "He allows us to keep our car in his shop and he lets us use whatever we need in there. They (Tony Stewart Racing) taught us how to build a beautiful racecar. Our car would not be anywhere as nice as it is without them."
When Austin is not racing his midget or working on the car with his brother, he maintains a job at John Force Racing where he prepares the clutch discs for NHRA Funny Cars driven by John Force, Robert Hight, and Courtney Force as well as the Top Fuel Dragster of Brittany Force. Furthermore, after his graduation from Avon High School in the spring of 2013, Austin began attending The Art Institute of Indianapolis for Culinary Arts.
Despite all seven years of his years as a racecar driver being confined to open wheel midget racing, the aspirations of Austin Prock are looking to different landscapes in the racing world.
"I would love to do a few more years of circle track racing and am hoping to get in a dirt or pavement winged sprint car," Austin said. "Then, I want to start my drag racing career as a Funny Car driver. It's always been my dream."
The questions about the long-term success of Austin Prock's racing career have yet to be answered. How long will we see Austin Prock remain in midget racing and oval racing in general? Will he be able to eventually make the transition from left turns to straight lines like Doug Kalitta was able to do during the late 1990s? However, for now, the main questions are how many races can he win this season and can he take the STARS National Midget title in 2014? One thing that is immediately clear, though, is his love for the sport of auto racing in general.
" When I was just two weeks old, I went to my first drag race. I've been hooked on racing ever since. I eat, sleep, and breathe racing. It's all I know, all I've done and it's all I'm going to do. I'd be lost without it."
****EXTRA TIDBITS****
*Who is the best racer you've ever competed against? 
Darren Hagen. I like the way he drives. I think it's similar to my style. We both like to really hustle the car and be aggressive.
*Do you have any interesting hobbies away from the track?
Not much. I really only do racing. I like to fabricate parts for my car. I also paint. I do all the painting on my car and helmet. I also like to cook.
*Last book you have read?
Some book by Dr. Seuss.
*Last movie you've seen?
Wayne's World
*Favorite food?
Chicken Hossa
*Favorite midnight snack?
Flamin' Hot Cheetos with an Icee
*Favorite TV Show?
Cops
*Favorite sports team?
Detroit Red Wings
*Sponsors
Austin Prock would like thank his sponsors: CP Carrillo, Calico, Venolia, BMRS, Sparco, Tony Stewart Racing, PPG Paint, Jegs, Mac Tools, Lucas Oil, and Pace Performance Coatings.