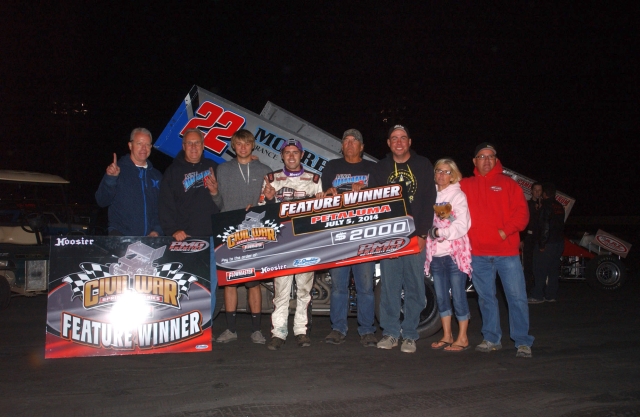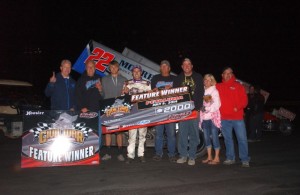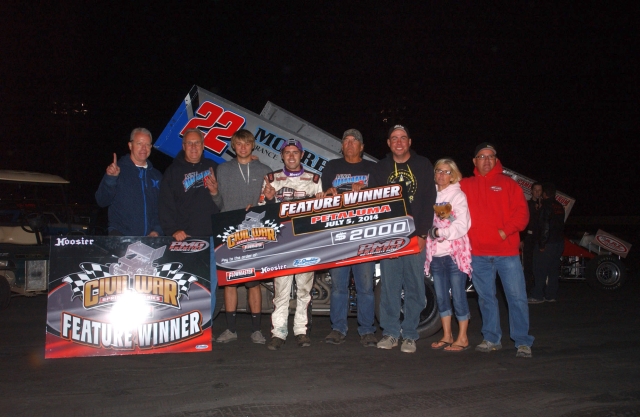 From Peterson Media
Petaluma, CA — (July 5, 2014) — Taking advantage of a lap-five restart, Chico, CA driver, Mason Moore, jumped into the lead at the Petaluma Speedway, as he became the fifth different driver to win a race in five Civil War Series Presented By Flowmaster events in 2014.
With Herman Klein, and Moore, leading the field to green, it was Klein getting the initial jump, and quickly jumping out to a hefty lead aboard the SportClips No. 42x machine.
As Klein extended his lead, the battle behind him was exciting as Moore, Colby Copeland, Jamie Duff, and DJ Netto battled wheel-to-wheel.
The caution flag slowed the pace of the race at lap five, and on the ensuing restart, Moore rocketed into the lead, as Netto followed suit, jumping into to the second spot.
On the eighth lap, ninth starting, Matt Peterson worked his Miller Lite No. p37 machine into the second spot, while B Main winner, Keith Bloom, Jr made a couple of great moves to get into the fourth spot.
Behind the lead pack, 19th starting Alissa Geving, and 20th starting, Sean Becker were making moves as they raced with each other as they both marched forward as they ran in the eighth and ninth spots when the caution flew on the 16th lap.
The race would come back to life four a few circuits, before fourth running, Bloom, caught a nasty rut in turns one and two, and got upside down in the Brett Lay owned No. 24B, and his night would come to an end.
Despite numerous double file restarts, Moore was flawless as he kept his Moore Insurance Services No. 22 machine in the lead, though the action behind him was heating up.
The race's last caution flew on the 25th lap, and the final five laps were very exciting, as Colby Copeland made a bold move on the restart to jump from fourth to second, and apply heavy pressure to Moore.
With Copeland finding something to his liking up on the high-side, Moore was flawless on the bottom as he hit his marks, and fended off Copeland's charge, as Peterson held on to the third spot, while Netto crossed the stripe in the fourth spot, and Jamie Duff scored a fifth place finish aboard Rod Tiner's entry.
With the win, Moore has also locked himself into the 2014 Johnny Key Classic that will take place in August at the Ocean Speedway.
"We just had an awesome racecar," Moore said in victory lane. "Richard Brown, and Kenny Allan worked well all night, and I can't thank my parents enough for all of their support with this race team."
"Our night started out really good with quick time, and we missed it a little in the Dash," Second finishing Colby Copeland said. "We got going pretty well in the feature, and at the end the top got cleaned up, and I gave it everything I could to get by Mason (Moore) but we ended up second. Congratulations to him and his team, and thanks to everyone on my team for giving me a great car."
Third finishing Matt Peterson was excited about his run on a track he hasn't had success at in the past. "I can't thank Lee Lindgren and the boys enough for the car they gave me," he said. "I am pumped to be on the podium with the Civil War Series, and can't wait to get to our next race."
22nd starting Cory Eliason took advantage of the lap 20 and 25 restarts as he charged his way up to the sixth spot, while Geving worked to the seventh spot, Sean Becker finished in eighth, Klein came home ninth, while Prunedale, CA driver, Justin Sanders, rounded out the Top-10 from his 21st starting spot.
In B Main action, Keith Bloom, Jr led the way, and earned the win, as Jake Haulot ran in the second spot. Alissa Geving and Sean Becker put on quite the show as they charged from the back to finish in the third and fourth spot, while Justin Sanders ran fifth, and Cory Eliason rallied from a mid race issue to take the sixth and final transfer spot at the stripe.
Heat race wins went to Mason Moore, Jamie Duff, Herman Klein, and DJ Netto, while Mason Moore led all six laps of the Dash, and Colby Copeland opened the night up by timing in as the quick time qualifier.
Petaluma Speedway- 30 Cars
Fast Time- Colby Copeland
A – Main – 30 Laps (Starting Position)
1. Mason Moore (1), 2. Colby Copeland (6), 3. Matt Peterson (9), 4. DJ Netto (5), 5. Jamie Duff (3), 6. Cory Eliason (22), 7. Alissa Geving (19), 8. Sean Becker (20), 9. Herman Klein (2), 10. Justin Sanders (21), 11. Kurt Nelson (14), 12. Bradley Terrell (7), 13. Jeremy Burt (4), 14. Jake Haulot (15), 15. Kyler Shaw (10), 16. Roberto Kirby (17), 17. Eric Humphries (8), 18. Ivan Worden (16), 19. Joe Stornetta (18), 20. Keith Bloom (11), 21. Andy Forsberg (13), 22. Shane Golobic (12)
The Civil War Sprint Car Series would like to thank Flowmaster, BR Motorsports, A.R.T. Speed Equipment, Brodix, ButlerBuilt, CRV Carbon Solutions, Design 500, Dirt Solutuion, Taco Bravo, Hansen Machine, Frankland Racing Supply, Fuel Safe, Hoosier, Joe Hunt Magnetos, Kaeding Performance, King Racing Products, KSE Power Steering Products, Pit Stop USA, MPD, All Pro, RCM Design, Rod End Supply, Racing Optics, SRP, VSR, and Weld Racing for their support.
ON TAP: The Civil War Sprint Car Series Presented By Flowmaster returns to action on Friday night as they invade the Ocean Speedway in Watsonville, CA for the first time since 2011.
WINNERS: Winners in the 2014 California Sprint Car Civil War Series Presented By Flowmaster… Andy Gregg- 1 (Marysville Raceway Park on March 15th), DJ Netto-1 (Marysville Raceway Park on May 24th), Shane Golobic-1 (Silver Dollar Speedway on May 25th), Andy Forsberg- 1 (Placerville Speedway on May 31st), Mason Moore (Petaluma Speedway on July 5th)
STAY CONNECTED: Keep up with the Civil War Series Presented By Flowmaster, and find complete results and point standings by clicking over to www.racepmg.com, 'Liking' www.facebook.com/civilwarsprints, or following us on twitter at www.twitter.com/civilwarsprints.