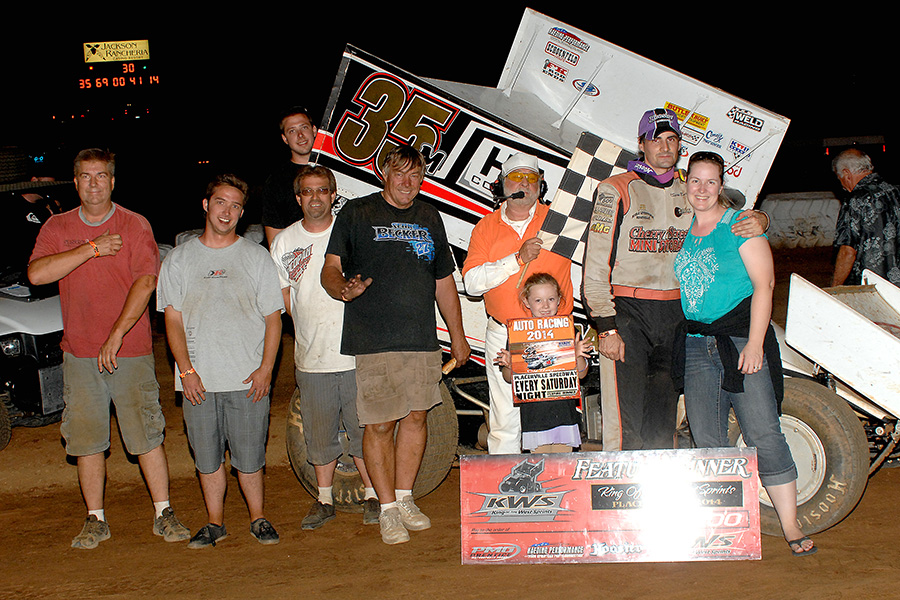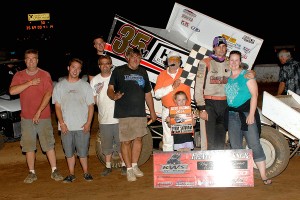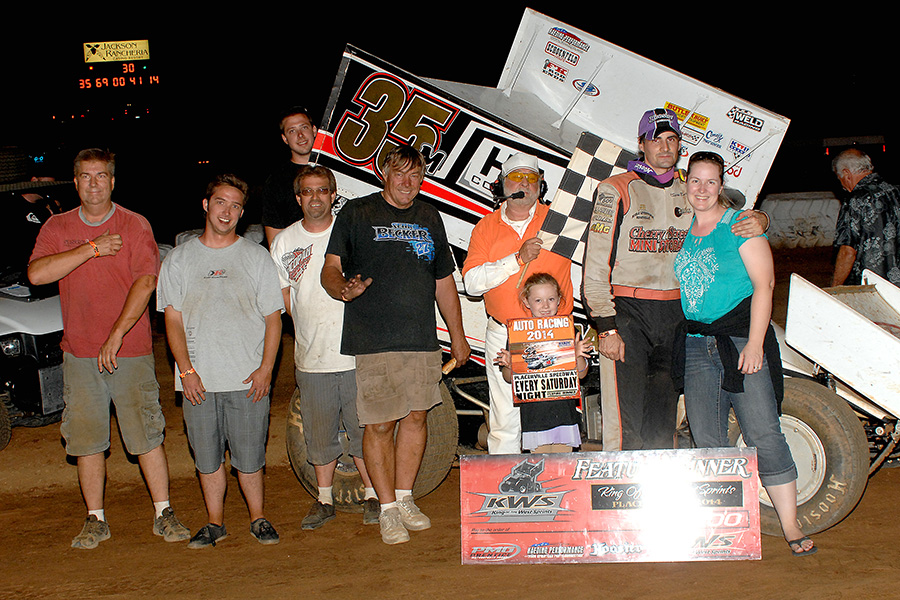 From Gary Thomas
Placerville, CA — (July 19, 2014) — A packed house on Saturday night at the Placerville Speedway witnessed one of the wildest finishes you'll ever see, when leader Brent Kaeding spun on the cushion in the fourth corner coming for the checkered flag and resulted in Roseville's Sean Becker sneaking by for the ultra dramatic victory.
The unbelievable win for Becker was his 10
th
career with the King of the West 410 Sprint Car Series, which moves him into a tie for ninth on the all-time list with Tommy Tarlton & Kyle Hirst. It also marked his first win with the series since 2010 and was his initial triumph this season aboard the Main Motorsports/ H.A.M. Construction No. 35m machine. Becker's most recent series victory had come at the Santa Maria Speedway while driving for Brian Sperry, so
Saturday's
win was definitely long overdue.
"Wow this is so crazy I don't know what to say," said an ecstatic Becker after climbing the front stretch fence in celebration. "We've been struggling at times to start the year, but I knew we could turn it around and hopefully this will be the first of many. I can't thank the Main family and everyone that helps on this car enough for the opportunity and sticking with me. It feels so good to finally get another KWS win, because it's been awhile. What a great race that was tonight and I hope all the fans enjoyed that one."
The 30-lap main event started out with Becker jumping into the lead at the waving of the green flag, but things would come to a halt on lap two when KWS point leader Kyle Hirst and Mason Moore came together in the first and second corners. The incident initially started when Hirst and another car made contact on the front stretch, resulting in the Chico driver having to take evasive action through the infield. For Hirst damage was too severe to continue and he would suffer his first dnf of the year.
A very well prepared quarter-mile was presented to teams and made for some fantastic racing throughout the entire main event. When going back green Chico's Jonathan Allard would power his way into the lead of the race. Becker tried to keep Allard in his sights but soon dealt with a fast moving Brent Kaeding of Campbell, who drove by to claim the runner up spot on lap 12. Placerville's Andy Gregg then followed suit and also got by Becker for third a lap later.
A caution on lap 14 then set up a double file restart and during it, Allard got the front wheels off the ground just enough to allow Kaeding the chance to slice his way by and into the lead. Gregg then came after Allard for second and after a few laps of battling it out he would charge around the outside in turn four to claim the spot. A red flag period on lap 20 for Sacramento's Willie Croft set up a 10-lap dash to determine the winner and when things went back green some tremendous action was seen. Gregg would hound Kaeding relentlessly for a number of laps putting on a thrilling show for the hometown crowd.
With things tightening up Fremont's Shane Golobic and Becker looked to join the party. As Gregg tried to take the lead from Kaeding on lap 27 some minor contact ensued which got the Mike's Hard Lemonade 14r of Gregg slightly out of shape. At the same time Golobic tried to go around the outside in the third corner, but contact would occur and leave Golobic's 121 Sprinter with a folded front end. Auburn's Andy Forsberg had nowhere to go and plowed into Golobic to bring out a red flag. It was a tough break for both drivers, who had very fast race cars during the night.
On the ensuing double file restart Kaeding hit it perfect, but Gregg would get out of shape and drop to sixth, ultimately ending his bid for victory. Becker was now into second and came hard after Kaeding for the lead, with now third place Jason Statler. Kaeding and Becker raced extremely close together and when the white flag came out it was anybody's game. As Kaeding rounded turn four however, chaos ensued when he slid across the groove and hit the cushion, which spun him around sideways. With cars going everywhere to avoid him nobody knew who would come out on top.
Somehow though Becker managed to avoid him and squeaked through to take the checkered flag by half a second over Kaeding, who somehow kept the Al's Roofing No. 69 going.
Pandemonium ensued with the crowd going wild over what they had just witnessed. Becker was about as happy and emotional as could be after parking his car on the front stretch to the roar of the standing room only crowd. It was the exact opposite for Kaeding though, who was extremely dejected after the tough ending. "I really hate it for my guys, because I just stepped on it plain & simple. Just a big mistake on my part, but I really have to congratulate Sean Becker and those guys because they've been big supporters this season. That was another exciting King of the West race so we hope everyone will come on down to Tulare for the Murphy Classic next week."
Grass Valley's Jason Statler had a great run in the main event from the 13
th
starting spot to score third at the finish aboard the DF Rios Motorsports No. 00 mount. It was extremley nice to the see the former champ earn his first podium finish of the KWS season
on Saturday
. "It feels great to be up here on the podium tonight in Placerville. We always love coming here because the fans always loud & passionate and the racing is always action packed. I want to thank all my guys for their support this season. It's my 25
th
year with Dave Rios, which has been really special to have him stick by my side for so long. We're really excited for the Peter Murphy Classic next week in Tulare."
Seventeen-year-old Dominic Scelzi had a strong run in the feature for the second week in a row and scored the KSE Hard Charger Award, coming from 17th to fourth in the 30-lapper at the helm of the Scelzi Enterprises No. 41 Sprinter. After challenging for the lead at times Gregg would cross the stripe in fifth to tally his best finish of the KWS season. The remainder of the top-10 was filled out by Hanford's DJ Netto, Roseville's Colby Copeland, Elk Grove's Bobby McMahan, Chico's Jonathan Allard, who got the worst end of the stick during the wild final corner, and Campbell's Bud Kaeding.
The 12-lap B-main was won by Princeton's Mason Moore, with the three 10-lap heat races picked off by Sean Becker, Shane Golobic and Brent Kaeding. Jonathan Allard won the six-lap dash and Bobby McMahan opened the night by setting fast time in the 27-car field with a 10.425 around the Placerville quarter-mile. Full results will be available at
www.kwssprints.com
A-main finish: 1. 35m Sean Becker, 2. 69 Brent Kaeding, 3. 00 Jason Statler, 4. 41 Dominic Scelzi, 5. 14r Andy Gregg, 6. 88n DJ Netto, 7. 5v Colby Copeland, 8. 25 Bobby McMahan, 9. 3c Jonathan Allard, 10. 0 Bud Kaeding, 11. 69c Chad Compton, 12. 8 Jim Richardson, 13. 09s Geoffrey Strole, 14. 15 Pat Harvey, 15. 121 Shane Golobic, 16. 01 Andy Forsberg, 17. 94 Gordon Rodgers, 18. 29 Willie Croft, 19. 45 Jake Morgan, 20. 22 Mason Moore, 21. 83jr Kyle Hirst, 22. 89 Brandon Mansfield
The King of the West 410 Sprint Car Series will now gear up for one of the biggest events of the season next
Saturday July 26
at the Tulare Thunderbowl Raceway. The inaugural Peter Murphy Classic will feature the largest purse of the season for KWS. The A-main event will pay $5,000-to-win & $700-to-start! In addition to the beefed up purse there will also be $500 on the line for fast time, hard charger and the longest tow! A 360 Sprint Car bonus of $300, $200 and $100 will also be awarded to the three highest finishing drivers utilizing a 360 engine during the night.
Reserved grandstand seats for the Peter Murphy Classic on Saturday July 26 cost $25 with general admission bleacher tickets $20. To reserve your seat contact
(559) 688-0909
. The front gate will open at
4pm
with racing expected to get underway around
7pm
. More info at
www.thunderbowlraceway.com
including a seating chart.