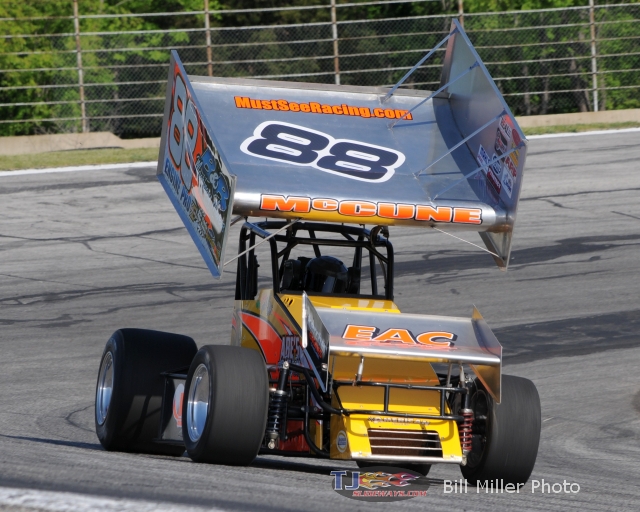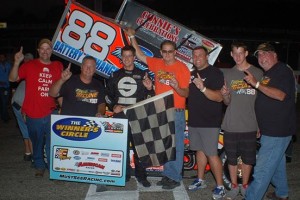 From David Sink
Kalamazoo, MI — (July 25, 2014) — Jimmy McCune took advantage of Jacob Wilson's misfortune and cruised to his second Must See Racing Xtreme Sprint Series (MSRXSS) victory of the season Saturday night at Kalamazoo Speedway.
Ryan Gillenwater got the night kicked off by besting an eighteen car field with a lap of 10.636 seconds around the 3/8 mile, high banked asphalt oval.
Jacob Wilson appeared to be headed for victory in the 50-lap "Night of Speed" event, that went non-stop, until misfortune struck on lap 30. Wilson, who started from the outside front row, had a right front tire go flat and was forced to the pits, handing McCune the win. McCune started from the outside of row two and appeared strong from the get go. McCune took advantage of Wilson's misfortune and never looked back.
Following McCune to the line and rounding out the top five were: Aaron Piece, Ryan Gillenwater, Troy DeCaire, and Brian Gerster.
Jason Cox made his return to MSRXSS competition for the first time in over a year. Cox received serious neck injuries from a racing accident at Toledo, OH last June.
The MSRXSS will now head to Salem, IN August 9 for the annual Joe James/Pat O'Connor Memorial. For more info on Must See Racing log onto www.mustseeracing.com for the latest news and exclusive live updates.
"NIGHT OF SPEED 50" FEATURE RESULTS
1. Jimmy McCune (88)
2. Aaron Pierce (26p)
3. Ryan Gillenwater (45)
4. Troy DeCaire (22)
5. Brian Gerster (50m)
6. Davey Hamilton Jr. (1h)
7. David Byrne (40)
8. Cody Hoover (23)
9. Billy Wease (81)
10. Sondi Eden (70)
11. John Turnbull Jr. (12)
12. Jeff Bloom (26)
13. Cody Gallogly (27)
14. Jacob Wilson (07)
15. Jason Cox (1c)
16. Ryan Litt (07L)
17. Tyler Underwood (14)
DNS Ike Beasley (97)