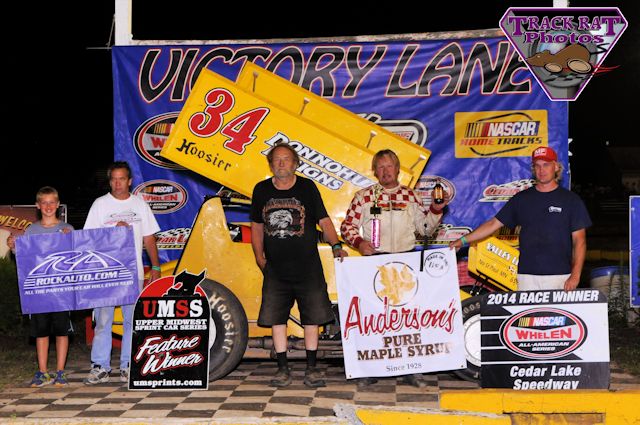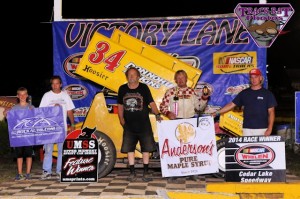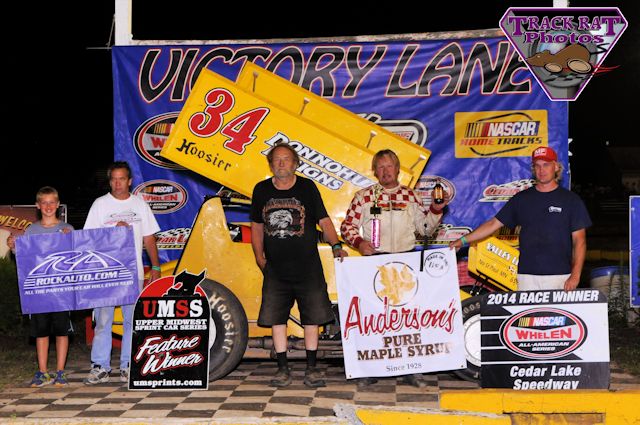 From Greg Parent
New Richmond, WI — (July 26, 2014) — Since earning Rookie of the Year honors at the Cedar Lake Speedway back in 1987 in the street stock division, Rick Kobs has won in just about anything and everything that has wheels on it and has raced at the track over the past 28 seasons. On Saturday night July 26, Kobs added 360 winged sprint cars to his winning resume when he topped the UMSS sprint car feature race during the Summer Sprint Special. It was also Kobs first-ever win in a winged sprint car in his career that started part way through the 2013 season when he stepped into the potent Ron Olson #34 sprinter. Kobs was all smiles and in his usual low-key manner during his winner's interview in the Anderson's Pure Maple Syrup Victory Lane, he commented "If Tony doesn't have that flat tire, I don't think I would have won. Tony would have been tough to re-pass for the lead." Flat tire or not, Kobs put himself in position to win with a strong performance in the 25 lap feature event and earned the $1,000 first place payout.
Kobs has been "knocking on the door" this season with several strong runs, so it was only fitting that his first winged sprint car victory would come at his home track, a track that he has raced at on a fairly regular basis for a good share of the 28 seasons since first starting in the street stocks back in 1987. After the typical double round of qualifying races, Kobs found himself atop the passing and finishing points. Much to his delight, he drew the zero pill which resulted in a straight-up start for the feature. 2010 UMSS Champion Cody Hahn would start outside front row with a pair of strong contenders behind in row two, Tony Norem and 2011-2012 UMSS Champion Jerry Richert, Jr.
Kobs blasted into the lead at the drop of the green, but the race was immediately under caution for a three car incident in turn one involving Jared Goerges, Jenni Eriksen and Anna Kouba. All three cars headed to the pits with damage. Once again, Kobs captured the lead and set sail on the cushion with Norem in second. Norem's Seidenkranz Brothers B1st sprinter was fast, and on lap seven he ducked under Kobs in turn one for the lead. Just past the halfway mark, it appeared as though Norem made slight contact with a lapped car, and one lap later the yellow light blinked on for the leader. Norem's right rear tire had exploded and he limped to the turn two work area. This handed the lead back to Kobs followed by Cam Schafer, Hahn and Richert. Norem restarted at the tail with a new right rear tire bolted on.
Following the third and final caution one lap after Norem's misfortune for a spin in turn four by rookie Jamey Ogston, the race went the final 10 laps under green. Richert worked his way to second on lap 16 but could not get close enough to Kobs to challenge for the top spot. All eyes were on Norem, as he stormed his way through the field. In the end, it was Kobs, Richert and Norem in the top three. Norem was right behind Richert at the finish but ran out of laps in his comeback bid for the win. Hahn and rookie driver Ryan Bowers completed the top five. Heat races were won by Hahn, Gunner Cummings and Bowers. Challenge race wins went to Norem and Kobs.
The UMSS winged sprints have a weekend off before returning to action on Saturday night August 9 at the Ogilvie Raceway. With the June 7 show at Ogilvie falling victim to rain, this will be the only appearance of the season at the Big O for the winged warriors. As the GRP Motorsports point battle and rookie titles take shape, fans can follow the UMSS on our website at www.umsprints.com or a person can become a friend of the UMSS on our Facebook page.
UMSS Race Results – Cedar Lake Speedway July 26, 2014 (Race #14)
Summer Sprint Special
Alpha Apparel & Promotions Ultimate Sprint Race #1 (6 laps): 23 Cody Hahn, 63 Jerry Richert Jr, 03 Jamey Ogston, 10x Jenni Eriksen, 91A Reed Allex, 52 Jake Lempelius.
Meeks Video Ultimate Sprint Race #2 (6 laps): 34TW Gunner Cummings, 34 Rick Kobs, B1st Tony Norem, 15 Chad Patterson, 3TK Tony Kaus.
Track Rat Photos Ultimate Sprint Race #3 (6 laps): 199 Ryan Bowers, 5C Cam Schafer, 9 Jared Goerges, 37 Sye Anderson, 5 Anna Kouba.
Mastell Brothers Trailer Service Challenge Race #1 (8 laps): Norem, Richert, Schafer, Eriksen, Bowers, Anderson, Kouba, Lempelius.
Driverwebsites.com Challenge Race #2 (8 laps): Kobs, Hahn, Goerges, Cummings, Kaus, Allex, Ogston, Patterson DNF.
GRP Motorsports Feature (25 laps): Kobs, Richert, Norem, Hahn, Bowers, Cummings, Schafer, Anderson, Patterson, Ogston, Allex, Lempelius, Kaus DNF, Eriksen DNF, Kouba DNF, Goerges DNF.
Lap Leaders: Kobs 1-6, Norem 7-14, Kobs 15-25.
Cautions: (3)