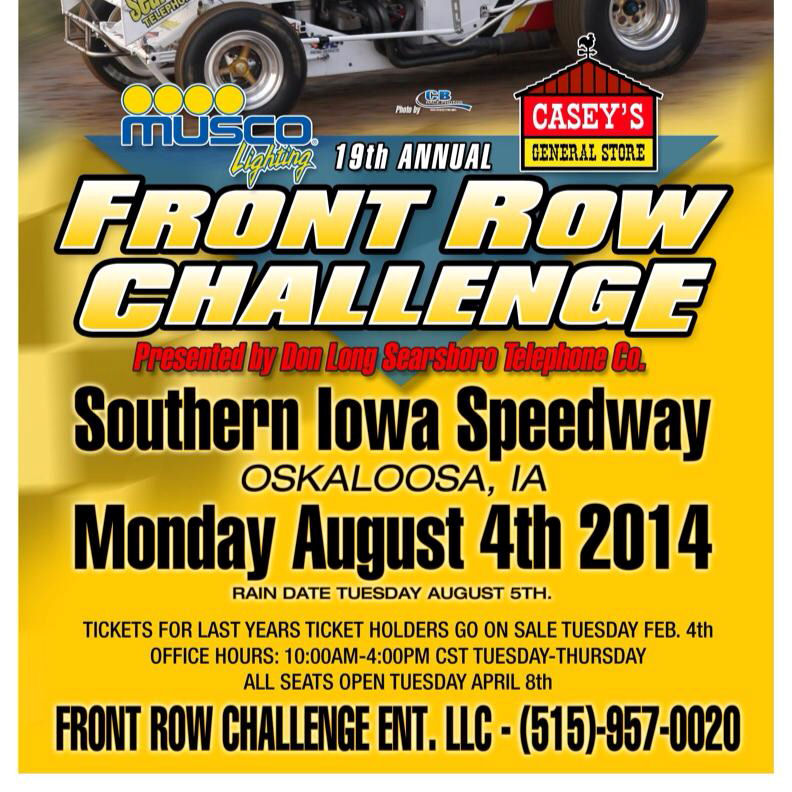 By Bill W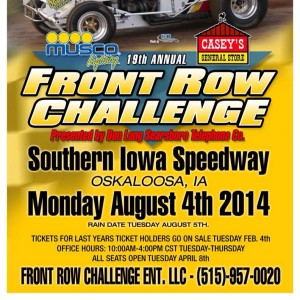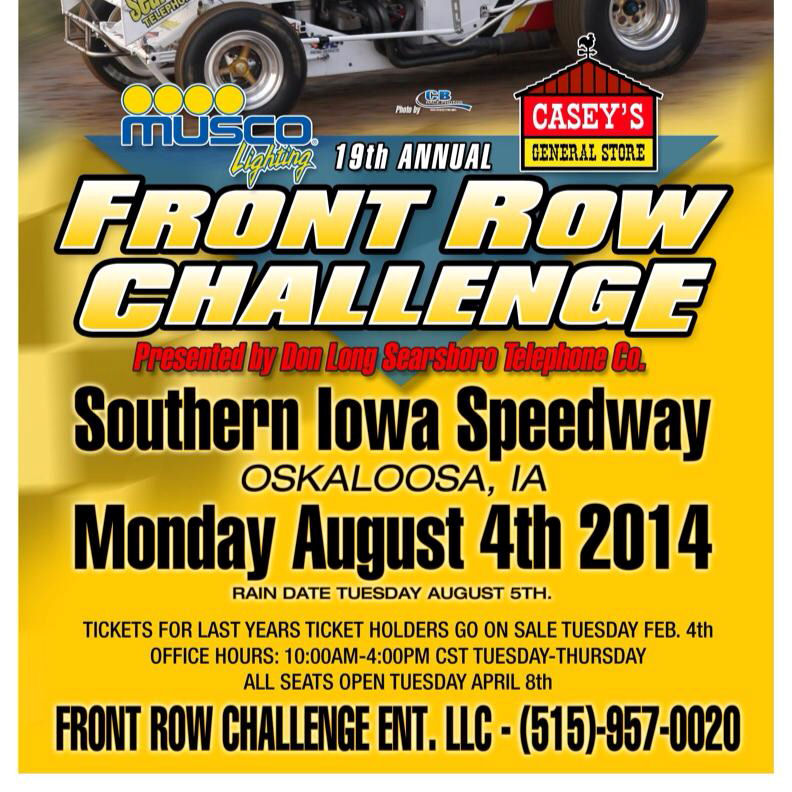 July 26, 2014 – The excitement is at a fever pitch for the 19th Annual Casey's General Stores/Musco Lighting Front Row Challenge presented by Don Long's Searsboro Telephone Company!  The event will be held Monday, August 4, at the Southern Iowa Speedway in Oskaloosa, Iowa as part of the 13th Annual Cox Design Iowa Speedweek.
Some of the best drivers in the country are expected to battle for one of the most prestigious titles in sprint car racing!  Not only will the winner go down in history and take home the prized Front Row Challenge championship belt, drivers will be shooting for a number of awards and contingencies.  Heat prizes include items from Schoenfeld Headers, Weld Racing, Hepfner Racing Products, Vortex Racing, Brown & Miller Racing Solutions, www.TheSnowPlow.com and Jocko's Sprint Parts.
Don Long of Searsboro Telephone Company has put up $300 for the highest finishing 360 driver from the Knoxville Raceway.  In addition, Butler County Speedway in Rising City, Nebraska has put up $300 for the highest finishing driver representing the Nebraska 360 Sprint Car Series.  The Sprint Invaders Association has also put up $200 for the highest finishing driver from their organization.  Oklahoma's John Lemon will again be sponsoring the $100 "Hard Luck Award".  The Hard-charger in the main event will receive a power steering pump from KSE.
One of the more popular awards is the Mechanic of the Race.  Again, on the line will be the 3/8 cordless 18-volt impact set courtesy of Des Moines area Snap-On Tools franchises.  Last year's winners were Chad Morgan (Brian Brown) at the Front Row Challenge and Derrick Bye (Robert Ballou) at the Ultimate Challenge.
TK Concrete will return as the "Keith Hutton Memorial King of the Hill" challenge race.  This popular event will again pit drivers against each other in one-on-one match races to earn the right for a shot at the Front Row Challenge.
Plenty of incentives await the driver accepting the Front Row Challenge.  In addition to cashing a $30,000 check for coming from the back to win, the competitor will receive a Hinchman Racewear driver's uniform worth $1,500.  In addition, incentives from Hepfner Racing Products, Hoosier Tire and Vortex Wings will be available.
Last year, Tony Bruce Jr., of Owasso, Oklahoma took the challenge, and drove from the tail to fifth.  His haul included $1,615 in "passing money", Butlerbuilt seat inserts, an HRP top wing and a set of Hoosier tires.
ASCS National drivers, Brad Loyet, Jason Johnson, Johnny Herrera, Jeff Swindell and others will be competing at Oskaloosa.  Defending champion, Brian Brown, Belleville Nationals titlist Christopher Bell, former Knoxville Raceway champion, Billy Alley, ASCS Midwest champ Jack Dover, Sprint Invaders champion, Russ Hall, and many more are expected to compete!
Knoxville muffler rules will be in effect at the Front Row Challenge, while all other ASCS rules apply.
Tickets
Save $5 on your infield party pass tickets by purchasing at area Casey's General Stores in Oskaloosa, Pella, Knoxville and Monroe (on Highway 163).  Every ticket bought will include a $2 off coupon for Casey's pizza.  Each team participating in the event will also receive a free Casey's pizza delivered to their pit area.
To purchase your tickets for the FRC, call Front Row Challenge Enterprises, LLC at 515 957-0020.  Reserved grandstand seats are $25 for adults and $15 for children 12 and under.  Infield party passes are $20 if bought in advance, or $25 the day of the show.
To keep updated and get more information on the FRC, including historical data, ticket information, photos and more, log on to www.OskyChallenges.com!