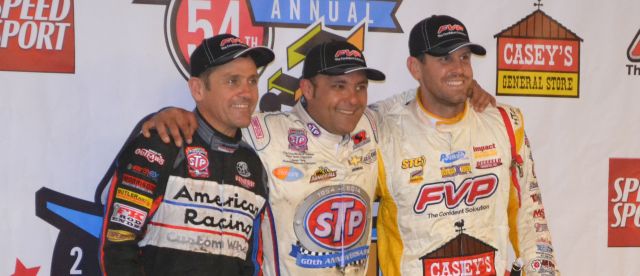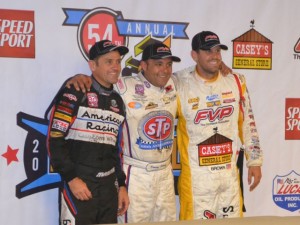 By T.J. Buffenbarger
Knoxville, IA — (August 9, 2014) — Donny Schatz came on top of a late race battle with Brian Brown to win the 54th Annual FVP Knoxville Nationals presented by Casey's General Store.  Schatz and Brown battled for the lead over the final 10 laps.  After a caution with 10 laps to go Brian Brown stalked Schatz and took the lead on lap 44, only to have Schatz take it back.  Brown kept pace until slipping off the second corner with four laps to go and motored to victory.
Schatz and Shane Stewart started on the front row for the 50-Lap finale. After an aborted start Schatz took the lead with Stewart, Brown, and Madsen in tow. While putting pressure on Madsen Terry McCarl's engine showed a huge puff of smoke and a little fire, but kept going. Then while working lap four the caution appeared for Sam Hafertepe, Jr. spinning in turn four. Hafertepe was able to restart at the tail of the field.
Schatz went to the bottom during the restart with Shane Stewart on the top side. Stewart tried to keep pace, but Schatz was able to pull away. Meanwhile Brian Brown and Kerry Madsen raced for third and Craig Dollansky and McCarl racing for fifth. Slower traffic came into play on lap 10 as Schatz started overtaking slower cars.
On lap 13 Brown was able to dive under Stewart in turn three to take second position. Madsen started working on Stewart one lap later for third, but could not make the pass. Brown continued to chase Schatz through traffic as Schatz maintained a full straightaway advantage going into the halfway break.
After the restart Schatz continued to lead with Brown keeping pace. Madsen and Stewart continued their battle for third with Madsen finally wrestling the position away on lap 29.
Then the completion of the race changed with 10 laps to go when Shane Stewart hit the wall coming off turn four to bring out the caution flag. Stewart retired pit side with a broken driveline.
During the restart Brown hung right to Schatz's back bumper for several laps until making his move with seven laps to go. Brown got a run off two one lap later and took the lead. One lap later Schatz took advantage of a slip by Brown to take the lead back on lap 45. From there Brown continued to keep pace until four laps to go Brown slipped off turn two and allowed Schatz to open up a gap Brown could not overcome. Brown held on for second with Madsen rounding out the podium.
54th Annual FVP Knoxville Nationals presented by Casey's General Stores
Knoxville Raceway – Knoxville, IA
Saturday August 8th, 2014
A-Main (50 Laps): 1. 15 – Donny Schatz, 2. 21 – Brian Brown, 3. 29 – Kerry Madsen, 4. 7 – Craig Dollansky, 5. 1D – Justin Henderson, 6. 51 – Paul McMahan, 7. 24 – Terry McCarl, 8. 13 – Mark Dobmeier, 9. 71m – Joey Saldana, 10. 11K – Kraig Kinser, 11. 51S – Stevie Smith, 12. 4 – Cody Darrah, 13. 49 – Brad Sweet, 14. 9 – Daryn Pittman, 15. 83 – David Gravel, 16. 82 – Bryan Clauson, 17. 15H – Sam Hafertepe, Jr., 18. 40 – Clint Garner, 19. 59 – Tim Kaeding, 20. 55 – Brooke Tatnell, 21. 81x – Lee Jacobs, 22. 2 – Shane Stewart, 23. 6R – Ryan Bunton, 24. 45 – Tim Shaffer, 25. 1 – Sammy Swindell.
Lap Leaders: Schatz 1-43, Brown 44, Schatz 45-50
Best appearing team: Wayne Johnson #77 Car
Best appearing car: Justin Henderson.