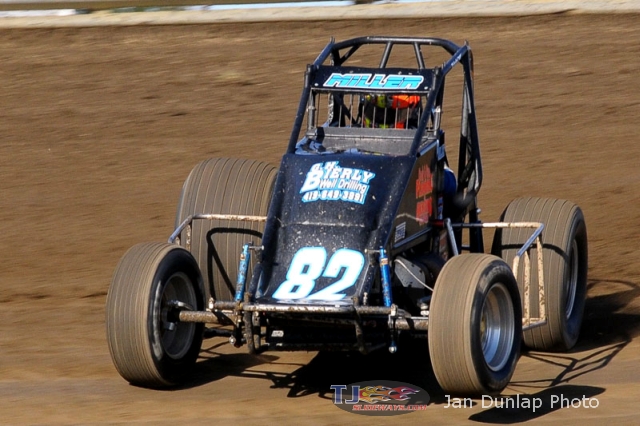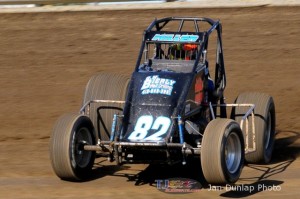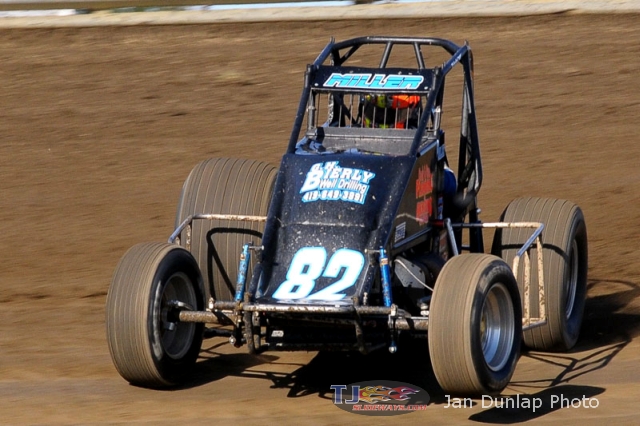 From Waynesfield Raceway Park
Waynesfield, OH — (August 30, 2014) — Mike Miller won the Buckeye Machine non-wing sprint car feature Saturday night at Waynesfield Raceway Park. Mike Dunlap, Kyle Simon, Dustin Ingle, and Dallas Hewitt rounded out the top five.
During the program sprint car driver Rob Guy was air lifted after an accident during preliminary action. Guy is reported to have a lot of facial swelling and bruising but has been given a clean bill of health regarding any head trauma other than a concussion. Guy did suffer a broken arm in the incident that will require surgery to repair.
Waynesfield Raceway Park
August 30, 2014
Buckeye Machine Non Wing Sprints (33 Cars)
[#]-Starting Position
Heat 1 – Heat 1 (8 Laps – Top 4 finishers transfer to the A-feature)
1. 23S-Kyle Simon[1] ; 2. 24L-Lee Underwood[2] ; 3. 8-Todd Kane[3] ; 4. 32-Derek Hastings[4] ; 5. 9N-Luke Hall[6] ; 6. 14-Cooper Clouse[8] ; 7. 14C-Andy Conley[7] ; 8. 19-Jimmy Snead[5] ; 9. O1-Dustin Hammond[9]
Heat 2 – Heat 2 (8 Laps – Top 4 finishers transfer to the A-feature)
1. 82-Mike Miller[6] ; 2. 48-Mike Burkin[2] ; 3. 5W-Jeff Williams[4] ; 4. 43G-Rob Guy[8] ; 5. 5-Mark Silva[5] ; 6. 87-Paul Dues[1] ; 7. J1-Mark Shultz[3] ; 8. 25B-Mark Blausey[7]
Heat 3 – Heat 3 (8 Laps – Top 4 finishers transfer to the A-feature)
1. 2B-Mike Dunlap[3] ; 2. 71-Stratton Briggs[1] ; 3. 22S-Dallas Hewitt[7] ; 4. 24P-Tyler Hewitt[5] ; 5. 63D-Jim Dues[4] ; 6. 53-Steve Little[2] ; 7. 9-Dave Disinger[6] ; 8. M2M-Beau Stewart[8]
Heat 4 – Heat 4 (8 Laps – Top 4 finishers transfer to the A-feature)
1. 2DI-Dustin Ingle[1] ; 2. 6-Chris Phillips[2] ; 3. 54-Matt Westfall[4] ; 4. 2M-Logan Hupp[6] ; 5. 68G-Tyler Gunn[7] ; 6. 5A-Toby Alfrey[8] ; 7. 14G-Gary Campbell[3] ; 8. 69R-Brian Gross[5]
B-Main #1 –  (10 Laps – Top 2 finishers transfer to the A-feature)
1. 9N-Luke Hall[1] ; 2. 14-Cooper Clouse[3] ; 3. 63D-Jim Dues[2] ; 4. 14C-Andy Conley[5] ; 5. 19-Jimmy Snead[7] ; 6. 53-Steve Little[4] ; 7. 9-Dave Disinger[6] ; 8. O1-Dustin Hammond[9] ; DNS. M2M-Beau Stewart
B-Main #2 –  (10 Laps – Top 2 finishers transfer to the A-feature)
1. 68G-Tyler Gunn[2] ; 2. 87-Paul Dues[3] ; 3. 14G-Gary Campbell[6] ; 4. 5A-Toby Alfrey[4] ; 5. 25B-Mark Blausey[7] ; 6. 5-Mark Silva[1] ; 7. J1-Mark Shultz[5] ; 8. 69R-Brian Gross[8]
A-Main –  (25 Laps)
1. 82-Mike Miller[3]; 2. 2B-Mike Dunlap[2]; 3. 23S-Kyle Simon[4]; 4. 2DI-Dustin Ingle[1]; 5. 22S-Dallas Hewitt[11]; 6. 9N-Luke Hall[17]; 7. 54-Matt Westfall[12]; 8. 24P-Tyler Hewitt[15]; 9. 8-Todd Kane[9]; 10. 24L-Lee Underwood[5]; 11. 2M-Logan Hupp[16]; 12. 48-Mike Burkin[6]; 13. 6-Chris Phillips[8]; 14. 14-Cooper Clouse[19]; 15. 32-Derek Hastings[13]; 16. 87-Paul Dues[20]; 17. 5W-Jeff Williams[10]; 18. 68G-Tyler Gunn[18]; 19. 71-Stratton Briggs[7]; 20. 43G-Rob Guy[14]
Hard Charger: 9N-Luke Hall[+11]