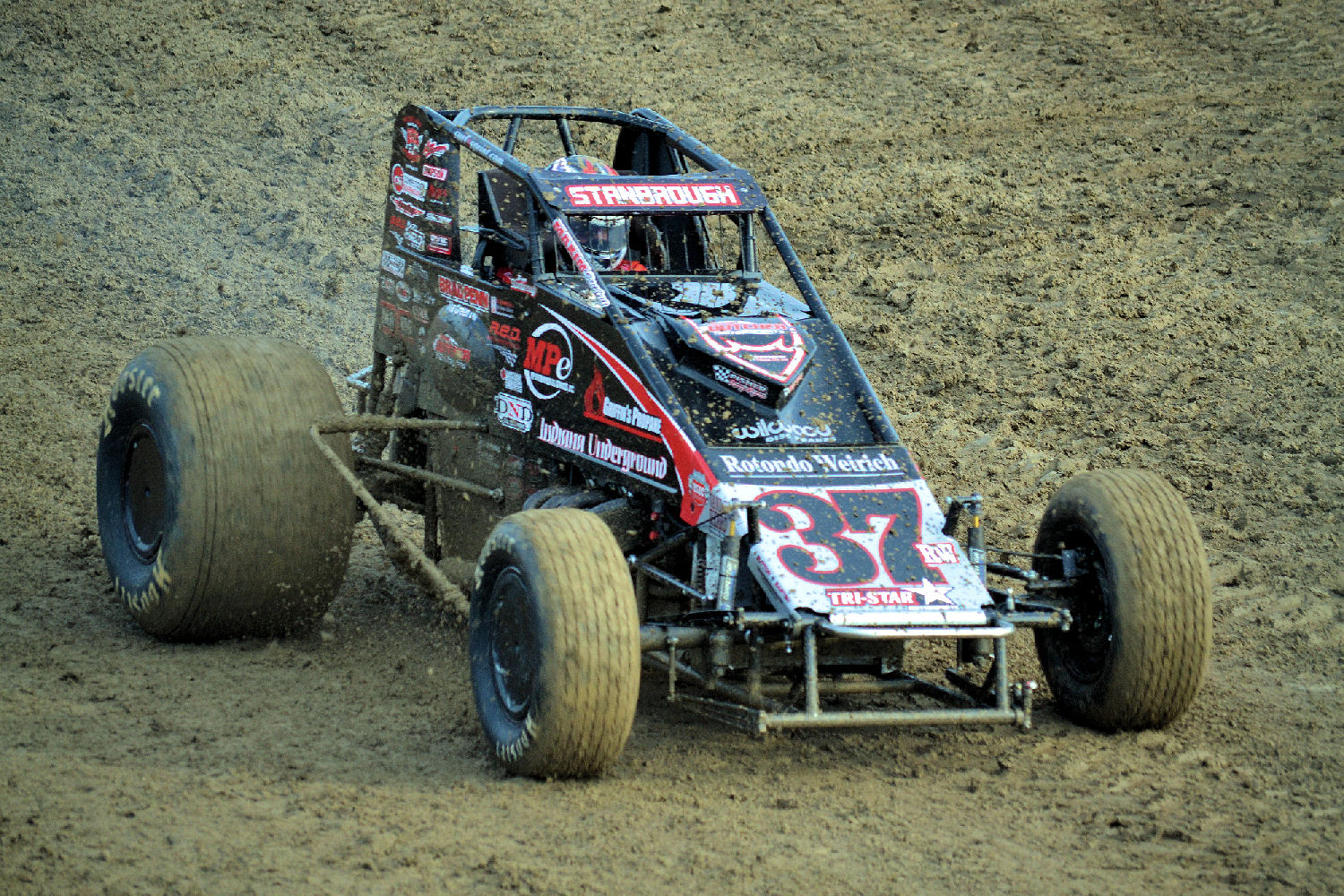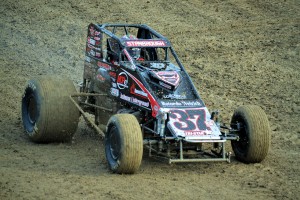 From MSCS
Haubstadt, IN – (August 31, 2014) –  Jon Stanbrough proved lap after lap that he was ready for any challenge.  The veteran sprint car driver would prevail Sunday night in the Hoosier Tire Midwest Sprint Car Series feature at the Tri-State Speedway.  The "Labor Day Weekend Challenge" lined up with Kyle Cummins and Stanbrough sharing the front row.  They would continue to share the limelight with Stanbrough maintaining the lead for all 30 laps.  Stanbrough seemed to have the preferred line around the quarter mile track.  Cummins made all out attempts to get underneath him and complete a pass. Stanbrough also withstood the challenge of a late race restart after lap 26
The win was the first for Stanbrough with MSCS this season.  However, it ranked as one of those career achievements.  It was win number 20 and raised the high mark for All Time Wins with MSCS that Stanbrough holds!  The victory was also worth $3,000 in prize money.  Stanbrough drove the Michael Dutcher Motorsports Fisher/Maxim sponsored by MP Environmental Service, Griffin's Propane, and Indiana Underground.
By the end of the event Daron Clayton had moved up to third and joined the top two in victory lane.  Stanbrough described his sprint car as being a little on the tight side before it came to him. Cummins remarked that his 3c sprint was tight the whole race.  He then added:  " I tried to make it interesting at the end."  According to Clayton, he had a car that was really good at the end of the race.   "It was too late and I ended up third."
Chase Stockon and Brandon Mattox rounded out the top five for the feature.  Brian Karraker finished sixth and improved 7 spots to grant him the Keizer Aluminum Hard Charger Award for the race.  Others in the top ten included Carson Short, Hud Cone, Mitch Wissmiller, and Rookie Aaron Farney.  Donny Brackett collected the Wilwood Tuff Brakes Award in finishing eleventh.
The three prelimnary heat races were won by Brandon Mattox, Jon Stanbrough, and Brady Short.  Short was running as high as third in the feature but he was unable to complete the entire race.  Hunter Schuerenberg also experienced problems.  He was in and out of the action but took advantage of a second opportunity to win the B Main. He dropped out of the first heat race after leading the first 7 laps.
There was a lot of action in the events.  Drivers were passing cars left and right in the heats.  The feature was slowed by three yellow flags.  One late race incident in turn three involved five cars. However 16 cars finished the feature!
The next event for the MSCS Sprints will also be at the Tri-State Speedway.  The United States Auto Club will be co-sanctioning the Haubstadt Hustler with MSCS Saturday night September 13th.  The winner will receive $10,000.  The UMP Modifieds will also be racing that night.
SUMMARY:  Tri-State Speedway
"Labor Day Weekend Challenge"
August 31, 2014
Hoosier Tire Midwest Sprint Car Series:
(26 Entries)
First Heat – 28 Brandon Mattox, 92 Daron Clayton, 21 Carson Short, 10x Aric Gentry, 35x Chris Babcock, 8 Andrew Prather, 02 Nick Hale, 20n Hunter Schuerenberg, 5B Chase Briscoe (scratched)
Second Heat – 37rw Jon Stanbrough, 5Kx Kent Schmidt, 15F Aaron Farney, 1 Mitch Wissmiller, 4B Donny Brackett, 98 Brandon Morin, 11 James Lyerla, 77 Hunter O'Neal, 27 Brian Wallace
Third Heat  – 11p Brady Short, 32 Chase Stockon, 9T Hud Cone, 3c Kyle Cummins, 3R Brian Karraker, 14T Jimmy Bridgeman, 51B Joe B. Miller, 56F Jared Fox
B Main – 20n Hunter Schuerenberg, 14T Jimmy Bridgeman, 51B Joe B. Miller, 56F Jared Fox, 11 James Lyerla, 77 Hunter O'Neal, 8 Andrew Prather, 02 Nick Hale, 27 Brian Wallace
Feature (30 Laps) – 37rw Jon Stanbrough, 3c Kyle Cummins, 92 Daron Clayton, 32 Chase Stockon, 28 Brandon Mattox, 3R Brian Karrakeer, 21 Carson Short, 9T Hud Cone, 1 Mitch Wissmiller, 15F Aaron Farney, 4B Donny Brackett, 5Kx Kent Schmidt, 56F Jared Fox, 11 James Lyerla, 14T Jimmy Bridgeman, 98 Brandon Morin, 20n Hunter Schuerenberg, 11p Brady Short, 10x Aric Gentry, 35x Chris Babcock, 51B Joe B. Miller