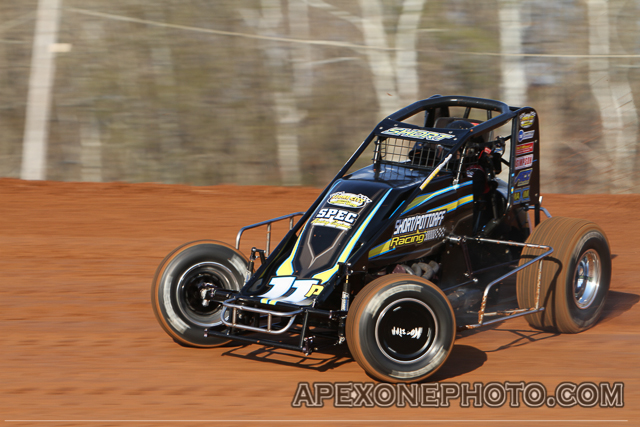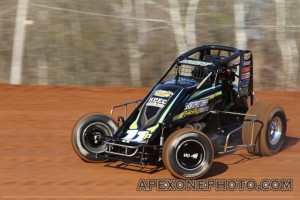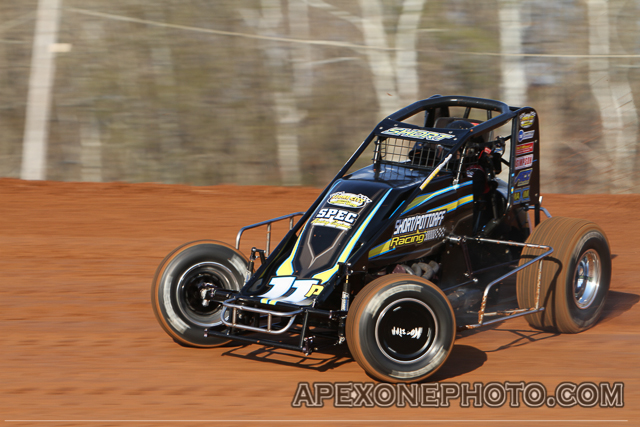 From Eldon Butcher
Haubstadt, IN – (October 11, 2014) – The "Harvest Cup" held at Tri-State Speedway Saturday evening closed out the racing season for the Hoosier Tire Midwest Sprint Car Series. The event lived up to all the pre-race expectations. Brady Short of Mitchell, IN, would win the 30 lap feature after a dual to the finish between two front row starters. 2014 MSCS Champion Kyle Cummins led the first 7 laps. Short led the next 9 laps. The racing continued with the cars running side by side. Cummins wrestled the lead away on lap 17. Short had it back by lap 22 and the $4,000 top prize was his. Cummins would finish second.
Short's win was his twelfth of the season and third at MSCS events. He was driving a Maxim sprint sponsored by Indiana Stone Works. "It was a lot of fun racing with Kyle Cummins. The win was the second here for my car owner Cam Pottorff. We all work a lot of hours." The other Tri-State win was at the Hoosier Sprint Nationals.
In addition drivers running third in the feature were close enough to present a pending threat. That continued despite the heavy traffic as the leaders found the back of the pack. Carson Short kept pace in third until lap 23 when he connected with the wall in turn three. Robert Ballou then had a late race chance. "I dug as hard as I could. There were two lanes to race in and they had them." He had started twelfth and would complete the race in third. The run towards the front was good enough to earn him the Keizer Aluminum Wheels Hard Charger of the Race Award.
2012 and 13 Harvest Cup winner Chase Stockon finished fourth. Brian Karraker rounded out the top five. Karraker had started thirteenth and was working through the pack. Jon Stanbrough was sixth. Seventh through tenth included Brandon Mattox, Scotty Weir, Chet Williams, and Chris Phillips. Donny Brackett collected the Wilwood Tuff Brakes Award.
Three sprint car heat races were conducted. Kyle Cummins, Chase Stockon, and Carson Short won those. Carson Short collected the most MSCS passing points by starting eighth in his heat and winning it. That win over Chris Phillips included a last lap pass! Chase Briscoe won the B Main driving a team car to that of Brady Short.
At the opening ceremonies the MSCS Championship Driver & Owner trophies were presented to Kyle Cummins. It was the fourth MSCS title for the Princeton, IN, second generation sprint car driver. "It was an unbelievable season," he said. "I didn't tear up one piece on the car."
The 2014 MSCS Rookie of the Year Award was also presented to James Lyerla of Hillsboro, IL. Officials could not present that award until after the feature was completed. Lyerla needed to start the feature in order to secure enough points to lock up his bid for the honor. He obtained his goal. "Our goal coming into the series was to be the Rookie of the Year. It is a very tough series with a lot of rookies. I kept trying and learning."
SUMMARY:
"Harvest Cup" Tri-State Speedway Haubstadt, IN October 11, 2014
Hoosier Tire Midwest Sprint Car Series:
(25 Entries)
First Heat – 3C Kyle Cummins, 12 Robert Ballou, 28 Brandon Mattox, 3 Dakota Jackson, 11B Chase Briscoe, 4B Donny Brackett, 21K Bradley Sterrett, 35 Cole Smith, 15F Aaron Farney
Second Heat – 2X Chase Stockon, 11P Brady Short, 38W Chet Williams, 04 Jeff Bland Jr., 3R Brian Karraker, 02 Nick Hale, 10X Aric Gentry, 2K Kody Kinser
Third Heat – 21 Carson Short, 6P Chris Phillips, 66x Jon Stanbrough, 4P Scotty Weir, 11X James Lyerla, 4C Daylan Chambers, 56F Jared Fox, 52C Jared Chastain
B Main – 11B Chase Briscoe, 15F Aaron Farney, 4C Daylan Chambers, 35 Cole Smith, 56F Jared Fox, 42K Kody Kinser, 02 Nick Hale, 52C Jared Chastain, 10X Aric Gentry (DNS)
Feature (30 Laps) – 11P Brady Short, 3C Kyle Cummins, 12 Robert Ballou, 2X Chase Stockon, 3R Brian Karraker, 66X Jon Stanbrough, 8 Brandon Mattox, 4P Scotty Weir, 38W Chet Williams, 6P Chris Phillips, 4B Donny Brackett, 15F Aaron Farney, 04 Jeff Bland Jr., 31K Bradley Sterrett, 11X James Lyerla, 21 Carson Short, 11 Chase Briscoe, 3 Dakota Jackson, 35 Cole Smith