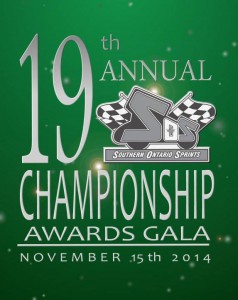 From SOS
The 2014 Southern Ontario Sprints Awards Gala & Annual General Meeting will be held on November 15, 2014 at the Holiday Inn – Burlington Hotel & Conference Centre.
Join us the evening of Saturday Nov. 15th to celebrate the 19th Southern Ontario Sprints Championship with Awards, Food, and Fun.
Contact Loree Ferrell to arrange for tickets for the awards banquet prior to November 1, 2014. Tickets are $45 per person.
Room rates for the hotel are $109 for standard single queen with sofabed, $114 for atrium two double bed or $119 for business king rooms. Room reservations can be made online at www.hiburlington.ca, by phone at 1-888-987-4888 and ask for reservations or by e-mail at UNH2248res@whg.com. Use group block id code SOS.
The annual general meeting will be held in the afternoon, at the hotel, prior to the awards dinner. Rule change proposals must be submitted in writing to the board prior to November 1, 2014. Elections for the positions of Vice-President, Treasure, and three board members will also be held.