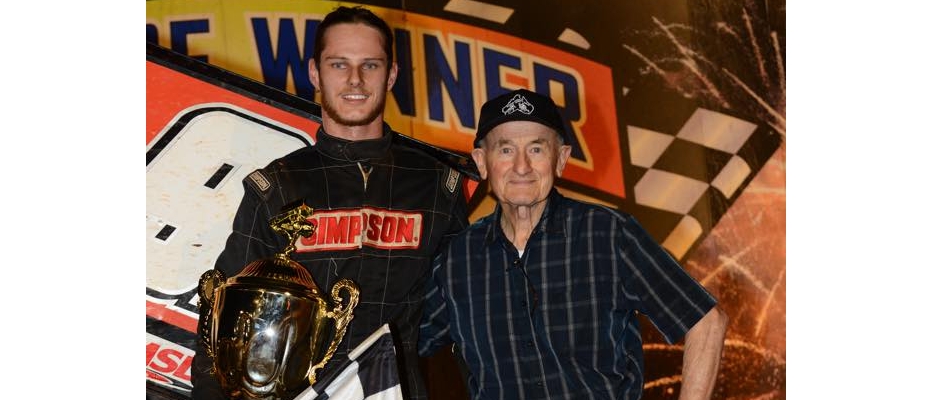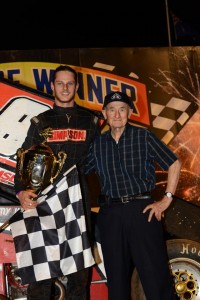 From Valvoline Raceway
Sydney, AU — (November 8, 2014) — Sydney Sprintcar racer Sam Walsh stormed to his first career victory at Valvoline Raceway tonight taking out the prestigious Sid Hopping Shootout 30 lap main event.
"Honestly I would have been happy just finishing somewhere near the front, let alone actually getting the win," he beamed in victory lane,
"we screwed up qualifying a bit so to get into the poie shuffle and then pass Trev (Green) for the win is a huge result for our little team and for Dad who's worked so hard on this deal for such a long time."
Walsh, who added Fleck Earthmoving as a sponsor earlier in the day, led home Trevor Green in second, birthday boy Danny Reidy in third, Marty Perovich fourth and Max Dumesny rounding out the top five.
"I'm really happy for Sam that he got the win tonight," conceded Green, "he's been trying for a long time to something like this and it's cool to see him do it."
Green was pretty lively himself having earlier set Quick Time for Network Industry in qualifying and starting on the front row alongside Toby Bellbowen for the main event.
Danny Reidy's latest podium finish was another testament to his consistency in Sydney.
"I don't know what it is about this place but in the feature we seem to really get going. I don't know what it is but I'm happy to roll with it."
Queensland state champion Andrew Scheuerle was consistent for sixth place (tonight was his first appearance at Valvoline Raceway in some time) over Max Johnston in seventh, James Thompson eighth, Jackson Delamont in ninth and Matt Dumesny rounding out the top ten.
Kelly Linigen came from the B-Main to finish 11th with Andrew Wright 12th, Darryl Campbell 13th, Jimmy Matchett 14th, Matt Young 15th and Craig Morrison being the final driver placed at 16th on his first return to racing in three seasons.
DNF's were Toby Bellbowen, Alex Orr, Warren Ferguson, Ben Atkinson, Grant Tunks, Troy Little, Jeremy Cross and Jordyn Brazier.
The Wingless Sprint racing was bruising to say the very least with several spectacular rollovers marring what was once again a very entertaining display of racing.
Daniel Sayre scored his career first Valvoline Raceway win in the 20 lap A-Main coming home with the win ahead of fellow Aussie Forklift Repairs sponsored Damien "The Rabbit" Abbott in second place and Dean Thomas third.
"I really need to thank my Dad for all he does for my racing," smiled Sayre, "I'm very grateful to Leon Jack from AFR and everyone who gives me this opportunity."
Lively Dubbo veteran Mark Blyton ran strongly for fourth ahead of Scott Rowe fifth, Adam Hourigan sixth, Jeff Thomas seventh, Sean Dicker eighth, Mikaela Blyton ninth and Geoff Piekar rounding out the top ten.
Clint McCorquodale placed 11th with Michael Sammut in 12th, Blake Darcy 13th, Brian Briton 14th, Lou Pacchiarotta 15th, Jason Bates 16th, Nathan Dicker 17th, Darryl Marshall 18th, Kiwi Ben Miller nineteenth, Simon Bestman 20th, Jeff Neve 21st and Ashleigh Jack 22nd.
DNF's were Sean Mayo and Marshall Blyton who both rolled in spectacular fashion in turn one on lap fifteen when Blyton made contact with the slowing Ashleigh Jack.
"It's going to be a big week in in the shed now," frowned Blyton as he looked over his damaged racecar, "I don't even want to think about how we're going to be ready for the New South Wales title later this month."
Earlier in the night Daniel Flood and Luke McDougall rode out frightening double rollovers in turns one and two and Steve Zarb also got upside down in a separate incident in turn four.
The Fender Benders thrilled the crowd with their own unique brand of entertainment and clay wrestling tonight in all three of their appearances.
Next Saturday night, November 15 sees the return of the fabulous Speedcars, Legend Cars, Litre Sprints, AMCA Nationals and Micro Sprints.