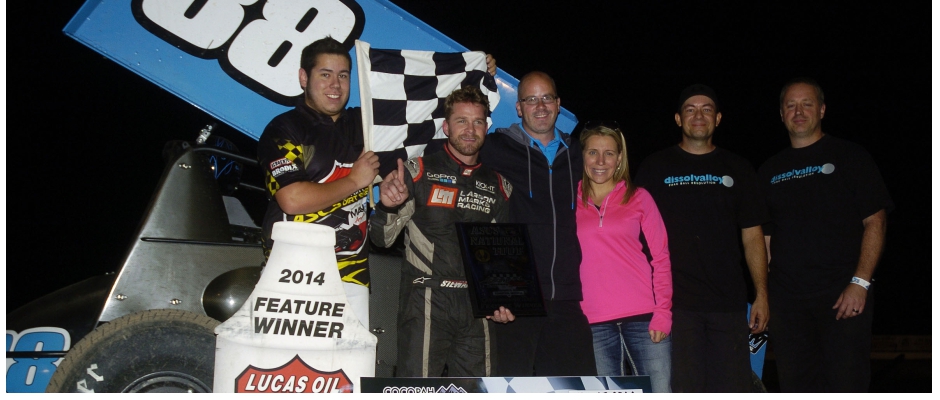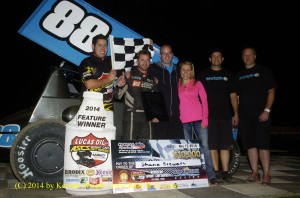 From Bryan Hulbert
Tuma, AZ — (November 15, 2014) — The final night of the 2014 season for the Lucas Oil American Sprint presented by MAVTV American Real saw Oklahoma's Shane Stewart capture the night's $10,000 victory at the Cocopah Speedway. Shane's first victory at the Arizona oval, the two-time National Champion is the 19th winner of the season for Stewart's 29th career victory with the Lucas Oil ASCS.
Taking the lead from Danny Wood on Lap 4, the Scottie McDonald owned No. 88 found traffic before the tenth circuit. Taking a decent lead into traffic, Stewart found all lines blocked, allowing Danny Wood to begin closing the gap.
Picking away at the back makers, Stewart began rebuilding his lead as Wood came under fire from Jason Johnson for the runner-up spot. Searching lines on the Cocopah Speedway, the pair jockeyed for position, all the while closing in on Shane Stewart.
Remaining under green flag conditions, Johnson worked the second on Lap 18, wasting little time going after Shane Stewart for the race lead. Working top-to-bottom in traffic, Johnson pulled even several times with the run finally coming on Lap 23. Charging low on Stewart into turn-three, Johnson completed a textbook slide job, only to see the caution displayed.
"I felt like I had a really good car. I wasn't really slipping my tires that much, then to see the No. 41 sneaking underneath me I thought 'crap man, that looks like Donny Schatz underneath me'. I've lost a couple good races to him like that this year so I wasn't going to let another sneak away like that," said Stewart when asked about Johnson's challenge for the lead.
"I think the caution helped me. I was able to move my wing back a little bit and that brought this Maxim Chassis back to life. I just can't thank Scottie and Sheila enough for giving me a great opportunity to come here and play with these guys."
Underway with clean race track, the MVT No. 41 made an attempt at the lead on the restart, but would be denied as Shane Stewart crossed 0.939 seconds ahead of Johnson. Making up five point's positions in four races, Jason Johnson was able to add a fifth Lucas Oil American Sprint Car Series National Championship to his resume.
Sitting exhausted on the right-front of his Curb / Agajanian Performance Group No. 41, Johnson spoke with a tired, yet emotional voice, "Unbelievable; just unbelievable. This was a team effort, I just can't say enough about everyone who supports this race team to give me this great opportunity to be out here racing."
Commenting on the race, Johnson explained, "Shane is a class act. Racing side-by-side down the back straight-a-way, he slide up, and I got him, then he slid me but Shane isn't going to make the same mistake twice so I knew he was going to be really tough to pass."
With the points showing Johnson as the Champion, he will have to wait to claim the $60,000 champion's check as a team filed a formal protest immediately after the race on Johnson's engine. An announcement will be made as soon as results are confirmed by Brodix Cylinder Heads.
Despite losing a cylinder during the race, Roger Crockett was able to race to a podium finish. "There were cars everywhere, but our car was phenomenal tonight," said Crockett about having to battle from 11th to third. "We lost a cylinder about 10 laps in so that didn't allow us to get up and race with these guys, but nonetheless we had a great run."
After leading early on, Danny Wood would settle for a fourth place finish with Jeff Swindell motoring from tenth to complete the top-five. Rico Abreu from ninth crossed sixth with Willie Croft seventh. Aaron Reutzel eighth, Logan Forler ninth, and Mason Moore from fifteenth completed the top-ten.
Saturday's finale saw 45 drivers checking in with five Heat Races going to Logan Forler, Jeff Swindell, Tyler Thomas, Roger Crockett, and Rico Abreu. B-Features were won by Brad Loyet and Seth Bergman.
With the 2014 season in the books, officials with the Lucas Oil American Sprint Car Series are hard at work preparing the 2015 lineup, which begins with the $10,000-to-win, Ronald Laney Memorial at Tampa's East Bay Raceway February 19-21, 2015. The complete scheduled will be released at the 2014 Performance Racing Industries Tradeshow in Indianapolis, Ind.
For continued updates on the American Sprint Car Series, log onto http://www.ascsracing.com
Race Results:
Lucas Oil American Sprint Car Series presented by MAVTV American Real
Cocopah Speedway – Yuma, Ariz.
Saturday, November 15, 2014
Car Count: 45
Event Count: 46
SpeedMart Heat Races (8 laps): Winner plus top 9 in Passing Points advance to the A-Feature.
Heat 1 (8 Laps): 1. 2L-Logan Forler[2]; 2. 17W-Harli White[3]; 3. 72-Phil Dietz[7]; 4. 9-Ryan Linder[1]; 5. 88N-D.J. Netto[6]; 6. 01-Kaylene Verville[5]; 7. 9S-Derek Sell[9]; 8. 20Z-Rick Ziehl[4]; 9. 98-Chris Masters[8]
Heat 2 (8 Laps): 1. 94-Jeff Swindell[1]; 2. 4X-Brian Brown[3]; 3. 9R-Reece Goetz[5]; 4. 52-Blake Hahn[2]; 5. 15H-Sam Hafertepe Jr[8]; 6. 31C-Justyn Cox[6]; 7. 45X-Johnny Herrera[7]; 8. 57X-James Aragon[4]
Heat 3 (8 Laps): 1. 21-Tyler Thomas[2]; 2. 74-Colby Copeland[1]; 3. 05-Brad Loyet[3]; 4. 23-Seth Bergman[6]; 5. 5H-Dakota Hendrickson[5]; 6. 0-Glenn Styres[8]; 7. 90-Lance Norick[4]; 8. 14-Cody Sickles[7]
Heat 4 (8 Laps): 1. 11-Roger Crockett[1]; 2. 88-Shane Stewart[5]; 3. 94X-Nick Parker[2]; 4. 3H-Brandon Hanks[3]; 5. 74B-John Carney II[8]; 6. 95-Matt Covington[4]; 7. 37-Mitchell Faccinto[7]; 8. 29S-Darrell Sickles[6]
Heat 5 (8 Laps): 1. 24-Rico Abreu[2]; 2. 31B-Joey Saldana[1]; 3. 22-Mason Moore[5]; 4. 8-Bob Ream Jr[4]; 5. 17-Channin Tankersley[6]; 6. 17B-Josh Baughman[7]; 7. 18-Tony Bruce Jr[8]; 8. 96-Greg Hamilton[3]
Smiley's Racing Products B-Features (12 Laps): Taking top 3 to the A-Feature.
B Feature 1 (12 Laps): 1. 05-Brad Loyet[3]; 2. 31B-Joey Saldana[1]; 3. 15H-Sam Hafertepe Jr[2]; 4. 52-Blake Hahn[6]; 5. 45X-Johnny Herrera[11]; 6. 17B-Josh Baughman[8]; 7. 8-Bob Ream Jr[4]; 8. 18-Tony Bruce Jr[10]; 9. 31C-Justyn Cox[9]; 10. 9-Ryan Linder[7]; 11. 90-Lance Norick[12]; 12. 57X-James Aragon[14]; 13. 98-Chris Masters[15]; 14. 29S-Darrell Sickles[13]; 15. 88N-D.J. Netto[5]
B Feature 2 (12 Laps): 1. 23-Seth Bergman[1]; 2. 3H-Brandon Hanks[4]; 3. 17-Channin Tankersley[5]; 4. 74B-John Carney II[2]; 5. 0-Glenn Styres[6]; 6. 9S-Derek Sell[8]; 7. 5H-Dakota Hendrickson[7]; 8. 20Z-Rick Ziehl[13]; 9. 94X-Nick Parker[3]; 10. 01-Kaylene Verville[9]; 11. 95-Matt Covington[10]; 12. 14-Cody Sickles[12]; 13. (DNF) 96-Greg Hamilton[14]; 14. (DNF) 37-Mitchell Faccinto[11]
Protect the Harvest A-Feature (30 Laps):
A Feature (30 Laps): 1. 88-Shane Stewart[2]; 2. 41-Jason Johnson[6]; 3. 11-Roger Crockett[11]; 4. 81W-Danny Wood[1]; 5. 94-Jeff Swindell[10]; 6. 24-Rico Abreu[9]; 7. 3C-Willie Croft[5]; 8. 87-Aaron Reutzel[7]; 9. 2L-Logan Forler[4]; 10. 22-Mason Moore[15]; 11. 4X-Brian Brown[13]; 12. 21-Tyler Thomas[8]; 13. 05-Brad Loyet[17]; 14. 52-Blake Hahn[25]; 15. 31B-Joey Saldana[19]; 16. 45X-Johnny Herrera[23]; 17. 72-Phil Dietz[3]; 18. 9R-Reece Goetz[14]; 19. 23-Seth Bergman[18]; 20. 15H-Sam Hafertepe Jr[21]; 21. 31C-Justyn Cox[26]; 22. 18-Tony Bruce Jr[24]; 23. 17W-Harli White[12]; 24. 3H-Brandon Hanks[20]; 25. 74-Colby Copeland[16]; 26. (DNF) 17-Channin Tankersley[22]
Lap Leader(s): Danny Wood 1-3; Shane Stewart 4-30
KSE Hard Charger: Blake Hahn +11
FSR Radiator High Point Driver: Shane Stewart
Provisional(s): Johnny Herrera (P3); Tony Bruce, Jr (P3); Blake Hahn (PP), Justyn Cox (PP)